DWTS VIP Light Up the Night Winter Tour 17-18
#lightupthenighttour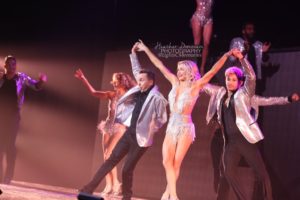 I've had the pleasure of being a VIP for the last six Dancing with the Stars tours. From the first tour I participated in the VIP to this year's tour I must say: It's like night and day!  They have improved them tremendously!  So let's talk about the details of the VIP!
Pre-Show: For my 1st show in Charlotte I did the Front Row VIP Pkg we received the email 4 days ahead of the show.  We had to arrive between 4:15-5:15 but, remember that varies by city so check your itinerary.   VIP Hosts this tour are Jeff & Sam (Lindsay's hubby)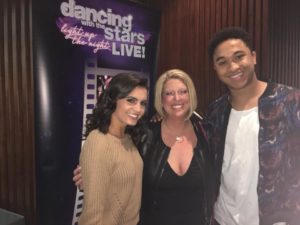 Entering VIP:   There were a lot of VIP's but, the facility was awesome and let us in out of the cold so we could line up inside.  Once we signed in I got my ticket, the VIP bag with a tall mug inside and the signed tour program.  They did the lanyards with the letters on them again which is great so then they are only lining up small groups at a time for the photos.
Now on to the good stuff!  After check in we were directed upstairs.  We all grabbed a drink and met up with some other really nice fans.  At about 5:30-5:45 they lined up the first group for the photos and the cast came in.  Hayley and Brandon were in the mingle and Jordan, Lindsay, Frankie (all 3 will be consistent this tour) and then the other 2 will rotate and we had Emma & Keo. I will be keeping track so you can see if there is a pattern and potentially narrow down who might be in your city!  Photos did go a little quick this time but, they did have a ton of people.  You were still able to say hi to each person and say something quick.  Hayley and Brandon were super sweet in the mingle.  The lighting was tough where they were standing so I would suggest using flash when you have your photos taken if the lighting is tough.
http://lightscmemories.com/vip/vip-photo-list-dwts-light-night-winter-tour/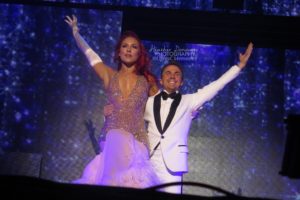 The VIP Nation staff is also very kind, nobody is yelling at you it's a pleasant experience.  You do have to leave your purse, bags and anything else on you at the table and you cannot ask for autographs etc. at the cast photo portion.   This year too it was one professional photo taken by VIP Nation host, no selfie options in the main photo.  You could however do selfies with the dancers in the Meet & Mingle.  They did have a GIF area this time.  I didn't get a chance to get over there as I was catching up with friends but, will at a future show.  After the photos were done and the dancers all left to get ready for the show you could go to the merchandise stand and do some crowd free shopping which was also nice.
Please note on the pics:  the itinerary says up within to 2 weeks which drives all of the fans crazy because that is the one thing they all want and it took 5 days to post the Charlotte pics and I am beyond disappointed, the host clearly did not check them like they usually do because my eyes are completely shut in both pictures!  That is not ok, people spend a lot of money on these packages, I can't print either of my pictures!  If I could change one thing in the VIP world it would be that the photos were up in 24-48 hours as that is the ONE thing the fans want to see more than anything but, the tour just started so we will see if the speed improves.  UPDATE:  I have done 3 more shows since opening night and I am happy to report that the host is now checking the photos before you walk away to be sure eyes are open.  I was much happier with my photo from the Verona show and the Mohegan shows.  I did want to mention though because it was brought to my attention that the fans in Boston will not be receiving their photos.  They received an email offering a $100 refund and an apology that they would not be receiving their photos due to a memory card error.  I know so many of you follow this page and I just wanted to say that I am so sorry to hear that happened to you.  In all my years of doing VIP I never heard of that happening to an entire city.  I know on one hand you have the memory of meeting them but, I also totally understand how disappointed you are not having the photo memory.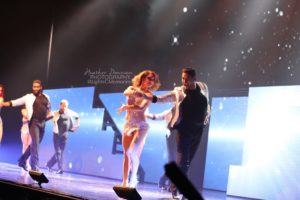 What to wear:  Be comfortable & wear what you want.  You will see everyone from dressed down to wearing beautiful dresses and everything in between.
Show time!  I will be doing another blog on the show itself after my next one.  I will say it's really a great show.  Very minimal crowd interaction this time, only Alan goes out for less than a minute to start off a # in the crowd.  That was disappointing because fans love that so much.  Jordan and Frankie are a lot of fun and the Pro's just knock it out of the park with their high energy performance.  More to come in a few weeks.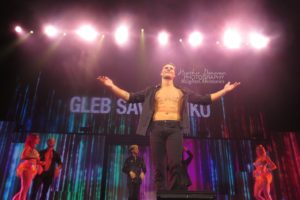 Suggestions for Tour Management:  This is something I have been thinking about.  For the Maks & Val Tour and the Derek & Julianne tours there was another top level tier package when you got pictures in the VIP and then got extra time with them backstage.  I know the VIP photos are with "select" dancers (4 the last 2 tours & 5 this tour) at each city but, many fans have voiced their disappointment when their "favorite" isn't in their photo since it's a random rotation.  I have heard many voice their displeasure at paying several hundred dollars but not getting a pic with their favorite.  What if you added another ticket tier or made it with the front row packages that you get your pic with the rest of the VIP's and then you are either taken down just before the show or just after and get a photo with the full tour cast?  If you sold a very limited # of them it wouldn't take that much extra time.  That way you those that truly want to meet them all would have the chance and it would then add another tier package for you.  I know I would sign up for that for sure!
If possible rotate the staff if you are doing two shows in one city.  Some of us like to go to both shows and it would be great to get pics with two sets of dancers since you are paying VIP at both.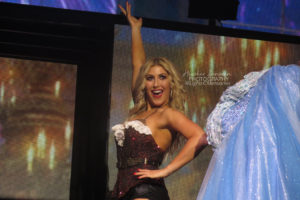 Bravo & Thank you:  VIP Nation you always put together fantastic unique experiences and it doesn't go unnoticed! Thank you so much to the tour staff:  Mandy Moore & Ashley Edens-Shaffer, Directors and our dance captains:  Jenna and Artem truly put together an amazing show that I think every fan should be sure they have a ticket for! The creative genius is obvious at every moment in the show.  The vision and layout for this tour is truly worth 10 Stars!  The crew and all the other behind the scenes individuals also deserve a shout out!  The Dancers (Sharna, Gleb, Artem, Lindsay, Sasha, Keo, Emma, Jenna, Hayley, Alan, Morgan and Brandon all truly leave it on the floor each night.  It's emotional, it's passionate, it's raw, it's FUN, it's full of energy and I am so excited I will get to see this tour multiple times and have a new take away each night!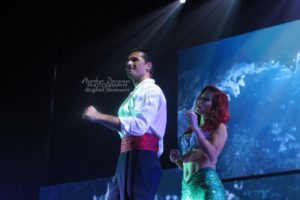 If you don't have a ticket…Buy one today and if you are able to do VIP it's worth the investment for this experience they have many different levels and price points too!  Here's the link for tickets/VIP package! http://dwtstour.com/
Want to see more photos?  For many more pictures from the tour, past tours please follow me on Instagram, Twitter & Facebook @lightscmemories!  If you have any questions that I can help with please don't hesitate to reach out!
Where do I love to shop for fun outfits for VIP pics!
Fun concert wear!
Bebe:  http://www.bebe.com/
Nordstrom:  http://shop.nordstrom.com/
White House Black Market:  https://www.whitehouseblackmarket.com/store/
Coach:  http://www.coach.com/shop/women-wristlets
Until next time,
XOXO
Heather