Season 23, Week 4 Double Elimination:  Cirque du Soleil
First and foremost huge congratulations to Emma Slater and Sasha Farber on their absolutely beautiful engagement tonight on the results show.  They are two incredibly kind people and what a beautiful surprise on tonight's show.  I wish them so much happiness.
I was so excited for a new theme week this season, Cirque du Soleil!  It seems like anything else there was very mixed reviews online.  I personally loved it and in my opinion it really brought out fantastic creativity in the Pro's and almost all the dances were off the hook amazing.
At the start of the show they dropped the bomb that it would be double elimination Tuesday.  I also don't know what happened at the start of the show again with the microphones.  Couples were just coming out without hearing any audio.  BTW I loved Erin and Julianne's dresses Monday night.  I would love to know the designers.  If anyone sees that info let me know.
Great live performers on the results show too:  DNCE, Zara Larson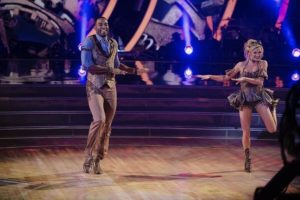 Lindsay Arnold & Calvin Johnson Jr
KURIOS Cabinet of Curiosities: Charleston
First off bravo to Lindsay this was such a fun dance!  Fantastic creativity and Calvin is such a joy to watch and he was able to really show off his strength and personality this week.  The dance was super fun, the lifts were all amazing and I actually had to rewind and watch it again it was so good.  I thought they deserved 9's.  A fun partnership indeed!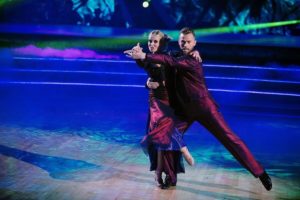 Artem Chigvintsev and Maureen McCormick
Mystere:  Argentine Tango
Their package was hard to watch.  Maureen is clearly a very sensitive person and I just wish every week she would just find the fun in this and just trust in Artem.  It was sad to have Artem say maybe I am in the wrong business.  He is one of the kindest men you could ever met and just wants the best for his partner.  I hope Maureen will get to the point where she will walk in and feel the joy everyday so they can stay.  I really thought their dance was really good tonight, it was definitely Maureen's best dance to date.  Just remember dance is FUN.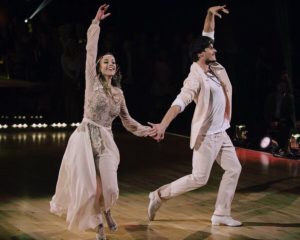 Jana Kramer & Gleb Savchenko
The Beatles LOVE:  Foxtrot
It looked like it was a tough week for Jana and Gleb but, clearly they shook it off.  All the traveling is exhausting and not all dances come together as quickly as you want.  They remain a great partnership and I thought their dance was beautiful, classy, graceful and moving.  She is determined so I am sure she will keep working on it.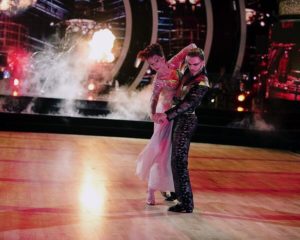 Derek Hough & Marilu Henner
#teamhennergy
KA: Paso Doble
I still think Marilu needs to just relax and remember dance is supposed to be fun.  I get the desire to be great and perfect but, don't focus so much on that and lose the fun.  I did think this was Marilu's best dance to date and I know she has the desire to do this and she has the skill to do it but she needs a breakthrough I think in the performance.  It was a good performance, the creativity was great!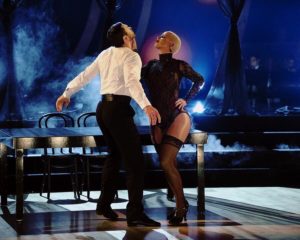 Amber Rose & Maksim Chmerkovskiy
Zumanity:  Argentine Tango
Amber and Julianne had a bit of a misunderstanding from last week.  I have met Julianne a few times and she is a complete sweetheart but, I also can see where Amber was coming from.  Not every girl is a size 0 or 2 and every woman should celebrate what makes her sexy, curves and all.  I felt that both women handled the interaction with class and demonstrated how women should handle issues, talk it out like grownups and move on.  I thought Amber and Maks's dance tonight was very sexy, filled with passion, intensity, content and really good.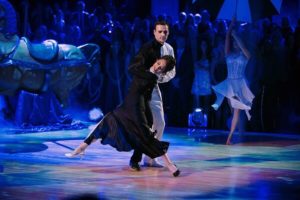 Ryan Lochte & Cheryl Burke
"O":  Viennese Waltz
Ryan has been on quite a journey but, I really think he is showing improvement every week and allowing everyone in and to get to know him better.  Their dance was beautiful, elegant and showed a lot of beautiful creativity.  This show is about a journey and I love to route for individuals that are growing each week and improving. Ryan should be proud this week.  Some individuals did yell something out when he was getting the judges' comments but, I was glad to hear they were positive people yelling "Go Gators".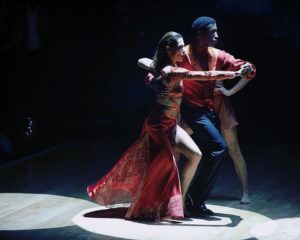 Kenneth "Babyface" Edmonds & Allison Holker
The Beatles LOVE:  Tango
Oh I felt so bad for Babyface and Allison tonight.  This was definitely not their best night.  It was very tough needing to stay on time with the lights and it was just off.  They are both really amazing, classy people and I wish it had gone better for them.  I had a feeling they would be going home tonight.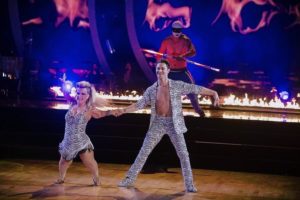 Terra Jole' & Sasha Farber
"O":  Samba
Terra and Sasha have a great partnership.  I hope Terra continues to believe in herself, girl you are a dancer!  He's pushing you because he knows you can do it!  Terra goes out every week and just kills it and this week was no exception.  It was sharp, crisp, had lots of hip action and content.  Another job well done it's always fun to watch this team hit the floor!
Laurie Hernandez & Val Chmerkovskiy
Michael Jackson ONE:  Jazz
I absolutely love seeing how happy and excited Val is this season.  He always gives it his all but, you can see the joy this season.  Laurie is just an inspiration.  She works hard every week and comes out and just nails the performance.  I had a feeling this dance was going to get the first perfect score of the season.  It was absolute perfection. It was filled with sass and class and hard core dancing.  Bravo and well deserved perfect scores!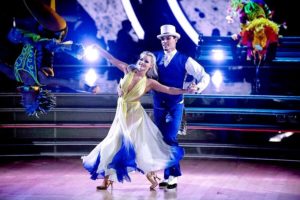 Vanilla Ice & Witney Carson
La Nouba:  Viennese Waltz
Vanilla Ice really has impressed me.  He clearly works hard at learning and still maintaining his schedule like many others do on the show.  I really thought he was going to be the dark horse of the competition and be with us for a while.  I thought their dance this week was choreographed really well by Witney and it was good.  It went along with the character of the dance.  Vanilla should be proud of the effort he put into the show.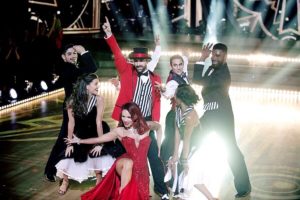 Sharna Burgess & James Hinchcliffe
PARAMOUR:  Quickstep
Sharna always has fantastic creativity and chorography and James is one that is blowing me away this season.  He reminds me so much of Hélio when he danced with Julianne. James has crazy charisma and the skills and I look forward to their dance each week.  I thought their dance was absolutely fantastic, it had great energy, and it was super fun.  It's always fun when Sharna channels her inner Jessica Rabbit too.  Bravo. I do have to say that Sharna & James absolutely positively did NOT belong in the bottom 3 tonight that is just crazy to me.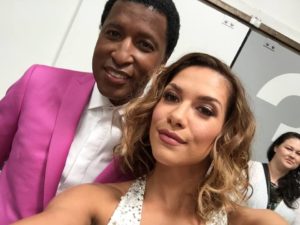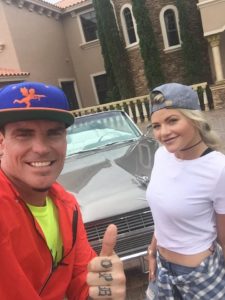 Sadly eliminated tonight were:
Babyface & Allison:  What a class act Babyface was sad to see them go.
Vanilla Ice & Witney:  I was surprised to see Vanilla go so early too I really thought he would be one to watch as the season went on.  He and Witney were good!
Next week:  Most Memorable Year will post more info as it becomes available.
I went to see Val's talk at the Southern Women's show in SC.  As always he was wonderful and charming.  If you want to see pics from event check out social media at @lightscmemories Instagram, Twitter and FB.
Finally tickets and meet & greet VIP Packages went on sale this week so don't miss out!  www.dwtstour.com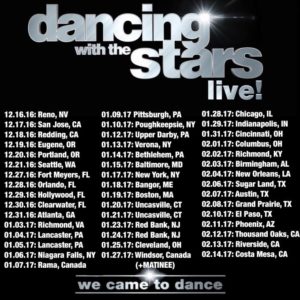 Ladies, I am in love with these new Coach bags, check them out:  http://www.coach.com/shop/women-handbags-satchels
Bebe also has some pretty fall tops:  http://www.bebe.com/Tops/184.sec
Until next time,
Xoxo
Heather