Dancing with the Stars:  Icons Night
#dwts22
Season 22/Week 7
Crazy we are at week 7 already and tonight is double eliminations!  The opening with the 360 degree cameras was what they filmed when I was at the show, it was a very cool experience.  Tonight is Icons Week!
Jodie Sweetin & Keo Motsepe:  Quickstep
Music: "For Once in My Life" by Stevie Wonder
#teamMoSweet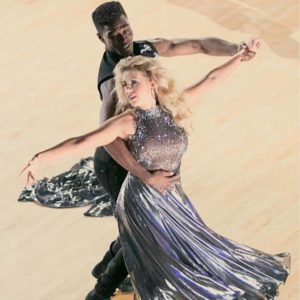 Jodie has performed some seriously intense dances this season so far.  I am looking forward to something more lighthearted.  Jodie is trying to figure out what more they need to do to get higher scores.  I think it's also new to Keo.  He is such a strong dancer and this is the furthest he has gone in a competition to date so they are figuring it out together.
Jodie and Keo should both be proud of their continued improvement.  This season is so tough because it has a crazy amount of talented individuals participating.  Jodie has consistently improved,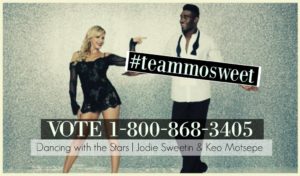 she brings a strong desire to do well and to learn and they are a real joy to watch.  Absolutely loved their enthusiasm when their scores were announced.
Scores:   8-9-9 (26 out of 30)
Kim Fields & Sasha Farber:  Samba
Music: "ABC" by Jackson 5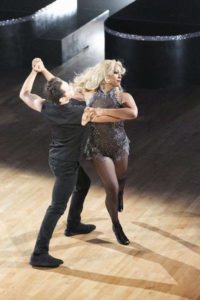 I keep saying it but, Kim and Sasha are seriously the cutest partnership and you can tell they have formed a genuine friendship.  I love how Sasha likes to keep things light and wants to use last week's scores to fuel their drive for this week.  This will be a fun week for them as they are dancing to a Jackson 5 song and Kim is friends with Janet.
Kim and Sasha are just a joy to watch, I thought the dance was light, the set and wardrobe was creative.  Kim is infectious with her energy.  The judges all liked it and had good comments for them.  Len said it was their best dance and I would agree!  It lead to their highest score this season and Kim was beaming.
Scores:  9-9-9 (27 out of 30)
Nyle DiMarco & Peta Murgatroyd:  Foxtrot
Music: "Beautiful Day" by U2
Nyle cau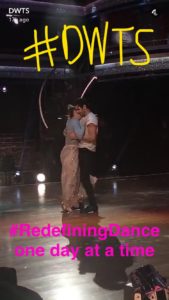 ght a lot of flak last week because of his comment about Val being his biggest competition.  He was able to clarify what he meant a bit more and he seemed to really take it to heart that people would be looking at him like he was cocky.  I don't think there is anything wrong with aspiring to be the best in whatever field it is you are in, it's good to stay motivated by that.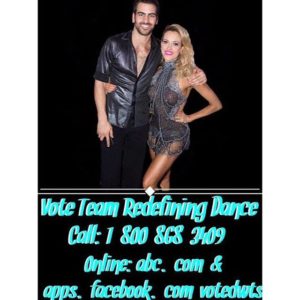 Peta put together a beautiful, stripped down Foxtrot to remind everyone what an amazing dancer Nyle is. It was absolutely moving and graceful.  I loved Peta's overall look tonight too, that dress was gorgeous and the front braid was so pretty.  It was such an elegant dance and Nyle continues to amaze everyone.  The judges all liked it and I loved what Len said "others climb hills but, Nyle climbs mountains".
Scores:   10-9-9 (28 out of 30) Yes there was another scoring issue, Bruno wrote down a 9 but, held up the 10 paddle.
Antonio Brown & Sharna Burgess:  Tango
Music: "Paint it Black" by the Rolling Stones
I am so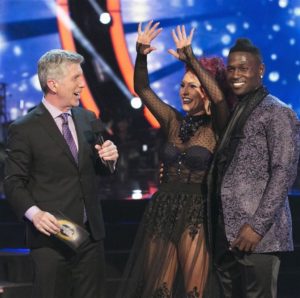 glad that Antonio decided to stay in Los Angeles this week and really put everything into rehearsals.  They seem to be back on track and I am glad he is taking advantage of having an amazing coach on the show.
Sharna did an absolutely amazing, creative job with the chorography!  I loved it!  Antonio really seemed to get into the character and intensity of the dance.  I thought it was a great job.  Poor Sharna had a little wardrobe malfunction but, she handled it with her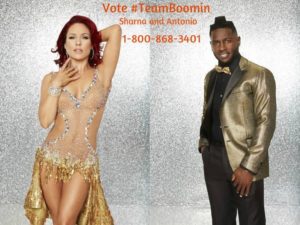 usual humor and grace.  I did wonder why Tom couldn't have whispered something to her rather than bringing it up in such a public manner.  The judges all liked it but, they noticed a few mistakes.
Scores:  8-8-8 (24 out of 30)
Wanya Morris & Lindsay Arnold:  Foxtrot
Music: "I Say a Little Prayer" by Aretha Franklin
Wanya has los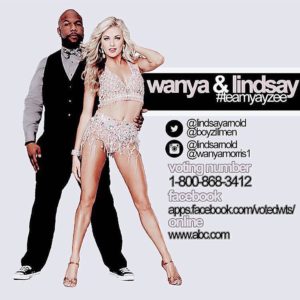 t some serious weight since starting the show and I do really like his humble attitude.  I never really care much for the packages that highlight the busy schedules because it always feels like they are trying to make an excuse.  They all have really busy schedules, some are flying coast to coast each week, others are in training camps etc.  What matters is do they find the time when it matters and put in the work when they can.
Their dance was cute, it was solid.  I definitely think Wanya excels more at the Latin dances and I really think that is because he h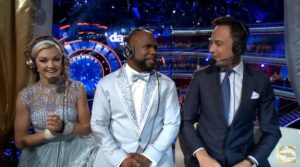 as such a big personality.  He is very likeable and clearly works hard.  I agreed with Carrie Ann that it was good but, she was wanting more.  Wanya has the right attitude and you can tell he is very motivated.
Scores:  9-9-9 (27 out of 30)
Ginger Zee and Val Chmerkovskiy:  Viennese Waltz
Music: "I Have Nothing" by Whitney Houston
Last w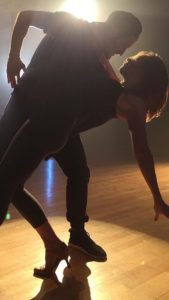 eek's scores and feedback had Ginger concerned and discouraged.  Val dialed up the drive and intensity so he could help her have a breakout week.  I personally love Val's style, he wants what is best for his partner.  When he said he always does this and doesn't want to ruin the experience for her it made me sad in a way.  Having a drive and a genuine care for your partner isn't going to ruin the experience and Ginger is smart enough to see that.  That is one of the things I have always admired about Val compared to some other pros on the show, you can tell he does everything out of pure love and care for his partner not for his own personal gain/credit etc.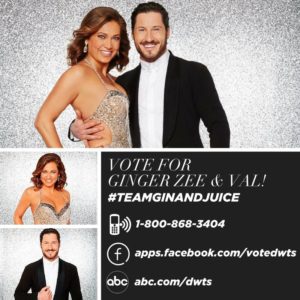 Their dance was stunningly beautiful.  Ginger absolutely embodied the character of the dance.  You felt like your heart was right there on the dance floor with them.  It was magical, graceful, powerful, romantic and absolutely perfect in every way.  Ginger and Val shined so bright and I loved it so much I watched it back a few more times!  The judges all LOVED it too!  Val,  I agree with Len, BRAVO on the beautiful chorography.
Scores:  10-10-10 FIRST PERFECT SCORE OF THE SEASON!
Von Miller & Witney Carson:  Salsa
Music: "A Little Less Conversation" by Elvis Presley
I truly th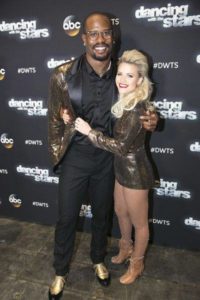 ink Von is finally relaxing and allowing people to truly see his personality.  I found myself finally routing for him the last 3 weeks.   This dance should be fun and I think it's a great idea that Witney had to incorporate lifts and take advantage of Von's strengths this week.
I thought he did a great job getting into character.  Witney did a great job of putting together a dance that would fit the character, that was fun, dynamic, and you can tell Von is having fun in this competition.  The judges all liked it over all, they felt it was a bit rough here and there but, overall good.
Scores:  8-8-8 (24 out of 30)
Paige VanZant & Mark Ballas:  Jive
Music: "Proud Mary" by Tina Turner
Paige mentioned that it s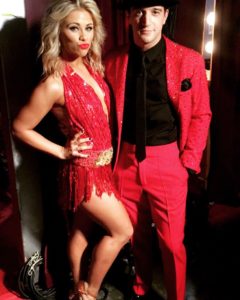 hook her confidence last week being in jeopardy.  It made me sad to hear her doubting herself and if people liked her and are voting for her.  Paige you are amazing, be confident! You are beautiful, talented, sweet and truly kind and that is why people are rooting for you!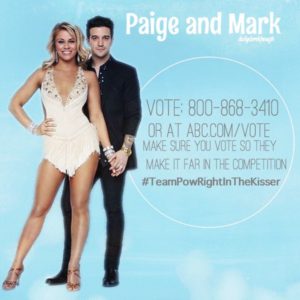 Paige and Mark blew the roof off the studio with their absolutely AMAZING dance.  The energy, content, fun factor was out of this world.  They are a great partnership and I am enjoying Mark's chorography this year.  He is truly working towards all of Paige's strengths and all I can say after tonight is WOW!  That was so, so good!  Judges all loved it.  Len said it UFC-Under Full Control
Scores:  10-10-10 PERFECT SCORE!  
Team Dances: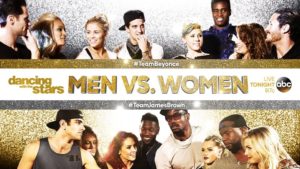 Men #teamJamesBrown

I thought their dance as good.  I can't say it had the wow factor but, it was a solid and fun performance.  I absolutely noticed that when Nyle was slightly ahead of the music that everyone else just joined in and got in sync with him.  He continued to impress me to not only do good with Peta but, in a group setting with so many moving parts it was great.  They made a good team!
Scores:  9-9-10 (28 out of 30)
Women #teambeyonce
This will be an exciting team to watch.  They are all super motivated.   I thought it was overall good, it too was lacking the wow factor of past team dances but, it was solid.  Loved the focus on girl power!  The judges liked it but, commented on a few of the mistakes that they were able to see.  Len was commenting this season is so hard because you just have no idea who will win this mirror ball.
Scores:  8-8-9 (25 out of 30)
Double Elimination Time: 
In jeopardy this week are:
Wanya & Lindsay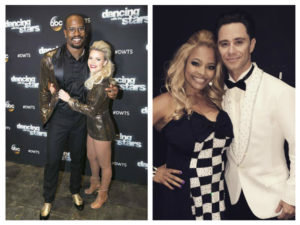 Witney and Von
Kim and Sasha
We said goodbye to Kim/Sasha and Von/Witney.  Both couples should walk away with their heads held high.  They both improved each week and this season is filled with crazy talent.  They will be missed.  It's sad to see Von go at a time I felt he truly was opening himself up more to the competition.  I will miss the joy Kim has brought to the show each week.
Next week:  The judges will team up the dancers and each will coach two couples and then the stars of each team will step away from their pros and dance together.  From what I am seeing it looks like the match ups will be:
Carrie Ann: Antonio/Sharna and Paige/Mark
Len:  Ginger/Val and Wanya/Lindsay
Bruno:  Jodie/Keo and Nyle/Peta
Each group dance will be judged by the two remaining judges and America.  Viewers can score celebrity performances alongside Len, Carrie Ann & Bruno, live, during the broadcast (EST/CDT).  To be part of the judges' table, viewers must visit abc.com to score performances.  A combined overall viewer score for each performance will be counted alongside the judges' score.  Each viewer may score a performance once, and the scoring window for each couple is open for 2 minutes, 15 seconds, beginning at the start of each routine.
Also want to compliment the troupe each performance tonight was amazing!  Great job!
Just a reminder if you want to get tickets to the HOTTEST tour this summer go to: http://www.maksandvaltour.com/  I will be blogging on the show and their various amazing VIP Packages this summer! It kicks off in 6 short weeks!
VOTE by phone, Facebook and on abc.com to avoid future surprising eliminations.
Until next time,
Xoxoxo
Heather