Who's going home tonight…all I know is we are in for a red hot LATIN night!
The opening number was smoldering!  The female pros were slaying it and well the male pros were sexy as usual!  I LOVE Latin night!  Let's get this night rolling!
Up first!
Jodie Sweetin & Keo Motsepe:  Tonight's Dance: Samba.  Jodie mentioned feeling the pressure and you can tell again that she is a perfectionist.  It's so hard to learn to dance but, to learn in this time frame definitely dials the pressure up and more so for a Type A/perfectionist type.  I should know I am one as well we want to do everything perfect right away.  Jodie will need to remember why she is doing it in addition to winning it is to have fun.  I thought she did great to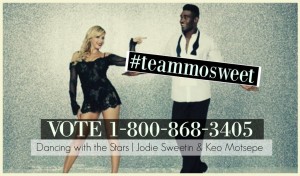 night!  She stayed right on pace with the female troupe members behind her.  It was hot, it was sexy, it demonstrated how hard she worked and Len was happy with the true Samba content.  I also have to give a kudos to Keo, we are finally getting to see his talent as a choreographer.  I know Jodie will go far in this competition.  Great job!
Scores:  7-7-7 (21 out of 30)
Marla Maples & Tony Dovolani:  Tonight's Dance:  Argentine Tango.  Tony mentioned Marla shined from the word GO last week and I agree.  Marla really was amazing and this partnership is going to be one to watch.  Tony has such amazing charisma.  Marla and Tony provide a very sophisticated pairing.  Marla eats h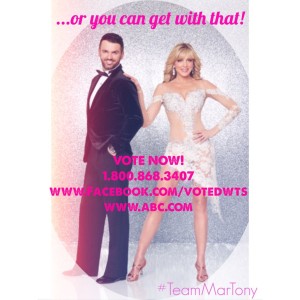 ealthy and it shows, she looks fantastic.  Tonight's dance was sexy & hot for sure.  I thought it was precise, she had great lines and had the character of the dance down.  Seems Glen wanted more intensity or down and dirty based on his score/comments. Overall good feedback from the judges.   Good job Marla & Tony!
Scores:  7-6-7 (20 out of 30)
Geraldo Rivera and Edyta Sliwinska:  Tonight's Dance:  Salsa.  This is a fun dance to learn.  Geraldo really has the most to prove this week.  This is not a walking competition it's a dancing competition at the end of the day.  He cannot just stand there and have Edyta dance around him each week.  The character he was trying to portray in Donald Trump was there but, the content in the dance was not.  I didn't even see the basic salsa moves.   He truly should be the one that goes home this week.  It's been so nice having Edyta back.  She is a fabulous dancer!
Scores:  5-4-4 (13 out of 30)
Paige Vanzant and Mark Ballas (Alan Bernsten):  Tonight's Dance:  Salsa.  Mark injured his back at rehearsal the day before so Alan is filling him for him tonight.  Mark doesn't know the status yet as he is still waiting for MRI and other scan res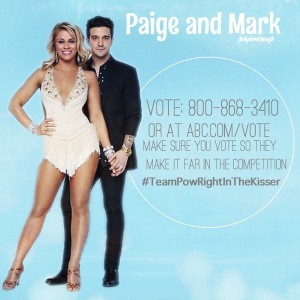 ults.  Under the circumstances this really allowed Alan to be able to highlight his talents and I hope one day we will see him as a Pro.  He is such a sweet man and a great dancer.  Paige and Alan slayed that dance…WOW.  It was hot, it was powerful, it had fantastic hip action, lifts etc. Paige is adorable and such a powerhouse athlete.  Paige is another one to watch this season and I would bet we will see her in the final weeks for sure!  It seems l
ike I am saying that about so many but, man this season is filled with amazing talent.  Incredible!  Paige you were able to roll with the punches and pulled off an amazing performance with Alan, BRAVO!
Scores:  8-8-8 (24 out of 30)
Antonio Brown & Sharna Burgess:  Tonight's Dance:  Rumba.  I am excited to watch this pair do the rumba, it's such a passionate dance.  They are a hot pair and Sharna is so sweet.  Let's see if Antonio can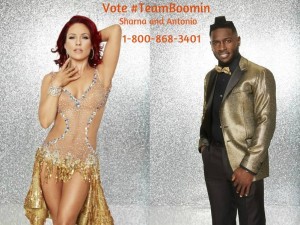 invade Sharna's personal space tonight.  Antonio's smile throughout the dance was just adorable.  I really love this pair.  It was full of chemistry, sex appeal, lust, you could feel the emotion and they should be proud of their performance.  Bruno made a point of stressing to keep fluid motion in the rumba.  Carrie Ann busted them on the lift and Len thinks Antonio has potential.  I was shocked at the scores, seriously 2 6's?  What?  That was a hot rumba.  Sharna will help fine tune all of his movements, she is one of the best!
Scores:  6-6-7 (19 out of 30)
Kim Fields and Sasha Farber:   Tonight's Dance:  Salsa:  Sasha is such a great teacher and a kind, sweet man.  Kim just needs to learn that he is trying to help her to succeed not trying to hurt her feelings.  I understand how she could be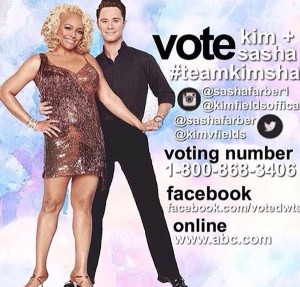 emotional though, it's a lot of hours and pressure.  She is such a great dynamic performer.  I think she has a lot of potential.  The dance was fun, she had great energy and great movement.  There looked to be a few bumps in the routine but, overall it was good.   The judges all noted a mistake.  Bruno gave her great advice on how to cover it in the future.  Carrie Ann told her she has Tina Turner legs and a Beyoncé upper body.  I thought the scores were fair.  Keep working
hard Kim you do have potential.
Scores:  7-6-6 (19 out of 30)
Nyle DiMarco & Peta Murgatroyd:  Tonight's Dance:  Rumba.  This dance is sure to be hot!  Peta and Nyle are both gorgeous and talented.  Nyle has the most beautiful eyes, my gosh.  I am just in awe of Nyle's p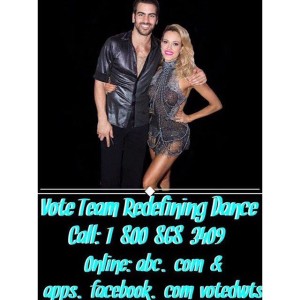 erformance and Peta's teaching ability.  It is beyond stunning to watch them dance, keep timing, the way they do, Nyle's ability to follow Peta's eye's, her body and cue's.  It's all truly amazing to watch.  The judges commented on the lift and they will get a deduction for that.  I totally didn't agree with Len on this one.  He thought there was too much, it should have slo
wer.  Bruno offered some valuable feedback on how to finish his hand movements when he cannot hear the music.  Carrie Ann thought it was stunning.   I thought Len's score was too low in this case.  They are absolutely beautiful and I look forward to their dance each week.
Scores:  7-6-7 (20 out of 30)
Mischa Barton and Artem Chigvintsev:  Tonight's Dance:  Cha-Cha.  Mischa you have such an amazing partner in Artem and such potential to succeed.  I worry already by what is being portrayed in the packages.  You want America to pull for you and after watching this show for so many seasons you have to really let your guard down and let people get to kno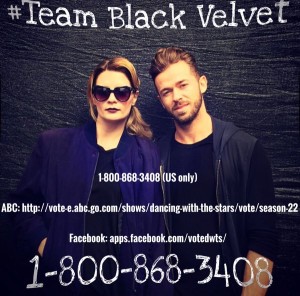 w you, to root for you.  I would say as an observer you have to put in more time/effort because in a way it still looks like you are still walking and not dancing.  Dancing doesn't come naturally to everyone but, you can do this!  There were definitely some mistakes.  I think the judges all gave her good feedback.  She needs to take it as feedback, learn from it and improve for next week.  They are trying to help her.  Again, I will say she has one of the best pro's in her corner, soak in all the effort Artem is offering you.  You also cannot just walk off like that on live TV it comes off like you are being a diva.  It's understandable if you were upset or sad just hold it in for another few seconds vs. walking off on camera.  Think of who is voting for you.
Scores:  5-5-5- (15 out of 30)
Von Miller and Witney Carson: Tonight's Dance:  Cha Cha.  Witney is getting a lot of Bar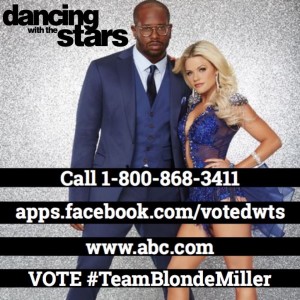 bie Drill Sargent talk online.  She is a tough instructor but, she's good.  I am still a little unsure of this matchup.  Nothing against either person just not seeing them click as much as some of the pairs but, I am sure that will come in time it's only week 2.   Seriously the farting is just gross.   Witney had fun choreography but, something was off to me.  It was ok overall just not the potential I think they have as a pair.  I am surprised they scored ahead of Antonio because I did think Sharna & Antonio were better this week.  Hopefully next week we will see a totally WOW performance from them because I do think they have the potential.
Scores:  7-6-7 (20 out of 30)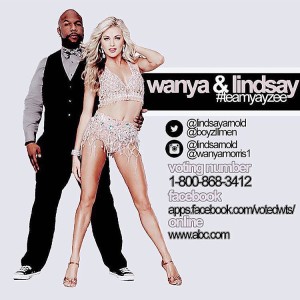 Wanya Morris & Lindsay Arnold:  Tonight's Dance:  Salsa.  Wanya is a big guy like the football players but, he sure can move.  They definitely have the potential to go far this season.  Tonight they truly gave another WOW performance.  It was great, it was full of fun energy, great content and personality.  Wanya can let loose and even though they are traveling while he performs with Boyz II Men they clearly put in the time & effort.   Absolutely fantastic job Wa
nya & Lindsay!
Scores:  8-8-8 (24 out of 30)
Doug Flutie and Karina Smirnoff:   Tonight's Dance:  Paso Doble.   I am routing for Doug to improve tonight.  There is som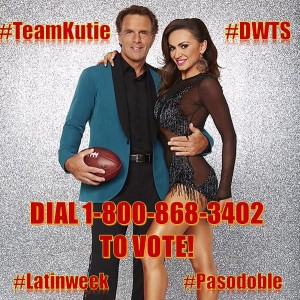 ething about him as a fan of the show I want to see him improve and bring it!   Doug brought the house down with that dance tonight!  What an improvement over last week,  he showed strength, effort, energy, power, was in character and it was so dynamic!   I thought the judges gave him great feedback, positive reinforcement and suggestions.  Doug should be very proud of himself it was truly fantastic and great job to Karina as well.
Scores: 7-6-7 (20 out of 30)
Ginger Zee and Valentin Chmerkovskiy: Tonight's Dance:  Samba.  OMG the package had me laughing.  If anyone can bring your sexy swagger back Ginger it is Val!  He is just amazing.  I r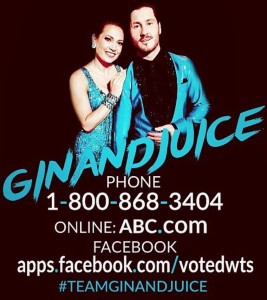 eally like Ginger, she is adorable and fun to watch.  She is spunky and sweet and seriously is so fortunate to have Val as her partner.  There was a minor slip up but she was good at not letting it get to her and not showing it on her face she just kept moving. That comes from Val's great teaching ability, you just keep moving.  Kudos to Val from Len on the content of the dance!  She has such a bright light that shines and they will absolutely go far in this competition in my opinion.  I liked what Carrie Ann said that sexiness is just owning your own unique beauty.  Ginger you did great!  Val fantastic job on the choreography.  This was a fantastic performance, I think the scores were probably fair given a few small errors but, they should be happy with their performance!
Scores:  7-7-7 (21 out of 30)
Elimination time:  Mischa & Artem, Geraldo & Edyta and Doug and Karina were the bottom 3 tonight.   First couple to be eliminated was:  Geraldo & Edyta.  Truly that was the right result.
Final thoughts.  I think Mischa will be going home next week and I hate to say it because I adore Artem but, between her dance performance tonight and the total diva behavior it's going to hurt her with the voters.  The other low score performances this week all demonstrated more effort and showed more personality.
This season is packed with talent that is for sure, it's going to be so interesting how it all pans out.  I don't even think I could pick the top 3 yet.   I love Monday nights it always inspires me to keep up my own dance lessons.  What fun it would be to be on this show!
Top of Leaderboard:
Paige & Mark
Wanya & Lindsay
Bottom of Leaderboard:
Mischa & Artem.
I look forward to hearing your thoughts on social media!  To follow me go to @lightscmemories on IG & Twitter and Facebook:  https://www.facebook.com/Lights-Camera-Memories-935628749847172/?ref=hl
Just a reminder too if you want to get tickets to the hottest tour this summer go to:  http://www.maksandvaltour.com/  I will be blogging on the show and their VIP Pkgs all summer.
REMEMBER TO VOTE:  I included edits this week from twitter with all the voting information on them!
Until next time,
Xoxo
Heather