DISNEY Week
Season 22/Week 4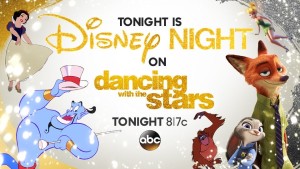 Who is ready for a magical night?  It's always a great week on Dancing with the Stars, love all the creativity that flows, the sets, the costumes/makeup and feel good music.  This year's cast continues to impress so I bet they will not disappoint tonight.
Opening number was so much fun to watch!  All the pro's look amazing and who doesn't love watching Val play violin and dance at the same time, his talent is well…endless.  I think tonight will be a special night!
Welcome to Zendaya as guest judge this week!  It was nice to have her back on the show.  Also great to have Brittany Cherry back in the troupe tonight.
Also note the dances all go up to 1 min 30 seconds this week.
Antonio Brown & Sharna Burgess:  
Dance: Jazz/Song: "Friend Like Me" from Aladdin
There is just something I love about Antonio.  I really feel he shares his heart with us each week.  Sharna is such a great instructor.  She mentioned he needs to bring his cool cat to the routine and she hopes it is his best dance yet.  First of all Sharna looks absolutely amazing tonight, you go girl!
I thought Antonio absolutely had his best dance to date, he held his own wi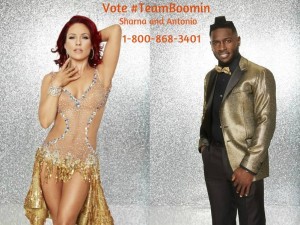 th the male pro dancers and he absolutely brought the cool factor.  FANASTIC performance.  It was fun, it was creative and he demonstrated so much personality in the character. I had to go back and watch it again I loved it!  Bravo!  I truly hope the judges break out the higher paddles for this dance because they deserve it!  FINALLY some good scores for #teamboomin!!!
Scores: 9-8-9-9 (35 out of 40)
Marla Maples & Tony Dovolani:
Dance:  Waltz/Song:  "Part of Your World" from The Little Mermaid
Marla seems like such a sweet person, I love her Zen attitude, when it gets stressful let's just do a cartwheel.  She and Tony have such a great partnership.
I loved their dance, the opening animation was great, their dance with clean, classy, graceful and really told the story.  Great job to Tony on the choreography.  I know a lot of people have said they think they have played it safe.  I think they have just been giving us good, clean, solid dances each week.  Marla is so classy.  The judges gave them all good feedback. Zendaya made a good point to enjoy the process.  I am sure it's extremely hard with so much going on each week.
Scores:  7-7-7-7 (28 out of 40)
Nyle DiMarco & Peta Murgatroyd:
Dance: Samba/Song: "Trashin The Camp" from Tarzan
#redefiningdance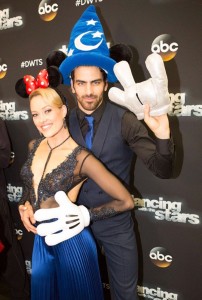 Every week I am on the edge of my seat when it's time for Nyle and Peta.  I am just in awe of this couple.  It will be very interesting what happens during switch up week.  I am hoping Sharna gets matched with Nyle.  Nyle is going to be one smoking hot Tarzan!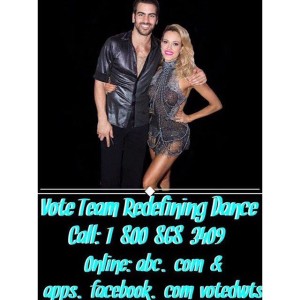 OMG that was the BEST!  I think that was my favorite dance I have ever seen Peta perform with a partner!  It was so much fun first and foremost but, my gosh,  I am speechless.  Nyle hits every single beat, every single move at just the right time and it is just amazing.  Kudos to Peta for fantastic choreography and for another week of inspiring teaching ability.  Nyle you showed off such amazing charisma, your fun personality and well you might just be the hottest Tarzan any of us ladies have ever seen!  FANTASTIC job to you both!  I am sure you will be getting some great scores!  The judges were all blown away.
Scores: 8-8-9-9 (34 out of 40)
Doug Flutie and Karina Smirnoff: 
Dance: Jazz/Song: "A Spoon Full of Sugar" from Mary Poppins
#teamkutie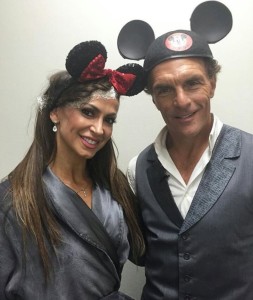 I am always interested in what they are showing in the packages each week as in many ways that is the producers telling a story and sometimes it does catch the stars at their most frustrating moments.  My impression of Doug is he is a perfectionist.  I think he has always been good at everything he has done and this is hard because he may not be picking it up as quickly as he wants to.  Karina made a good point when he got frustrated and said it's only dancing. I hope he finds the fun in this experience.
If there is an underdog this season I routed for it would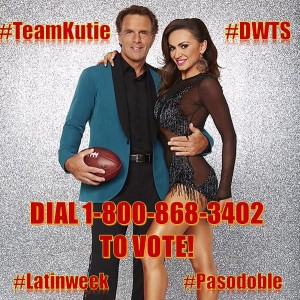 be Doug, I do think he tries, I just think it's not coming together for him to the point
of progressing as much as some of the others.  This is a tough season filled with a lot of talent.  Their dance was fun, there were some mishaps and it's just not up to the same level as the other pairs right now but, I truly applaud Doug for the effort he puts in each week.
When Tom told them they are safe after their dance I have to say my mouth fell to the floor.  We are in for a surprise elimination this week I am afraid to say.
Scores:  6-6-6-6 (24 out of 40)
Kim Fields and Sasha Farber: 
Dance: Quickstep/Song "I Wanna Be Like You" from The Jungle Book
Kim and Sasha are another pair I really look forward to each week.  Kim has truly relaxed and embraced the fun of the show.  She is full of joy, spunk and they are just such a great pairing!  It's so great having Sasha back as a pro this year!
Their dance was so much fun, it was light, full of content and creativity!  It was hard not to smile and you could feel Kim's joy right through the screen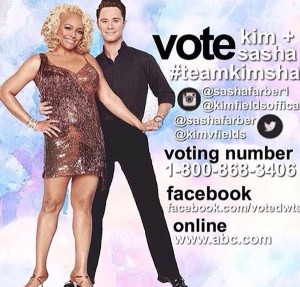 !  Len really loved it and said it was her best dance so far and I totally agree.  Every week Kim improves.  Her smile is contagious.  It was hilarious when she dove on the desk to thank Bruno for his compliment.
Scores: 8-8-8-8 (32 out of 40)
Jodie Sweetin & Keo Motsepe:
Dance:  Cha-cha/Song: "Try Everything" from Zootopia
Jodie has the right mindset.  Loved what she said in her package that last week was emotional but, now it was time for some fun.  It's apparent she works really hard with Keo each week and really wants to excel.  I am still shocked they were in the bottom 3 last week.  Loved seeing Jodie's kids come to practice and be so excited for this week!
Their dance was a lot of fun, Keo is really getting to show his talents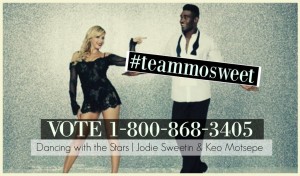 as a pro on the show this season and Jodie never stopped smiling even though they were having a few issues in the dance.  She said later that she couldn't hear the music over the enthusiastic fans which really made it hard for her in the Cha-cha.  Bruno is waiting for the WOW factor, I agree she has it in her absolutely.  She just needs a breakout week.  Len had a lot of positive comments which I thought was great.  Jodie really has the potential and I hope they have the chance to let it shine.
Scores: 7-6-7-7 (27 out of 30)
Von Miller and Witney Carson:
Dance:  Viennese waltz/Song: "A Dream Is A Wish" from Cinderella
Witney looked absolutely breathtaking tonight. The perfect Cinderella.  This couple I am still on the fence about.  I don't think the packages help matters, especially the comment on how did we end up with the same scores as them?  I don't blame Witney for her rules that would drive me crazy too and it's just not polite.
Witney did a great job with the choreography, with the major height difference b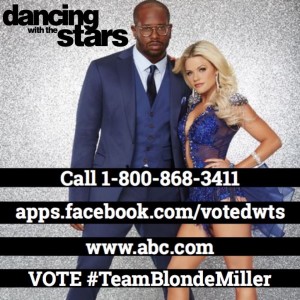 etween them I am sure this dance was challenging to keep the frame.  I found it hard when I was learning to dance to do it with someone the same height as me.  I do think this was Von's best dance to date.  I just think maybe he isn't connecting with the audience or something.   Will be interesting to see how he does in switch up week.
Scores: 8-8-8-8 (32 out of 40)
Ginger Zee and Valentin Chmerkovskiy
Dance:  Foxtrot/Song: "Belle (Bonjour)" from Beauty And the Beast
I am in love with #teamGinandJuice!  They are such a great positive match and I look forward to their dances each week.  Ginger is totally living the dream of so many on this show and to be partnered with Val too!  Val is so relaxed and you can tell how much fun they are having even as they work hard!
Ginger could easily be on Broadway I literally smiled through their entire dance it was absolute PERFECTION. Val made a very sexy Gaston it was so fun watching them both bring their characters to life tonight!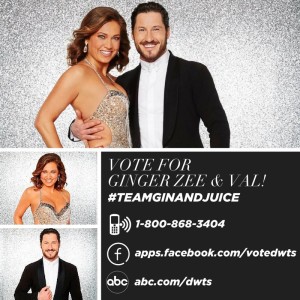 Val you deserve tremendous praise for your creativity on this dance.   You perfectly choreographed to all of Ginger's strengths and I truly thought it deserved 10 but, let's see what the judges say.
I thought it deserved a 10 but, straight 9's still puts them to the top of the leaderboard.  You had your breakout week Ginger!
Scores: 9-9-9-9 (36 out of 40)
Wanya Morris & Lindsay Arnold:
Dance: Samba/Song:  "Circle of Life" from The Lion King
Wanya is such a powerhouse, I am thinking tonight he will be one to watch.  He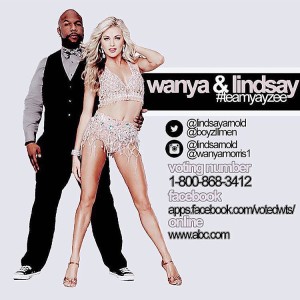 seems to excel with the faster dance styles.  He absolutely has that competitive drive and he's fun to watch.
Their dance was crazy powerful, fast, really allowed Wanya to show off his tremendous presence.  Lindsay has been doing a great job creating very unique, fresh dances each week.  She and Wanya really are a fun partnership to watch as
well.   He has a great spirit and I love his drive to be his personal best which will take him far in the competition.
Scores:  8-9-9-9 (35 out of 40)
Paige Vanzant and Mark Ballas:
Dance:  Quickstep/Song: "You've Got a Friend in Me" from Toy Story
Paige seems like such a sweet girl.  Love that she has found friends on DWTS.  Their song tonight truly fits her sweet and fun personality.  She's an absolute contender this season and she shines every single week when she hits the da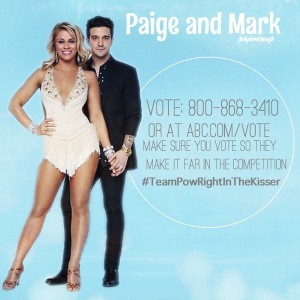 nce floor.
I am enjoying Mark's choreography this season.  Sometimes his routine
s are a bit too theatrical for me but, this season he is in a great zone.  He is showing off Paige's talent and personality in every routine.  They did such a great job tonight, it was fun, it was filled with content and you can tell Mark is really challenging her.  They truly captured the story, I absolutely loved it!
Scores:  9-9-9-9 (36 out of 40)
Elimination Time:
Bottom 2:
Keo and Jodie
Tony and Marla
Neither of these couples belonged in the bottom 2 in my opinion.  It was awful to see Tony and Marla go home.  Marla was so amazing all season and I truly enjoyed her partnership with Tony.
Final thoughts:
Bravo to ALL of the dancers, makeup artists, crew, set design, hair, costumes and everyone that worked hard on this show.  It was truly an amazing production from start to finish!  It's the Switch Up next week below would be my ideal switch up's. Switch up week is always so interesting because we are just seeing all of these partnerships grow and then they get thrown a curveball but it can also be helpful to get another pros prospective.   The new partners will be announced on GMA 4/13.
My ideal switch up partners:
Val and Jodie
Keo and Ginger
Mark and Kim
Sasha and Paige
Sharna and Nyle
Peta and Antonio
Witney and Wanya
Lindsay and Doug
Karina and Von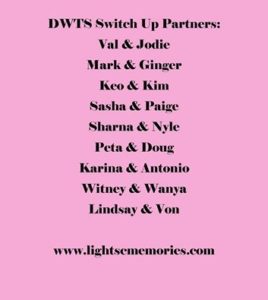 I look forward to hearing your thoughts on social m
edia!  To follow me go to @lightscmemories on IG & Twitter and Facebook:  https://www.facebook.com/lightscmemories/
Just a reminder too if you want to get tickets to the HOTTEST tour this summer go to: http://www.maksandvaltour.com/  I will be blogging on the show and their various amazing VIP Packages this summer.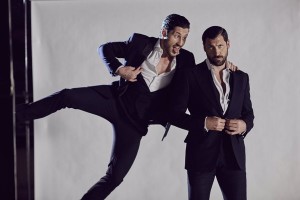 I could not be more excited & happy to say that after watching for 22 seasons I will be a part of the live audience next week!  It will give me a whole new perspective watching it live and I cannot wait to see all of these talented individuals perform in person!
VOTE by phone, facebook and on abc.com to avoid future surprising eliminations.
Until next time,
Xoxoxo
Heather