Season 23, Week 11, Finale Night 1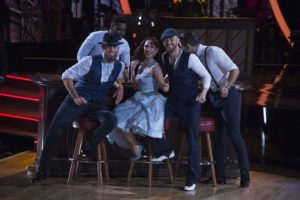 I absolutely cannot believe we are at the finale already for this truly amazing season!  First up welcome back to Len!  Tonight one couple will be eliminated and the final 3 will compete tomorrow doing a special dance fusion for the final judge's scores.  Train did a great job on performing their new song and Artem, Cheryl, Keo, Alan performed a fantastic dance.  I also loved the special performance of La La Land.
Finally one big shout out to the Troupe this year!  You all work so hard and have to be in so many places at once as well and you all give it 200% all the time.  I am standing here applauding you all!
FYI:  I am doing 8 Days of Giveaways on my Instagram page to thank you all for helping me to hit 8000 followers!  It started today so check it out, tell your friends to join in on the fun and follow @lightscmemories on IG!  Day 8 will be a BIG giveaway plus I will be posting a bunch of pics from the We Came to Dance Tour:-) 
Calvin & Lindsay (Viennese Waltz)
#TeamLindsatron
I thought their dance was nice, it was clean, beautiful and you can absolutely see the growth and improvement that Calvin had from the 1st week of the season.  I wasn't too surprised with the scores, I thought the dance was good but, just didn't have that WOW factor.   That moment when they brought Calvin's son out was just absolutely precious.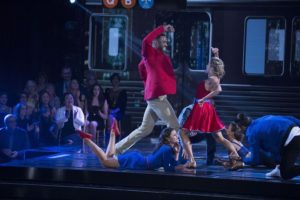 Freestyle:  I absolutely have to hand it to Lindsay on this fun choreography and concept.  It absolutely highlighted all of Calvin's strengths with the lifts, his athletic skills and his fun personality.  Very good job, BRAVO.  Well-deserved perfect scores across the board for the Freestyle!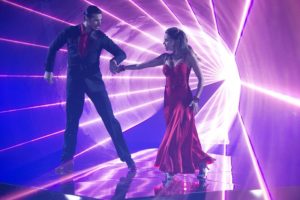 Jana Kramer & Gleb Savchenko (Tango)
#TeamGlamer
The judges picked the Tango because that was the week Jana had the injury.  Poor Gleb also had the flu this week.  Gleb is very artistic in his dances and I really like all the visual effects.  It's been great to have him back this season.  I thought they did a great job on the Tango, it was beautiful and Jana also has made tremendous improvement and growth this season.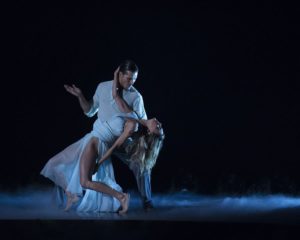 Freestyle:  I loved the unique creativity that they included in this dance.  The dance was full of emotion, beautiful style, intensity, passion and I really loved every moment of it!  Fabulous job to them both.  My gosh with Gleb getting emotional, don't focus on a bump in the dance, focus on the beauty of the dance you just did.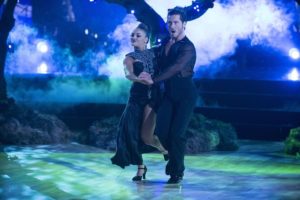 Laurie Hernandez & Val Chmerkovskiy (Paso Doble)
#TeamVaLaur
I thought it was great they picked the Paso for their redemption because I think that was their breakthrough week as partners.  WOW they absolutely slayed the Paso.  Laurie is truly an impressive girl.  She is unstoppable!  What an absolutely fabulous job!  I don't know what the judges were thinking they deserved straight 10's!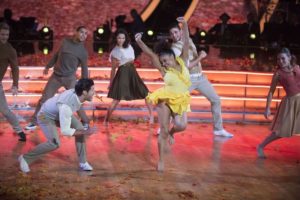 Freestyle:  Fabulous job to both Val and Laurie.  Bravo to Val on really fun creativity and what a light, fun, beautiful way to highlight not only all of Laurie's talent but, the fun partnership and friendship you both have built this season.  I have loved this partnership all season!  Well deserved-PERFECT score!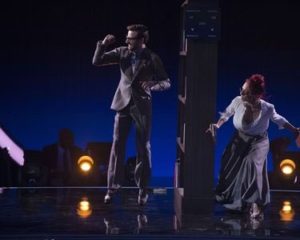 Sharna Burgess & James Hinchcliffe (Foxtrot)
#TeamStopandGo
I loved the dance off James and Hélio Castroneves had.  I really love this partnership too.  James has also grown a lot as a dancer, especially his lines and grace.  They did a beautiful job tonight, he is incredibly talented but, the partnership with Sharna really has made him a shining star all season.  It's unfortunate they had a little stumble because the judges took off a point for it all but, Bruno.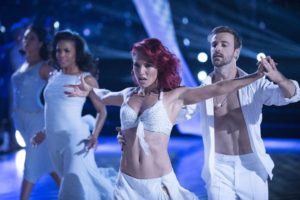 Freestyle:  Sharna deserves a tremendous amount of credit for her amazing vision for this freestyle, it was absolutely amazing.  The beauty, the truth in the story, the emotion it was awe-inspiring.  They are in it to win it for sure!  Absolutely stunning, BRAVO!  Well-deserved PERFECT scores!
Elimination Time:  I was so sad to see Jana and Gleb eliminated tonight.  I truly felt they absolutely deserved to be in the final 3.  They should be extremely proud of themselves.  They have been a joy to watch and I loved their partnership!
Prediction:  Final 2 will be James/Sharna and Laurie/Val!
Who will win the Mirrorball?  What are your predictions?  I would love to hear from you!
Please feel free to follow me on Instagram, Twitter and Facebook:  @lightscmemories
Finally meet & greet VIP Packages and general tickets are on sale for the DWTS Tour so don't miss out!  www.dwtstour.com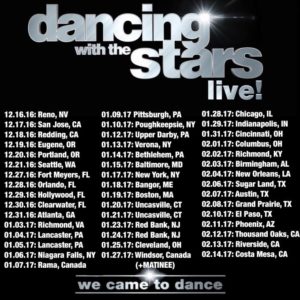 Until next time,
XOXO
Heather