Dancing with the Stars-Showstoppers Night
Season 23, Week 9
#dwts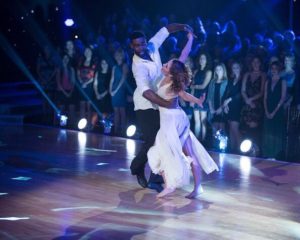 What a fun opening number. Mandy Moore is such a creative talent and truly amazes each week. Today's guest judge is Idina Menzel. Also absolutely stunning job to Keo & Allison on their beautiful contemporary. Fantastic job to Mark Ballas and his co-stars in Jersey Boys as well! Go check them out on Broadway! Idina's performance was also absolutely flawless.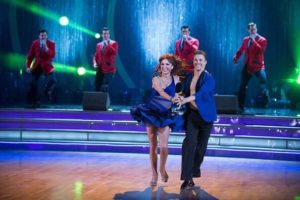 Marilu & Derek
Dance: Samba to "December, 1963 (Oh What a Night) from Jersey Boys featuring guest performances by Mark Ballas
I thought Marilu and Derek did a good job this week. I am glad that Marilu finally got to the point where she is just having fun. She has improved a lot over the course of the season. She had a lot of content in the Samba and performance was her best one to date.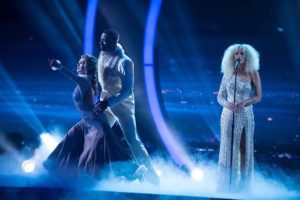 Calvin & Lindsay
#TeamLindsatron
Dance: Waltz to "Memory" from "Cats", featuring guest performance by Leona Lewis
Side note: I loved Leona Lewis's dress. So pretty and her voice is amazing. Calvin and Lindsay are just adorable. They truly seem to have developed a really sweet friendship. They are having a lot of fun and it absolutely shows. Calvin is such a graceful dancer and he should be so proud of his journey on the show, his weekly improvement has been measurable. He went all in when he signed up for the show and that is what I love to see as a viewer and fan of the show.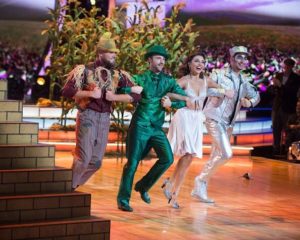 Sharna Burgess & James Hinchcliffe (Jenna filling in for Sharna)
#TeamStopandGo
Dance: Jazz to "A Brand New Day" from the "The Wiz"
My gosh it was so sad watching Sharna struggle with what to do. Safety and protecting your body is always first but, I get it. You develop a bond with a dance partner. I have been in dance lessons all year and it's an interesting process on the partners you just gel with the best. I have had 2 that I instantly clicked with and one that I just couldn't connect with. I know how bad Sharna wants this not only for herself to potentially get to the finals but, she truly wants it for James. I think this is the first time this entire season you saw James have a misstep and forget the choreography for a sec. His dance was good and creative and I still he think he belongs in the final 3 for sure.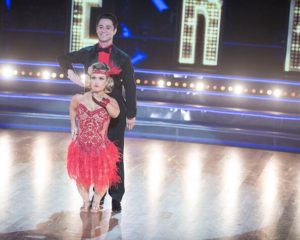 Terra Jole' & Sasha Farber
#TeamXL
Dance: Charleston to "If My Friends Could See Me Now" from "Sweet Charity"
I know I keep saying but, Terra inspires every week and I am so glad her confidence has grown, it truly shows. Sasha has been absolutely tremendous in working with Terra all season. I loved their dance this week, it was spunky, fun and a total joy to watch. On top of improving as a dancer Terra has been so great at getting into the character of the dance. Well-deserved two 10's for that performance!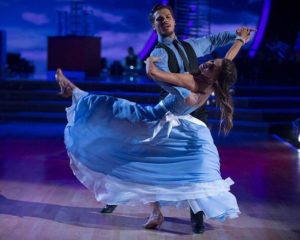 Jana Kramer & Gleb Savchenko
#TeamGlamer
Dance: Waltz to "She Used to Be Mine" from "Waitress"
Gleb was also facing an injury this week. Alan filled in for him this week in practice but, he was able to dance tonight which obviously meant a lot to Jana. I really love this partnership too. Dance has truly been a healing journey for Jana and it makes me happy to see her turn the page in her personal story. Jana has truly been another that has grown so much and transformed as a dancer this season. Their dance was absolutely beautiful, emotional and raw. It truly was a well-deserved PERFECT score!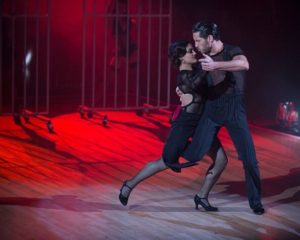 Laurie Hernandez & Val Chmerkovskiy
#TeamVaLaur
Dance: Argentine Tango to "Cell Block Tango" from "Chicago"
On this first and foremost I have to say some of the things I read about Val telling Laurie she needed to be sexy have been off the wall. Maybe a better word would have been intense and passionate but, he certainly didn't mean it the way some have portrayed it. Laurie is still such a fun and innocent teen. There are some dances that just are more passionate and intense than others but, I think with the younger contestants have been on various seasons you just have to adapt it in a classy way which I feel they did. Their dance was absolutely incredible! It was their best dance of the season in my opinion. It was classy, it was intense and passionate. Laurie really was able to show off her immense strength and that was just totally mind blowing! Absolutely deserved a PERFECT score! Way to go!
Team-Up Challenges: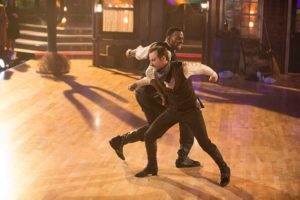 James/Sharna & Calvin/Lindsay: Paso Doble
#teamlastmenstanding
Calvin and James are just too adorable with their Bromance. I loved their dance it was so creative, intense and straight out of the Wild West.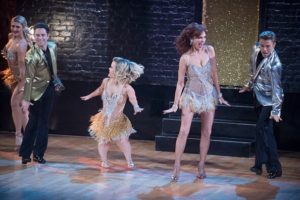 Marilu/Derek & Terra/Sasha: Jazz
#teamCubs
Artem filled in for Derek during the practice for the dance. Marilu and Terra were another fun match up. I love this point in the season where everyone truly develops friendships. Their dance was great too, very Broadway and truly matched up to the Showstopper theme really well!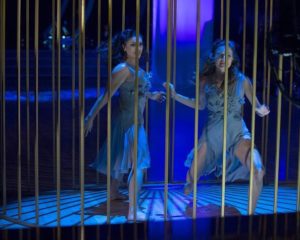 Jana/Gleb & Laurie & Val: Contemporary
#teamSisters
Jana and Laurie are another special friendship. I love to see two women truly supporting each other and lifting each other up. Their dance was absolutely breathtaking. That front trust fall was incredible. It showed off the pure physical and emotional strength of each woman, their emotion, ability and I loved every single second of it. I admit I watched it a few times. Well-deserved PERFECT score!
Next week the couples will do a dance they have not done yet:
Laurie & Val: Foxtrot to "Hollow" by Tori Kelly
James & Sharna: Argentine Tango to "Santa Maria" by Gotan Project
Calvin & Lindsay: Tango to "Seven Nation Army" by The White Stripes
Terra & Sasha: Rumba to "Scars to Your Beautiful" by Alessia Cara
Jana & Gleb: Quickstep to "Go Mama" by Wayne Beckford
Next week is also Trio Week:
Laurie & Val with Maks: Samba to "Magalenha" by Sergio Mendes
James & Sharna with Jenna: Jive to "Gimme Some Lovin" by the Spencer Davis Group
Calvin & Lindsay with Witney: Salsa to "Limbo" by Daddy Yankee
Terra & Sasha with Artem: Tango to "Hideaway" by Kieza
Jana & Gleb with Alan: Paso Doble to "Kill of the Night" by Gin Wigmore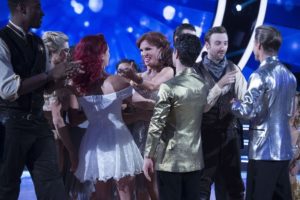 Eliminated tonight was Marilu & Derek. Marilu should be proud of her journey on show this season. She made a lot of strides from the first few weeks and I am glad on the night she was eliminated she had one of her best, most relaxed performances.
PS:  GREAT news! Sharna will be back next week!
Please feel free to follow me on Instagram, Twitter and Facebook: @lightscmemories.  I will be doing some giveways soon so stay tuned to social media:-)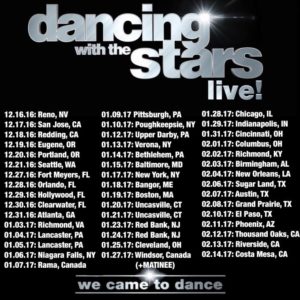 Finally meet & greet VIP Packages and general tickets are on sale for the DWTS Tour so don't miss out! www.dwtstour.com
Until next time,
XOXO
Heather