Dancing with the Stars:   Trio Week Semi-Finals
#dwts22
Season 22/Week 9
I cannot believe there are only 2 more weeks to go.  For those of you that follow my blog I have many events I will be covering this summer including:  Maks & Val Tour, CMA Fest, Luke Bryan, Keith Urban, Steven Tyler, JLO and more! Please stay tuned to this page, my IG/Twitter: @lightscmemories and Facebook: https://www.facebook.com/lightscmemories/.  I will also be announcing a BIG giveaway in the next few days so watch IG/Twitter/Blog page for that!
Paige VanZant & Mark Ballas
Trio:  Alan Bersten-Samba- "Hip Hip Chin Chin" by Club Des Belugas
This trio will be amazing!  They said they picked Alan because they had great chemistry when they danced together the week Mark was out with his back injury.  I thought the dance was fun, creative, energetic, really allowed Paige to show off her dan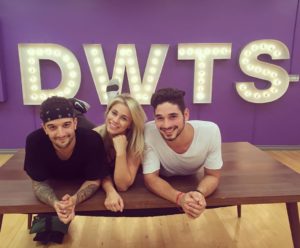 cing ability and truly be the lead.  Len said BRILLANT!  Bruno said she is the Queen of the Jungle.  Carrie Ann said she is unstoppable!  Everyone is still trying to figure out if Alan and Paige are dating…too cute!  If they are I think they would make an adorable couple.
Scores:  10-10-10 (Perfect Score 30 out of 30!)
Argentine Tango- "One Time" by Marian Hill
Paige told the story of her life growing up.  She highlighted that she did individual dance for many years and then she decided to do cheerleading.  That is when the bulling started girls that didn't make the squad bullied her terrible.  Her family moved to Reno to get Paige out of that environment.  That is when Paige started to learn MMA.  Before everyone starts saying it isn't fair Paige has dance ex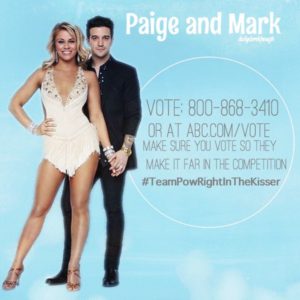 perience.  I can say from personal experience it's very different taking individual dance and dancing with a partner.  It might give an edge on some things like lines & musicality but, the movement with a partner is totally different.  Their Argentine Tango was sexy as hell, lots of great lifts, a fun storyline and overall a great job!  Bruno loved how nasty it was and said it was like watching 50 shades of Paige.  Len liked it but, felt it was a little too sexy for his taste.
Scores:  10-9-10 (29 out of 30)
Antonio Brown & Sharna Burgess
Trio:  Hayley Erbert Argentine Tango-"Mi Confession" by Gotan Project
Sharna picked Hayley because she is super fierce!  I felt they should have had Antonio highlight his ability more in the beginning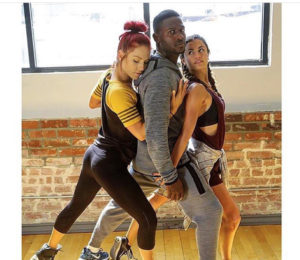 rather than just strike poses.  Sharna and Hayley did a great job with the choreography.  Overall they did a good job.
Scores:  9-9-9 (27 out of 30)
Contemporary- "Hall of Fame" by The Script
Antonio shared his less than ideal time growing up.  His parents split up and he didn't have that male role model and he and his Dad struggled in their relationship.  His Dad said if he had it to do over again he wouldn't have left.  He was the underdog because of his size and circumstances but, he had that inner drive and motivation to make something of himself.  He made it in the 6th round of the NFL draft.  Many shared that the best thing about Antonio is he is a great Dad.  Sharna choreographed a beautiful dance truly highlighting Antonio's life story.  The lifts were incredible, you could feel the emotion in the dance and overall I thought it was really good.  They got their 1st 10 from Bruno!
Scores:   9-9-10 (29 out of 30)
Wanya Morris & Lindsay Arnold
Trio:  Witney Carson Paso Doble- "Explosive" by David Garrett and Frank Heijden and Royal Philharmonic Orchestra
Lindsay and Wanya chose Witney because they had danced together in switch up week and she is Lindsay's best friend.  Wanya noted that he was so focused on the work he forgot to have fun.  Wanya has such a humble way about him, you cannot help but want him to succeed.  The dance was fierce, it was hot, precise, great choreography and was just simply amazing!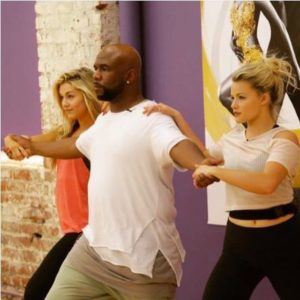 Scores:  10-10-10 (Perfect scores 30 out of 30!)
Charleston- "Shame on Me" by Avicil
Wanya's family was so cute.  They saw at a very young age that he could sing. He grew up in the projects in Philly.  He dealt with a lot of struggles.  Wanya dreamed of becoming a star.  They formed the band Boyz II Men and really hit the ground running.  Wanya turned around and helped his family.  I think that is why he is so humble and kind, he never forgot where he came from.  His light shines so brightly.  Lindsay has learned selflessness from him.  Their dance was crazy high energy, so much fun, great musicality, precise and I just loved it!  Carrie Ann said he is her hero tonight and said he has electric feet.
Scores:  10-10-10 (Perfect score 30 out of 30)
Nyle DiMarco & Peta Murgatroyd
Trio:  Jenna Johnson Jive- "Hit the Road Jack" by Hermes House Band
Jenna said she was glad that she was in their Trio because she thinks they are going to win.  Jenna also took a few years of sign language in school so that helped her in communicating with Nyle.  It was great to show off the fun side of Nyle.  They did lose s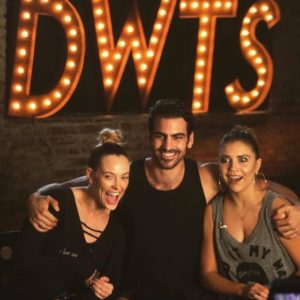 ome timing during the dance.  Overall I thought it was fun, cute, and full of energy.  Good job.
Scores: 9-9-9 (27
out of 30)
Argentine Tango- "Unsteady" by X Ambassadors
Nyle will be blindfolded for the dance tonight.  A lot has been said on social media about this that it's been done before etc.  Yes it has but, not by someone that was also deaf.  Nyle will be relying totally on Peta's body movement.  Nyle went to school because h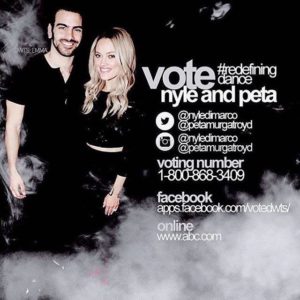 e wanted to be a Math teacher and then Tyra stole him for America's Next Top Model.  Nyle wants to stay on this platform because he feels he can make a larger impact for the deaf community.  He was blindfolded for part of the dance.  It was beautiful, moving, emotional, and impactful in so many ways.  I absolutely loved it.  Nyle said he likes to challenge himself and it truly came across so beautiful tonight.
Scores:   10-10-10 (Perfect score 30 out of 30!)
Ginger Zee and Val Chmerkovskiy
Trio: Artem Chigvintsev-Paso Doble- "Shot Me Down" by David Guetta
Val picked Artem because he is an incredible performer, teacher, choreographer and highlighted that Artem is more patient.  Val says Artem is the honey, he is mustard and Ginger is the chicken nugget lol.  I think Ginger might just be the luckiest woman on DWTS this week to be dancing with Val and Artem!  I loved it, I thought it was great.  It was strong, the character was on point, the choreography was fantastic and I really loved this trio together.  The judges pointed out a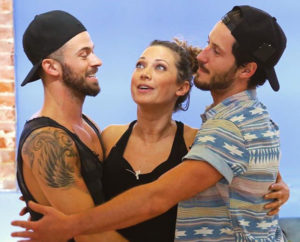 few balance issues they saw in the dance.
Scores:  9-9-9 (27 out of 30)
Quickstep- "Fire Under My Feet" by Leona Lewis
Ginger's parents also divorced when she was young.  She was very shy.  Ginger ended up with an eating disorder because she f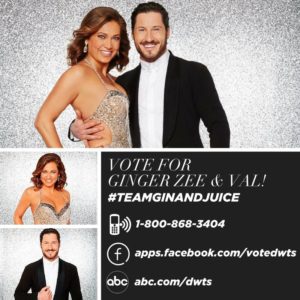 elt a need to control something in her life.  Her curiosity about weather developed into a passion.  She started on GMA in 2011.  Val said this was a fun & awesome season for him.  I have loved their partnership.  Their dance was light, fun, high energy, had a lot of content, and overall they did a great job.  Ginger has grown so much this season as a dancer, she truly is able to get into the harder characters now and should be very proud of all she has accomplished with Val.
Scores:  9-10-10 (29 out of 30)
Elimination Time:
Wanya & Lindsay
Antonio & Sharna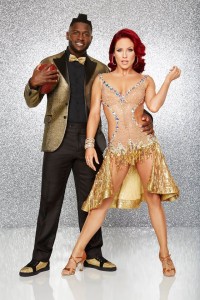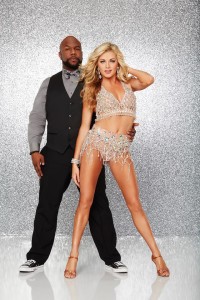 That leaves the following 3 for the finals next week…VOTE! Voting will already count for the finals!  We know many times it comes down to the freestyle dance.  These couples all are good and unique in their own ways.  I hope they almost all strip it down and focus just on the dancing, less about props, big stage sets etc.  Some of my favorite freestyles since Season 1 focus on the skill, the music and truly letting the partner shine.   This season was one of the most talented in recent memory and all are worthy for the win!  Let's see who brings their "A" game next week, I cannot wait!
Nyle & Peta
Ginger & Val
Paige & Mark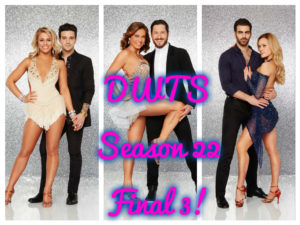 Just a reminder if you want to get tickets to the HOTTEST tour this summer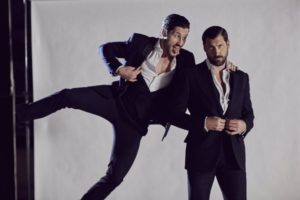 go to: http://www.maksandvaltour.com/  I will be blogging on the show and their various amazing VIP Packages this summer! It kicks off in 6 short weeks!  #ourwaytour
#maksandval
VOTE by phone, Facebook and on abc.com to avoid future surprising eliminations.
Until next time,
Xoxoxo
Heather