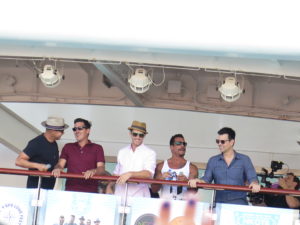 NKOTB Cruise 2016: aka STILL Selfie Madness
October 2016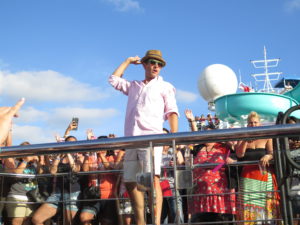 NKOTB Cruise!  I really have never been one that is into cruising.  I am usually the type that prefers an all-inclusive beach vacation but, I have seen how much fun these charter cruises are.  This year I booked ahead and stayed with a friend of mine and it was absolutely an improvement this year to be in a cabin with the balcony.
I have to say they keep you busy and by the end of the trip you will be more exhausted than you ever have been in your life.   Donnie Wahlberg especially I am convinced never sleeps.
Each night on the cruise they have theme nights.  I must admit that they were a lot of fun:  Theme's on this cruise included Purple Night, Neon Night, Halloween Night and GPS Night.   These parties were held out on the main lido deck each night and it was fun to see all the creativity that went into them both by the other cruisers and the guys.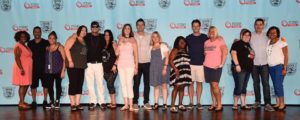 One thing that became very obvious to me again in the first hours of being on the ship was the extreme selfie madness that was about to happen.  It almost became this challenge.  Can you get a selfie with each New Kid and it left you feeling like if you didn't you were some sort of cruise failure.  It truly took away from a lot of the theme nights in my opinion.  It was also frustrating when you were waiting or wanting to get a selfie with a New Kid to see someone else that had already had 5 with them were trying to get in for another one.  All you saw were cell phones in the air and it's almost like those circling the various stages cared less about the performance of the guys and more about pushing their way into location to get a selfie.  I ended up getting a selfie with 2 out of the 5 this year.  It was fun to be a part of Donnie's World Record breaking selfie line.  He did it officially this year!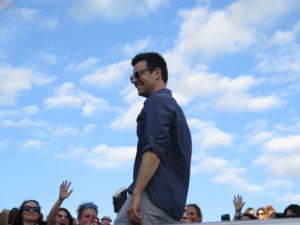 The rest of the time on the ship you were kept entertained with NKOTB Game show which was funny and it was nice to see the guy's fun personalities shine.  They were really funny and a just a bit naughty this year.  We also had a concert one night and were able to check out a taping of Jenny McCarthy's Dirty Sexy Funny Sirius XM show that she taped on the ship.  There were a lot of fun surprises that occurred during that taping with guest appearances by the guys.  I was excited to see the Trifecta added to the schedule this year with Danny, Joe and Jordan.  I just wish each guy had equal time singing solos.  I loved the Solo Wood portion, Jordan's time was pretty short and he is amazing and Joe and Adam Ray also kept us entertained.  I will also say I missed Duets at Dusk this year, last year it was such a touching part of the cruise.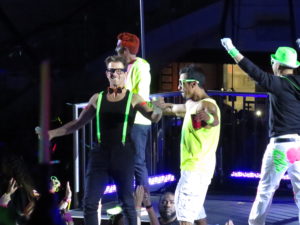 The day we got off the ship we were in Cozumel.  I had the worst sea legs so ended up getting back on the ship and laying out.
The group photos of 10 with the guys also took up a significant amount of time in the schedule over the course of two days. It was so frustrating having to find two additional people, I felt like I wasted an entire afternoon finding ppl to join our group and then waiting in line for hours for the actual picture.  In the end what bummed me out even more was that was actually a beautiful day where we could have enjoyed the weather b/c our last day to sea was chilly.  I have thought since what could improve it or make it better and I am not sure why the suggestions have not been taken from last year.  I almost think why not allow people to get their selfie with each guy as they go down the line because you are already saying hello and hugging each guy quick.   I know it might take a bit longer but, if everyone knew that was the one time they could ask for one it might make the rest of the cruise more pleasant and everyone would have one with each guy or don't make people get in groups of 10.  The Backstreet Boys do a similar cruise and I believe they only require groups of 4 or 5.  They you are not wasting so much time searching for groups of 10.   I do however realize that would be a lot for the guys.  They are all very sweet and a lot of fun.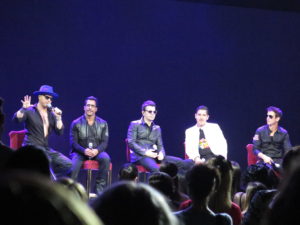 The ship smelled really bad this year too and I thought the food and service in the dining rooms was just ok.  Guy's Burger place on the Lido desk however was very good!  I also think Carnival needs to vastly improve the wifi on the ship.  It's a good amount of money to pay for something that works insanely slow.  The boarding process this year was a lot smoother going out of New Orleans!
Final thoughts/suggestions:  Overall I had fun, I met up with my friends and made new ones!  I do hope either Rose Tours or NKOTB can come up with some way to solve the selfie madness and the group photos.  I am not sure if I will cruise again the sea legs make it really hard to get back to normal after.   I would love to see the night parties start on time or at least close to on time.  Selfie madness have a solution whether it be we take them at the group photo time, each guy sets up a time like Joe did in 2015 and if you want one you wait in line for it or give us colored bracelets one for each guy, when you get the selfie the bracelet gets ripped off.  Truly the best option would be the line up like Joe did or at the group photos.  Maybe spread that over 3 days instead of 2 so it's not so many at once for the guys.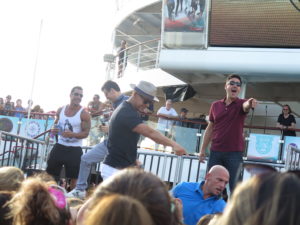 Tips for cruise virgins:
Come well rested because you will be going, going, going.
Be prepared for something to help with motion sickness. I had used the arm bands and was fine.
Take advantage of what you can bring on the ship. I am a red bull drinker and was glad I was able to bring on a package because they didn't have any on the ship.
Pack lots of comfortable shoes
Get into the theme nights they are a lot of fun
Try to get in a photo group ahead of time but spend time getting to know people either on the fan club boards, the various facebook pages etc.
Be prepared that you may deal with sea legs/motion for days after you get off the ship. I keep the arm bands on but, still dealt with that for a good 4 days after I was home.
Don't stress, just live in the moments and have fun.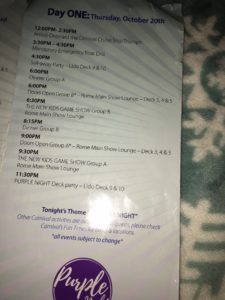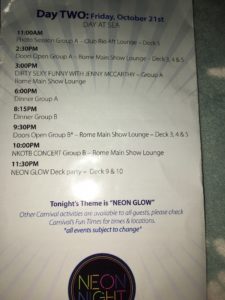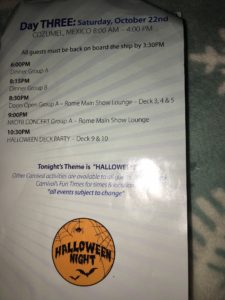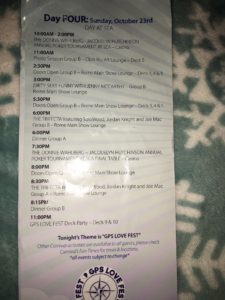 Some of my favorite shops to get cruise ready:
Bebe:  http://www.bebe.com/
Nordstrom:  http://shop.nordstrom.com/
White House Black Market:  https://www.whitehouseblackmarket.com/store/
Until next time,
Xoxo
Heather