Hard Rock Rivera Maya Mexico-May 2014
This month I will be going on my 19th Runaway Trip. I wanted to share my thoughts on the best Runaway Tour trip to date in my first blog. The trip to Mexico was the absolute best value for the money and the most fun for everyone that attended.
Cost included: Four nights hotel at the all-inclusive Hard Rock Rivera Maya hotel. Extra nights were optional at an added cost. Two concerts, welcome party, Cinco de Mayo party, pool party and a photo with Jon Bon Jovi grouped by room. The all-inclusive portion added a ton of value for your money.
I felt like I was on a trip with my big extended worldwide family and we were all interacting the entire trip. Many times on Runaway Trips you are off in your group of friends entertaining yourself during the day. This trip we were doing music trivia in the pool by day, singing Bon Jovi songs at the top of our lungs together, soaking up the great weather & poolside drinks. The welcome party was a lot of fun, we danced to our favorite Bon Jovi tunes all night and caught up with our friends from around the world.  The pool party was SO much fun! We literally took over the main pool for a few hours and had an amazing time. Having a large group all belting out "Livin' On a Prayer," "It's My Life" and more was just a priceless memory.

Photo: By Rob Fuzesi Runway Tour Facebook Page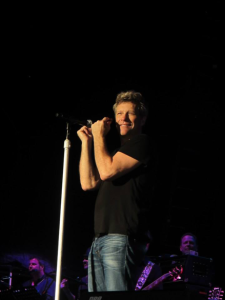 We had two concerts included in the package. This is the only part that we had some issues. Some of it I believe came from the language barrier and the fact it wasn't just a private concert for us but, also for the hotel guests. The hotel was still in the grand re-opening stages as a Hard Rock when we were there and organization definitely could have been improved. The actual concerts were great as Jon Bon Jovi and Kings of Suburbia never disappoint. For those of you that have not seen them perform they typically do a mix of about half Jovi hit songs and half popular cover songs like "Under Pressure," "I'm Your Man," etc. The first night things went fairly smoothly at the venue. The second night we had our photos with JBJ before the show and the Runaway team had communicated with the venue staff ahead of time. After our photos when we went down to our seats there were hotel guests etc. already in our seats and they would not move and due to the #'s of people the hotel security staff didn't have any success in moving them. Somehow the communication broke down and the hotel guests were told to sit anywhere and a few handfuls of people on trip decided they too would sit anywhere to say it was chaotic would be an understatement. It made for a huge mess before the show and unfortunately there was not enough time for the Runaway staff to get it straightened out before the band took the stage. It's a draw back when the events are not private just for us. When they are just for us things typically run very well organized.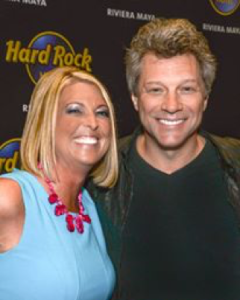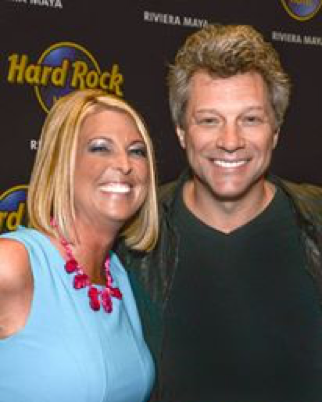 The photo with JBJ in Mexico still remains one of my favorite experiences. We were first in line and he was in such a fun mood. We were greeted with a big Welcome to Mexico! I always tell people to know what to expect this is a photo op and not a meet and greet, they are very quick but, sometimes they are very special. It's often all in what you make of it. The trips have come a long way from the old days of a group of 8-10 people per photo, that wasn't a value because you never knew if you would get a picture standing next to JBJ. Now you do and the trips are more popular than ever.
Mexico will be one of those trips I will never forget. The memories are permanently sealed in my heart. I had such a great time with my friends from around the world and made many new friends on that trip. Always fun to know others that share your passion from not only U.S. & Canada but, Australia, Brazil, Italy, Sweden, Finland, Spain and more just to name a few. We may all be from different parts of the world but, we share that same passion for music, adventure and live entertainment.
Want to learn more and check out JBJ and other trips: http://www.runawaytours.com/
Until next time,
xoxo
Heather