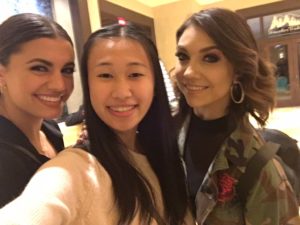 Guest Blogger:  Sandra Chen!
(Sandra is one of the best assistants I could have ever asked to have on this blog journey and I was thrilled to share this experience with her…HD)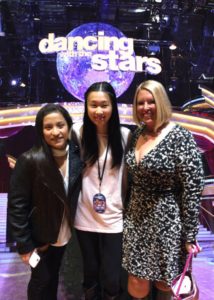 Hi guys! So happy to be featured in this guest blog by Heather, it's amazing and such a pleasure! I'm going to be telling you all about my amazing experience doing the DWTS We Came To Dance Tour VIP. First of all, I have to thank Heather again for this opportunity to meet my favorite dancers and watch an incredible show up so close. It was the best time of my life, and I loved every second of it. Forever grateful for that experience and to have met the wonderful person that's Heather.
Wow, I don't even know where to begin! I was so nervous all morning because I never done this before and meeting 4 of them all at once was just so nerve-wracking! When we had checked in, I got more excited than nervous though especially after receiving my cute tote bag and the gifts in it. Also getting that VIP lanyard just made me so happy, I still keep it in my room where I can see it every day to remind me of the best day ever. So my meet and greet was with Sharna, Val, Artem, and Laurie! I was glad that Heather went before me because she was so sweet to let them know I was coming in next and that it was my first time doing m&g! Laurie peaked to see who was next and saw me, and gave me such a big hug, she's adorable. Heather was still in there talking to the others, but I was on the side chatting with Laurie! I got to tell her about my gift and she thanked me for that, and also remembered meeting me from the GMA cast reveal. I know m&g is super fast, so I'm glad I got to have a little conversation with Laurie before the pictures. I went down the line hugging everyone, and wow they give the biggest and best hugs. I was so speechless so I just kept saying thank you and it was nice seeing them. Then I requested to get the picture of Sharna and I hugging, and she was so sweet about it and said of course. Laurie & Val ended up hugging each other, and I wish Artem joined me & Sharna but I didn't want to take up too much time and totally got nervous to tell him to join. They were all so humble and kind, I really appreciated it and definitely loved how my pics turned out! I also thought I had to go around to exit but Artem led me out through the curtains and held it for me, such a gentleman. That part of VIP was amazing, I couldn't stop smiling!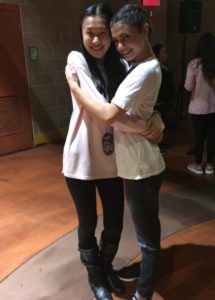 Afterwards, it was time for the mingle with Hayley & Lindsay! So glad they added this to the VIPs because it gives you so much time to be able to really chat with them and take individual pictures. I was beyond happy that Hayley was in my mingle because I really wanted her there. I got to talk to her multiple times and take pics with her, and sometimes we'd just go back if nobody was talking to her. One of my favorite moments talking to Hayley was telling her about me and Erica's name in the jive she does, and her laugh is the cutest thing. She really made this VIP experience so special. Lindsay was super sweet to meet again, and when she was leaving she even helped give my gift to Laurie. I loved how interactive they were with fans! Both the m&g and mingle was absolutely perfect, even better than I expected. Moments I'll treasure forever!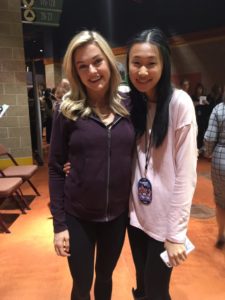 We got to sit in the second row right in the middle, and I had such a perfect view. It was unbelievable how close I was, and the whole show there was so much contact made between me and the dancers. You can also hear things they say when you're so close up, and it was just wonderful. The show was absolutely perfect, everything to the costumes, dances, voiceovers, made this show incredible and really made me connect with them more. My first VIP experience was just indescribable and made me so happy, I smile just thinking about it. Thank you once again to Heather, the whole cast, and friends who experienced this with me. If you can, definitely get VIP or just general tickets to the show because wherever you sit, it'll be an amazing time for you. January 21st, 2017 is a day I'll remember always! XO -Sandra
Questions/Answers: 
1.) What was your favorite dance and why?
This is a hard one because every single dance was amazing to me and special in their own way. I have to say Hayley & Val's contemporary piece was just stunning, made me absolutely speechless and the emotions put into this piece really touched me. Jenna & Artem's contemporary was also so beautiful, I really enjoyed watching that and even teared up a little. A favorite group dance of mine was definitely the choreography piece because of the amazing voiceovers they did which really connects to the passion/love they show on stage when they dance.
2.) What was your favorite part of your first VIP experience?
The mingle for me was definitely a highlight of my experience, it was just so nice to have time to be able to talk to them, thank them, laugh, and take pictures! 
3.) What if anything surprised you about the VIP experience?
More unexpected than surprised, but I didn't think the whole m&g/mingle was going to be as long as it did. I thought both would be very quick and you'd be done, but it wasn't and that made me really happy. Also I knew we were in second row, but did not expect to be SO close to stage… it was amazing! 
XO
Sandra