Dancing with the Stars:  Famous Dances Night
#dwts22
Season 22/Week 6
Famous Dances night is another exciting night on Dancing with the Stars and today also happens to be Len's Birthday!
The opening number to "Putting on the Ritz" was so much fun and Val in the sparkling shorts was just too hot!  The talent of all the dancers on the show truly is endless.
Let's get this night going!
Kim Fields & Sasha Farber:  Jive
Music: "You Can't Stop the Beat" from Hairspray
It was great to see Kim and Sasha back together again, they truly have such a fun relationship.  One thing I feel needs to be said though is the packages are not always a fair/accurate portrayal.  I have met Keo on several occasions and he is not a spoile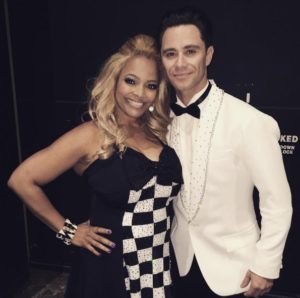 d sport and more than likely just needed a few minutes to himself after the tough comments he received from the judges last week but, instead they made him come off like a spoiled sport/brat.  Kim does have an injury,  a stress fracture. Kim is tough and wants to work hard and put on a great dance.
I thought they did a good job tonight.  Kim held her own with the troupe dancers backin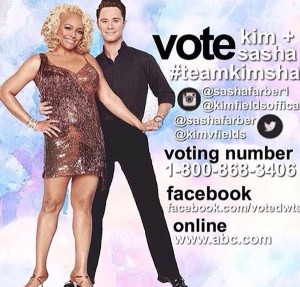 g her up, it seemed to be a seamless routine, lots of energy, lots of smiling, fun, great footwork considering her injury, I didn't see that is affected her and it was a great way to open the show!  The judges all loved it, Carrie Ann felt it was missing a little bit of energy.
Scores:  8-8-8 (24 out of 30)
Von Miller & Witney Carson:  Jazz
Music: "Bad" by Michael Jackson
It was awful to see Witney beating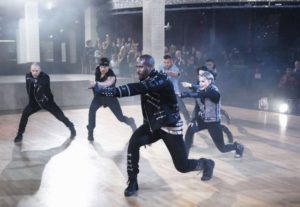 herself up over the scores last week.  She is a very talented teacher and absolutely shouldn't take that personally.  This week Von seemed to be very much in the zone, the last two weeks he has been really turning it around in my eyes, he seems to be letting his guard down and I have found myself routing for him.  It seems he is more in it to win it than he had been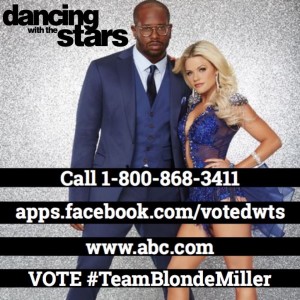 the first few weeks.
They really had such a fantastic dance tonight.  Von did a great job and I loved the look of pure pride on Witney's face at the end of the dance.  Von did a seamless job with the male pro's backing him up.  He seems to be a lot more comfortable and his footwork was really good.  They should be very proud of this performance.  All the judges loved it!
Scores:  8-8-8 (24 out of 30)
Jodie Sweetin & Keo Motsepe:  Contemporary
 Music: "Try" by Pink
It had been reported that Jodie had been injured and taken to the hospital during rehearsals this week.  It was great she was able to come back and dance.  In the footage it showed she actually had hurt her face and her ankle this week.  That sound that came from her ankle wasn't good at all and it showed how badly she wants to stay in this compet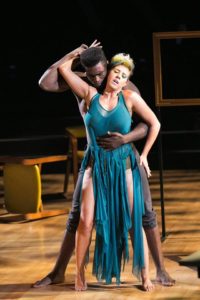 ition.  Nothing was fractured so if she can tolerate it they would allow her to dance.   Jodie and Keo work so hard and really enjoy their partnership.
I really felt tonight's dance suited them well.  It was emotional, it was inten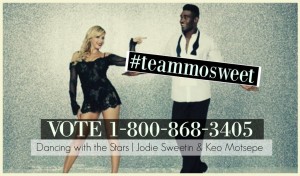 se, the lifts were amazing and they both truly told the story in the movement.  I absolutely loved it and I am glad this partnership is back together.  Jodie should be proud of herself, every week she truly improves and tonight she was brilliant.  The judges all thought they did a great job!
Scores:  9-8-8 (25 out of 30)
Paige VanZant & Mark Ballas:  Jazz
Music: "Soul Bossa Nova" from Austin Powers
Paige and Mark sta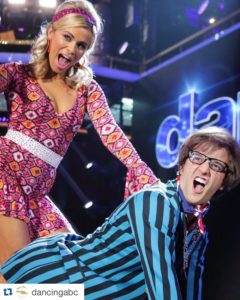 rted out with a challenge because their original song got pulled due to legal reasons which set them back a few days because Mark had to start over on choreography.  I love their partnership.  This dance will be fun too because Paige will be able to show off some of her athletic abilities.
I thought their dance was fantastic.  It was quirky, it was fun, it ha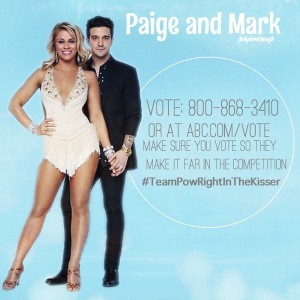 d great musicality, and Paige brings out this really fun side to Mark.  I think they are doing an absolutely fabulous job and I truly think we will see Paige in the finals, she performs each and every week brilliantly and you can tell how much fun she is having on the show.  Great job!  Judges all loved it!
Scores:  9-10-9 (28 out of 30)
Nyle DiMarco & Peta Murgatroyd: Quickstep
#redefinin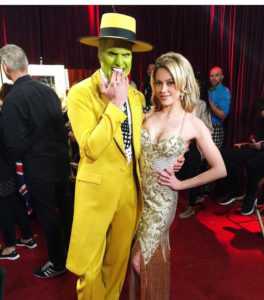 gdance
Music: "Hey! Pachuco" from The Mask
I really wasn't liking some of the packages this week, I know the producers are trying to create drama but, come on represent the stars/pros fairly because otherwise it gives the audience a false representation and then that can cause issues in the voting.  I am sure Nyle was likely asked do you consider yourself a front runner or something along those lines and maybe asked who his greatest competition is in in the show.  I didn't take his response as a cocky.  Everyone should remember there is a big difference between being confident and being cocky.  I felt they did the same thing to Tamar last year in one of the packages.  Val even tweeted this after the show: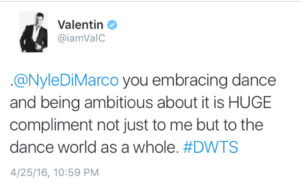 I felt their dance was fun, creative, full of energy, good footwork and Nyle fully captured the character from The Mask.  The dance had a lot of content as well and the Quickstep certainly doesn't look easy.  I wouldn't say it was their best dance but, it certainly wasn't bad by any means.  The judges gave mixed reviews.  Carrie Ann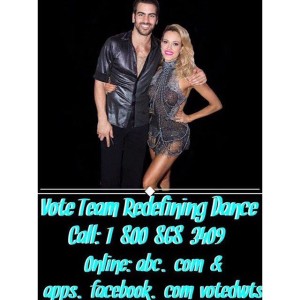 felt he wasn't as crisp, that his frame was broken and that there was a section where they were out of sync.  Len had some good/poor comments.  When he made the comment that he shouldn't compare himself to Val that it will annoy people that was a bit harsh.  I am not sure exactly what the judges were trying to accomplish tonight, perhaps to rein in the confidence or something?  If Nyle is striving to be as good as Val it's good to have goals like that, I say Dream Big!
Scores:  8-8-9 (25 out of 30)
Ginger Zee and Val Chmerkovskiy:  Jazz
Music: "Nasty" by Janet Jackson
Val and Ginger make su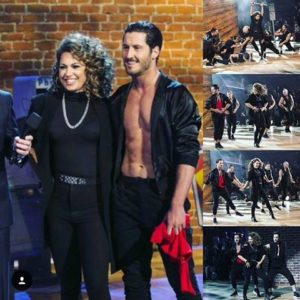 ch a fun pair this season.  Ginger is just very sweet and down to earth and truly enjoys every minute of being on this show.  I don't understand how she does it most days getting up so early for GMA, flying back and forth, spending time with her sweet baby and rehearsing but, that just shows how dedicated she is to it.  She took some time off this week and staye
d in LA so she could reset a bit.
Ginger did fantastic, she was fierce, she was fabulo
us, considering she is not an actress I feel she really can pull off the characters of each dance so well.  She was able to really show her stuff and truly stay in sync with all the male pro dancers th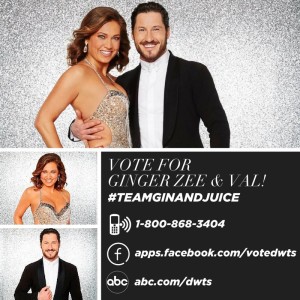 at were backing her up.  Carrie Ann liked it but, was wanting to see a bit more and pointed out how rehearsed she always is.  Bruno
said she just has to punch it more to take it to the next level.  Ginger youalways make everyone proud.
Scores:  8-8-8 (24 out of 30)
Doug Flutie & Karina Smirnoff:  Bollywood
Music: "Jai Ho" from Slumdog Millionaire
Doug is truly the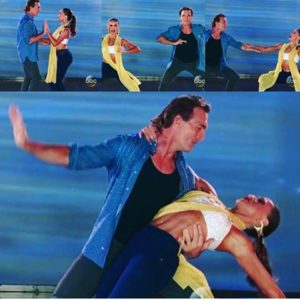 one you want to root for each week because you can tell how hard he is working, how much he wants to improve and he is truly on such a tough season because the talent is just crazy this season.  This will be a challenge since Karina had never done this style either.
The dance was great, it was fun and I absolutely would say its Doug's best dance.  He truly seemed to be having a ton of fun.  He really held his own with the troupe as well.  Doug has an amazing spirt and I can see why he is so respected and has so many fans.  The judges all complimented him.
Scores:  7-7-7 (21 out of 30)
Wanya Morris & Lindsay Arnold:  Jazz
Music: "Bye Bye Bye" by NSYNC music video
Great to have Lindsay and Wanya together again, they have a magic partnership.  I loved what Wanya was saying to Witney after the sc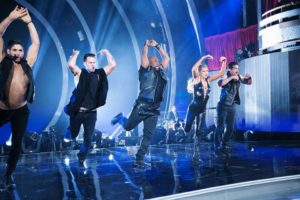 ores last week, he truly is a class act.  It's going to be fun to see him dance to an NSYNC song since he and Joey are good friends.  Lindsay is such a fantastic choreographer and she is really able to demonstrate it more and more each week.
The dance was incredible, Wanya absolutely crushes the faster styles.  Loved the section with the screens, they had perfect timing and it looked like a professional video sh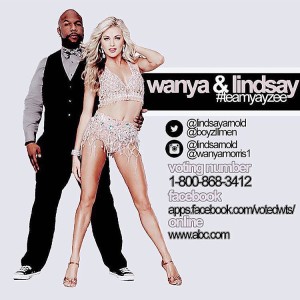 oot.  Wanya is so much fun to watch, he has insane charisma and like I said above a ton of class.  They both should be very happy with their performance tonight. The judges, Lance and Joey all loved it!
Scores:  10-9-10 (29 out of 30)
Antonio Brown & Sharna Burgess: Jive
Music: "Footloose" from Footloose
I have been a fan of Antonio's all season but, I have to say tonight was disappointed in his comments to Sharna in the package.  Sharna is one of the best pros on the show not just because she is so good but she is understanding, compassionate and she keeps it real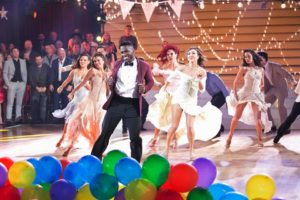 with her partners.  I felt his attitude was unwarranted.  Maybe he needs to step it up and give the experience on the show that much more.
I did like their dance tonight.  It was a lot of fun, it appeared most of his footwork was totally in step with the troupe dancers.  They brought the fun, super high energy and overall his attitude was better and he had a renewed desire to win it all and seemed to work hard th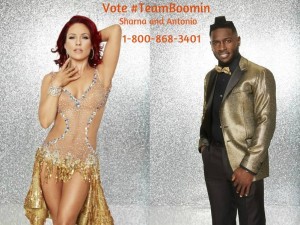 is week.
Scores:  9-9-9 (27 out of 30)
Elimination Time:  I admit I had a WTF moment when they said Paige and Mark, no way did they belong in jeopardy.
In jeopardy this week:
Paige & Mark
Von & Witney
Doug and Karina
Doug and Karina were eliminated.  It was time for Doug to go but, he certainly should go with his head held high.  He's done a great job, he has worked hard and brought a lot of heart!
Next week is DOUBLE ELIMINATION:  VOTE by phone, Facebook and on abc.com so your favorites are not sent home!  Next week is also Team Dances Men vs. Women!
I truly think from here on out things get really hard on the eliminations.  This season is just filled with so much talent as I keep saying.  I am not liking that Val & Ginger, Von & Witney and Kim and Sasha were all tied for the bottom of the leaderboard.
Few other points of interest:
Jenna Johnson @dance10Jenna and Artem Chigvintsev @theartemc have this amazing dance video to Zayn's "Pillow Talk" Share this video so they may get a chance to perform it live on the show!  https://www.youtube.com/watch?v=AVPqbQTnC6Q
Also want to compliment the troupe each performance tonight was amazing!  Great job!  Alan and Brittany that was an insane Swing Bumper you did this week!
Just a reminder if you want to get tickets to the HOTTEST tour this summer go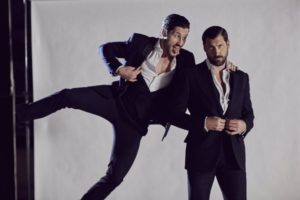 to: http://www.maksandvaltour.com/  I will be blogging on the show and their various amazing VIP Packages this summer
#maksandval
VOTE by phone, Facebook and on abc.com to avoid future surprising eliminations.
Until next time,
Xoxoxo
Heather