DWTS Season Season 24! Week 3-Vegas Week
I missed blogging last week due to having pneumonia.  I am thankfully finally feeling better and excited to blog about this week's episode.  I did want to say it was so sad to see Witney and Chris go last week.  They were a fun match up and it's unfortunate we didn't learn how extensive Chris's injury was.   Let's see what Vegas week brings!
Super fun opening number!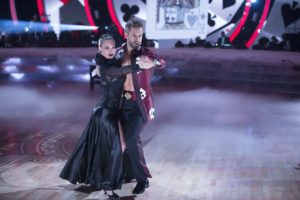 Nick Viall & Peta Murgatroyd #teamBabyGotBach
Dance:  Tango
Song:  "Poker Face" by Lady Gaga
This partnership is really growing on me.  It's been so great having Peta back and Nick is showing a more vulnerable side to himself.  I think he did improve week over week.  He definitely appears more comfortable and confident than the first week.  It absolutely takes time when you learn to dance.  Nick and Peta are working hard and it shows.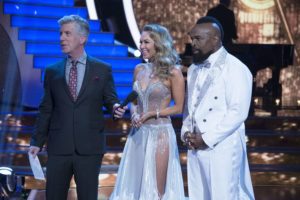 Mr T & Kym Herjavec #teamDancinFools
Dance:  Foxtrot
Song:  "Ain't That a Kick in the Head" by Robbie Williams
This was a really different character for Mr T it was fun to see him in a more classic character.  I thought they did a good job.  I liked this softer side of him.  He seems like he is a really great guy and I have done some reading on him and he truly does give back a lot.   Keep up the great work!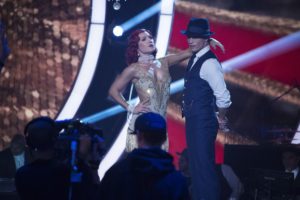 Bonner Bolton & Sharna Burgess #teamDenimNDiamonds
Dance:  Charleston
Song:  "A Little Party Never Killed Nobody" by Fergie and GoonRock and Q-Tip
I thought they did a really great job this week.  Sharna is brilliant about being able to create around injuries and they are such an amazing team.   This is a tough dance.  You can tell how much Bonner cares about the competition and that he really does want to improve each week.   They are fun partnership and one that I still think will go far in this competition.  I thought the scores were a bit low.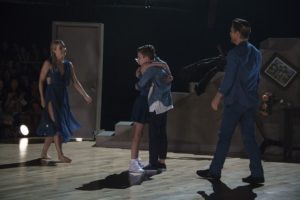 It was nice to get a preview to the Derek & Julianne Tour as well!!!   For tickets and tour info please go to:  https://moveliveontour.com/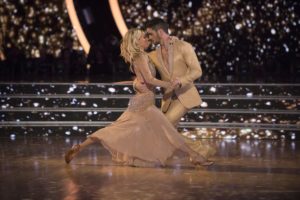 Heather Morris & Maksim Chmerkovskiy #teamMaksimumHeat
Dance:  Tango
Song:  "Toxic" by Brittany Spears
Maks is still out injured and I am absolutely sending him out well wishes for a speedy recovery.  It was nice to see him at the studio cheering Heather on tonight.  Alan is filling in and I am glad he is getting a chance to shine as a Pro again.  I thought they had a great tango!  It was a lot of fun to watch, defiantly showed how much Heather has grown as a ballroom dancer.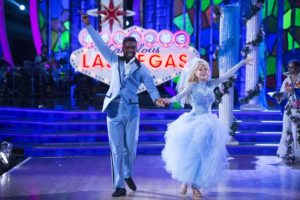 Charo & Keo Motsepe #teamCuchiCuchi
Dance:  Foxtrot
Song:  "Chapel of Love" by The Dixie Cups
Charo has a huge, full of energy personality but, I really do like the friendship that seems to have developed with Keo.   Keo is such a nice guy and I am glad he was a Pro again this season.  I loved their dance tonight.  It was elegant, beautiful, sweet and a lot of fun to watch.  Bravo Keo on the wonderful choreography.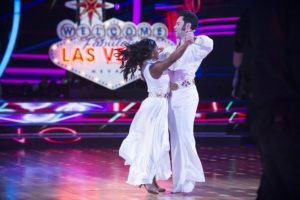 Simone Biles & Sasha Farber #teamGoldenGiggles
Dance:  Quickstep
Song:  "Viva Las Vegas" by Elvis Presley
Holy smokes that was one fast quickstep!  Hats off to both Simone and Sasha for having the energy and stamina for that dance!  Another fantastic job.  Fun, energetic, lots of great technique and they really are a dynamo team.  I am looking forward to seeing what they come up with for next week and showing a more emotional side to Simone.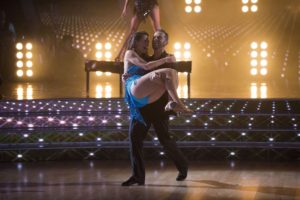 Nancy Kerrigan & Artem Chigvintsev #teamBladesOfGlory
Dance:  Samba
Song:  "Shake Your Bon-Bon" by Ricky Martin
OMG Artem's reaction to meeting Ricky Martin was awesome!  Now he knows how we feel when we meet him!  I absolutely LOVED their dance.  In my opinion they have been under-rated to date everyone should sit up and take notice tonight because they just crushed it!  Bravo, bravo, bravo!  It was fun, it was technically fantastic, high energy and they really make such a fantastic team.  I am smiling ear to ear!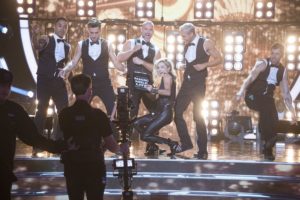 David Ross & Lindsay Arnold #teamLadyAndTheGramp
Dance:  Jazz
Song:  "Candy Shop" by 50 Cent
This is another fun partnership.  David is going way out of his comfort zone this week.  He almost cracked himself up at the beginning.  Their dance was filled with humor that is for sure.  David seems like such a great guy.  It was very, fun entertaining and creative.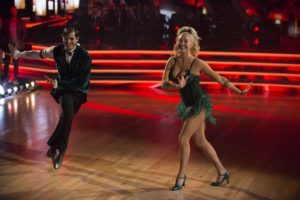 Erika Jayne & Gleb Savchenko #teamPrettyXXpensive
Dance:  Jive
Song:  "Take Me to Heaven" by Patina Miller & Debbie Kurup & Amy Booth-Steel
I like this partnership too.  It will be interesting to see what the judges say about the content but, other than that I liked it was more stripped down and more of a focus straight on the dance.  It's clear Erika and Gleb work really hard each week and they are a lot of fun to watch.  The Jive is a really tough dance and I think they just put a different spin on it instead of all the kicks and flicks.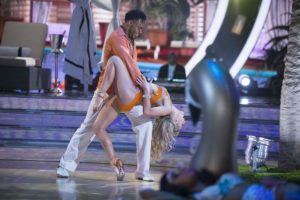 Rashad Jennings & Emma Slater #teamShadSquad
Dance:  Samba
Song:  "Swallia" by Jason Derulo featuring Nikki Minaj & Ty Dolla $ign
This is another couple that I absolutely love this season.  They have already formed such a great working relationship and Rashad can MOVE!  They are doing crazy good this season and I could not be more excited for Emma to finally shine bright with an amazing partner.  I didn't agree with Julianne on this one I thought they did a really great job tonight.  I really felt their scores were far too low.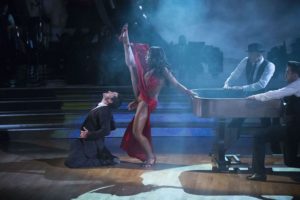 Normani Kordei & Val Chmerkovskiy:  #teamValMani
Dance:  Foxtrot
Song:  "Big Spender" by Shirley Bassey
I don't know how Val and Normani have been doing it, that kind of travel is hard core tough on your body.  They absolutely freaking crushed it tonight.  What a fabulous dance!  Normani has such a sparkling presence she shines the minute she takes the dance floor.  What a wonderful job!
Jeopardy:
Keo & Charo and Peta & Nick
Tonight we said goodbye to Keo & Charo.  Sad to see them go especially after their performance tonight.  Much love to you Keo, be proud of all you did this season.
I will be at the live show next week!  I am so excited to experience Most Memorable Year live!
Until Next Time,
XOXO
Heather