DWTS Pre-Semi Finals Wrap Up
I figured I would do something different this week rather than the usual recap.  It's crazy we are already heading into the Semi-Finals in Season 24!
First I would like to say that is was sad to see Nick/Peta, Nancy/Artem and Bonner/Sharna go home the last two weeks.  I really thought we would see Nancy/Artem in the Semi-Finals and I have to wonder if the packages had anything to do with it but, then again this season has been the one of surprise eliminations.  I had the pleasure of meeting all 3 of them when I went to the live show a few weeks ago and all of them were kind, had a lot of heart and really wanted to give it their all.  I felt the judges were far too harsh on Bonner last week and some statements just should not have been said.
As a fan of the show since Season 1 I really look forward to when I can attend a live show and see how the stars interact or don't interact with the fans.  I think it can be very telling overall.
We are down to the final 4 teams: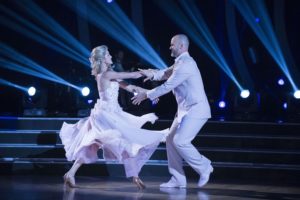 David & Lindsay #teamLadyAndTheGramp:
I have gone back and forth on David all season.  I didn't like the week where he seemed dismissive of Lindsay but I think he really came out with his best performance last week to Humble & Kind.  That dance allowed us to feel the emotion and truly did highlight the friendship that has developed.  Let's face it this show is just as much about the relationship, the emotion and how a star/team makes you feel when you see them dance.   I think they stand a shot at making it to the final 3.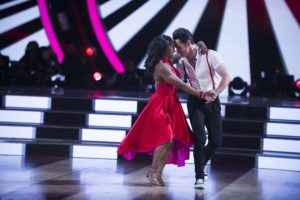 Simone Biles & Sasha Farber #teamGoldenGiggles
I know this might not be a popular opinion but, I think it might be time for Simone to go.  I think her attitude and comments back to the judges last week showed her age & maturity level.  Yes she is an amazing superstar Olympic athlete but, fame can be fleeting.  I agree 100% with what the judges keep saying as I have felt it all season.  In this competition it's not enough to just come out and nail a performance you have to have fans invest in you & root for you.  The difference for me between she and Laurie last season is we all could feel the emotion from Laurie, we could relate to her.  Remember the dance after her Grandma passed away and the dance to Chicago?  She hadn't had all the life experiences either but, she opened her heart and allowed the audience in.  Simone has the talent no question but, to win DWTS you need to have audience totally invested.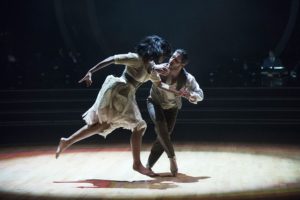 Normani Kordei & Val Chmerkovskiy:  #teamValMani
I think Normani has peaked at the exact right time this season.  She has opened up week after week & allowed us into her heart, her life experience and showed off another level of her amazing talent.  It's been nice to watch the friendship/partnership develop between she and Val and I truly think she deserves to be in the finals.  The contemporary dance last week was one of the most raw, emotional and powerful displayed on the show.  The trio dance was a ton of fun.    I am excited to see what they bring this week.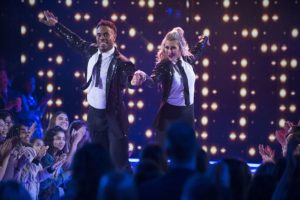 Rashad Jennings & Emma Slater #teamShadSquad
Rashad has truly blown me away this season and he and Emma absolutely deserve to be in the finals.  I am not only really excited for Emma because she finally has an amazing partner that has allowed her to show off her fantastic skills but, mostly because this partnership is just perfection.  Rashad is just one of those truly genuine, kind and caring individuals that I am truly honored to have met.  He literally took time with everyone that wanted to speak to him, get a picture etc. and was incredibly down to earth and humble.  He has grown as a dancer from week 1, he has taped into the magic formula of getting into character, being truly raw & emotional when the dance calls for it and brings the passion and intensity when it's needed.  I thought they were fantastic last week and the trio dance was excellent.
Final thoughts:
I think it should be Val and Normani & Emma & Rashad in the final 2.  I think both are absolutely tremendous, they both have the total package and I would be happy to see either team win.  I think Rashad might have a slight edge with viewers in that he came into the competition with no dance experience and developed and grew through the season but, I think Normani might have had the experience but, I think she showed growth in allowing people into her story.
Who's excited for the DWTS Hot Summer Nights Tour?  Buy your tickets, you will not be disappointed!  They always have a great VIP experience too!
Until next time,
XOXO
Heather