Dancing with the Stars:   Judges Dream Team Week
#dwts22
Season 22/Week 8
Another AMAZING opening number by the Pro's.  It was so hot, creative and a fabulous way to kick off the show!
Nyle DiMarco & Peta Murgatroyd:  Paso Doble
Music: "Victorious" by Panic at the Disco
With the team dance scores factored in Nyle and Peta ended up in first place last week.   We find out right away that they are safe.  They are going to try something in their dance to try to show people what it is like for Nyle to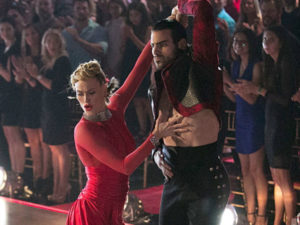 dance without hearing the music.  This will be interesting.  Nyle and Peta are always so amazing to watch.
The period where they cut the music was very powerful and really drove home what it is like for Nyle each week.  I am sure it was even more so sitting in the studio audience.  It made me sad for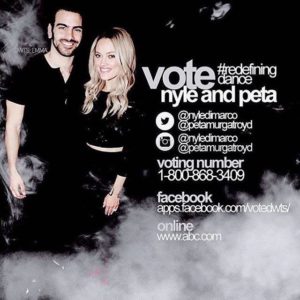 a minute because music is such a huge part of my life, I can't imagine not being able to hear it.  I think the moment they provided the glimpse into Nyle's life was worth the 10's but, the actual rest of the dance I didn't think was as strong as past dances but, I also thought maybe it might have been the music they had.  That isn't to take anything away from them, they are brilliant and blow me away every week.
Scores:  10-9-10 (29 out of 30)

Antonio Brown & Sharna Burgess:  Viennese Waltz
Music: "Love on the Brain" by Rihanna
I am glad that Antonio is really stepping it up and showing up earlier than Sharna.  Antonio says there is a lot of comparison to hi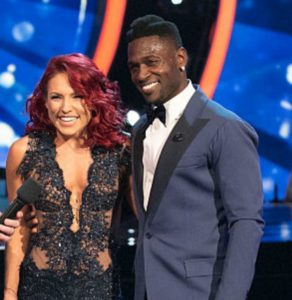 s football career.  He knows how to rise from being the underdog.
There dance was good.  Sharna always does really goo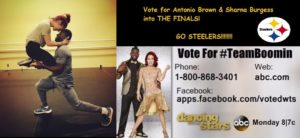 d choreography.  It was light, elegant, you could tell Antonio put in more effort on the details.  The judges acknowledged that they can tell he is putting in more effort.  Len acknowledged the improvement in his footwork as well.
Scores:  9-9-9 (27 out of 30)
Jodie Sweetin & Keo Motsepe:  Jive
Music: "Something's Got a Hold On Me" by Christina Aguilara
Jodie thank you for handling the negative press the way you did.  Keo you are a star, don't let any of the negative press/comments get in your head.  I have had the pleasure of meeting Keo a few times and have seen him dance numerous times, he is a true professional and really wants to succeed with Jodie.  This season is filled with talent and we have seen each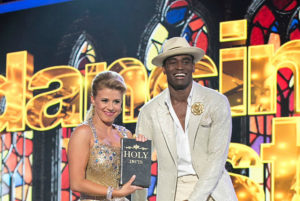 star shine at different times.
Their dance was fantastic, it was fun, filled with content and very creative!  I agree with the judges that Jodie's light is shining bright!  Keo really showed his creativity this week!  They should be very proud of themselves for their performance tonight.  I loved their pure exuberance when they heard the scores that was a classic happiness.
Scores:  10-10-10 (Perfect score!!!!)
Paige VanZant & Mark Ballas:  Viennese Waltz
Music: "Stone Cold" by Demi Lovato
Paige and Mark are su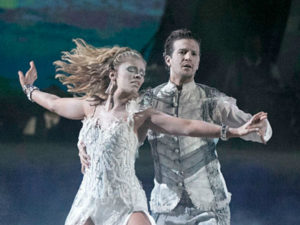 ch a great match as partners.  Loved hearing Paige talking with confidence.  I will say I cringed a bit when Mark was describing his vision for this week.  I am not a fan whe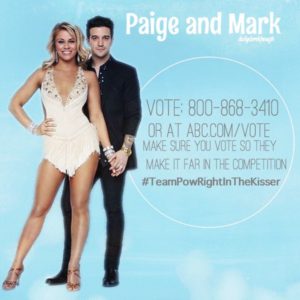 n Mark gets overly theatrical.  Up until this point in the season I have been really enjoying it because he had toned a lot of that down.  It's just a matter of personal preference.
They did a beautiful dance.  Paige is so talented and I truly think she deserves to be in the finals.  The crowd loved it.  Len noted a few minor items for improvement but, said she is a terrific dancer.  Bruno and Carrie Ann both liked it.
Scores:  10-9-9 (28 out of 30)
Ginger Zee and Val Chmerkovskiy:  Argentine Tango
Music: "Telephone" by Lady Gaga featuring Beyoncé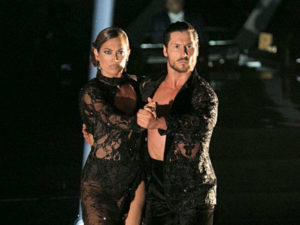 I think we are in for one red hot dance from Ginger and Val tonight.  Ginger has such a fun, bubbly personality that this character was challenging.  I would have the same problem being th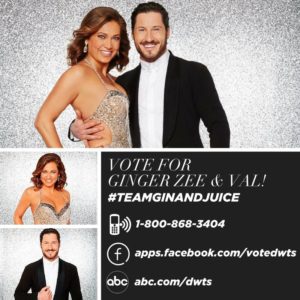 at serious.  Loved Val's advice during camera blocking you did the hard work, now enjoy it!  You can tell how bad Ginger wants this and I love the two of them as partners.
Holy SMOKING hot!  That dance was amazing!  It had everything, passion, tension, content, heat, fire, clean lines, precision and it was perfection from start to finish!  Ginger you look amazing too girl!  I watched it 3 more times after!  Absolutely amazing and the judges all LOVED it too!
Scores:  10-10-10 (PERFECT SCORE!)

Wanya Morris & Lindsay Arnold: Jive
Music: "Can You Do This" by Aloe Blacc
Wanya has lost o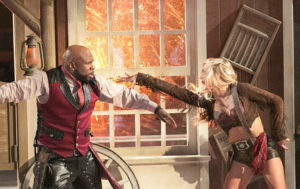 ver 20lbs since starting on the show.  They have a fun partnership and they clearly work well together.  Lindsa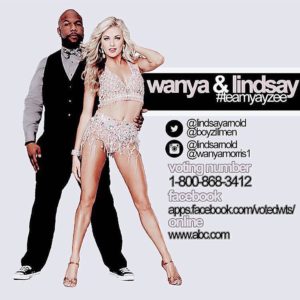 y is so creative and I love that she doesn't play it safe.
The dance was fun, it had high energy, and it was creative.  There were a few mistakes and when Wanya slipped he bounced back.  You can't get down on them though, things like that are bound to happen.  It's how you recover from them that matters.  Wanya handles everything with the best attitude which is another reason he stands out.  He takes it in stride.  It was sad to see Lindsay to sad, you can tell they have truly formed a friendship.
Scores:  8-8-9 (25 out of 30)
Judges Dream Team Match Ups:
Team Bruno:  Nyle/Peta & Jodie/Keo:   Argentine Tango
I loved how creative that dance was and I love that Bruno took the risk to break down barriers and have the 2 girls dance and the 2 men dan

ce together.  Jodie and Nyle did a very good job dancing together and it shows how well rehearsed they were.  Great job!  The only part that I found distracting was having the troupe involved.  I love the troupe dancers I just think in this arrangement it should have the two couples because it was distracting, I watched it back a 2nd time and still felt that way.
Scores:  10-10-9 (29 out of 30)
Team Len:  Ginger/Val & Lindsay/Wanya:  Samba
Len that was super cute, cheeky, lighthearted, fun, lots of content and I thought they all did a great job!  I love it when Len is able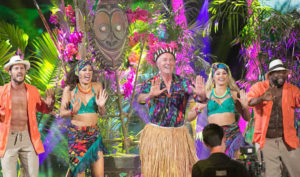 to show off his experience and creativity as a dancer.  I thought Ginger and Wanya did a good job dancing together and the part where Val opened his shirt to show off his abs and Wanya showed off the glittered ab shirt was too funny.
Scores:  10-10-9 (29 out of 30)
Carrie Ann:  Paige/Mark & Antonio/Sharna:  Paso Doble
#teamCarrieAnn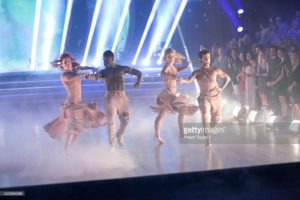 Wow that was really, really good!  I loved the intensity, it truly highlighted the athletic strength of Paige and Antonio!  It was dynamic without being overly theatrical.  The lift that Antonio did with Paige was amazing and beautiful.  I really loved it.
Scores:  10-10-9 (29 out of 30)
Elimination Time:
Jeopardy:
Antonio/Sharna
Jodie/Keo
Wanya/Lindsay
Very sad we said goodbye to Jodie/Keo.  I am so proud of them as a team and you both went out on a high note.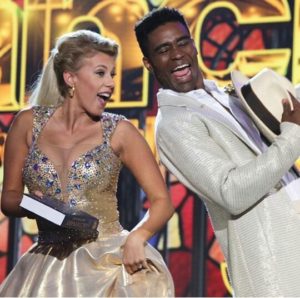 Next week is DOUBLE ELIMINATION:  VOTE, VOTE, and VOTE!
Also want to compliment the troupe each performance was amazing!  Great job!
Just a reminder if you want to get tickets to the HOTTEST tour this summer go to: http://www.maksandvaltour.com/  I will be blogging on the show and their various amazing VIP Packages this summer! It kicks off in 6 short weeks!  To view the full pre-tour info please check out the article below.
VOTE by phone, Facebook and on abc.com to avoid future surprising eliminations.
Until next time,
Xoxoxo
Heather