DWTS Season Season 24! Week 6- #teamBoybands and #teamGirlGroup Week
What a fun week this will be with Team Boy Bands vs Team Girl Group!  Stay tuned for my blog from attending the Week 4 Most Memorable Year show.  Life has been a bit hectic with travel, my best friend got married last week and then a move but, I promise to share all the fun details!
It was great to have Nick Carter in the ballroom as a guest judge and have Maks back in the ballroom after his calf injury.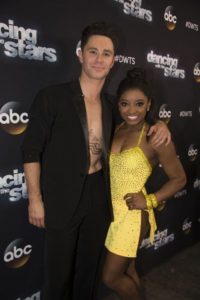 Simone Biles & Sasha Farber #teamGoldenGiggles
Dance:  Samba to music by:  Destiny's Child
Sasha and Simone are too cute.  Simone is really doing well in the competition and she absolutely has the skill.  I have been trying to put my finger on what I have felt is missing a bit.  I think she isn't totally connecting with the audience at home.  She needs to have people get invested in her/root for her on top of having the fantastic skills.  I thought their dance was really good this week though.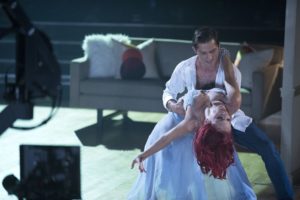 Bonner Bolton & Sharna Burgess #teamDenimNDiamonds
Dance:  Rumba to music by:  Backstreet Boys
I don't agree with Bonner that he is the weakest dancer left in the competition.  I think Bonner has heart, drive and desire which in my opinion goes far.  He is improving each week and in my opinion the audience is pulling for him.  I really love the partnership with Sharna.  Sharna has such a way of bringing out the best in all of her partners.  I would agree with Nick if Bonner could just let it go each week it could take him to the next level but, as someone who has learned to dance this year it's hard to get out of your head.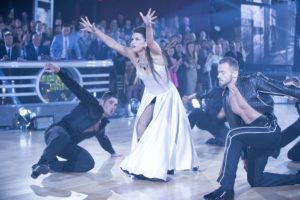 Nancy Kerrigan & Artem Chigvintsev #teamBladesOfGlory
Dance:  Paso Doble to music by:   En Vogue
I had the pleasure of meeting Nancy when I was at the show a few weeks ago and she is seriously the nicest person.  I think she gets too many negative comments for being emotional.  All creative people just have a different way in how they process things or handle stress that doesn't and shouldn't make people not pull for her.  I personally think she is what the competition is about, she has heart, she works hard, she improves each week and she truly gives it her all.  I thought their dance this week was fantastic, she was strong, fierce and totally crushed it.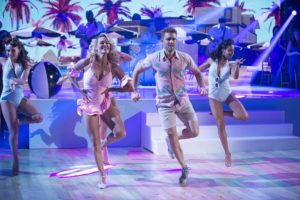 Nick Viall & Peta Murgatroyd #teamBabyGotBach
Dance:  Jive music by:   Beach Boys
I would say that Nick isn't one of the top dancers left but, Peta is right the show is just as much about personality and he is improving each week.  He does put his heart and soul into the competition that is for sure and when I met him he is one of those people that has crazy charisma.  The Jive is a hard dance and I thought they did a good job.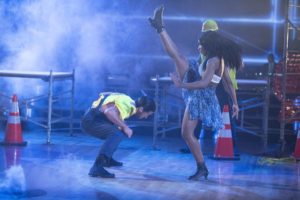 Normani Kordei & Val Chmerkovskiy:  #teamValMani
Dance:  Salsa music by:  Pussy Cat Dolls
Val and Normani really make another great partnership.  I think you have really seen them step things up the last few weeks after all that traveling stopped.  She's shining at just the right time in the competition and is such a powerhouse.  I know there was the issue with Len feeling like there was much Salsa content in it.  That can go both ways they are also dealing with the music they get and how to put together the overall performance factor.  I thought the dance was good, it was dynamic and it was fierce.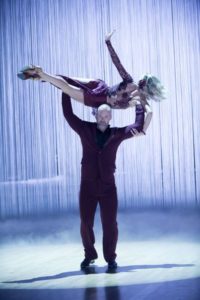 David Ross & Lindsay Arnold #teamLadyAndTheGramp
Dance:  Argentine Tango music by:   N'Sync
I am still on the fence on this team.  Lindsay always works extremely hard with her partners and I didn't really care for it when he made the disrespectful comment you are not my coach.  She is your dance coach David you need her to teach you.  I thought their dance was good, the lifts were risky for sure but, as always Lindsay has beautiful chorography.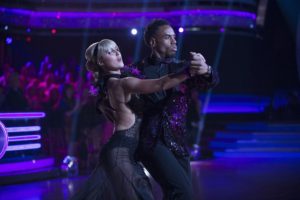 Rashad Jennings & Emma Slater #teamShadSquad
Dance:  Tango music by:  Four Tops
This partnership remains one of my favorites this season and Rashad is truly a kind person.  I was so impressed by him when I met him.  He's down to earth and just as sweet as can be.  I loved in the package that he took Emma to NFL training too.  Their dance this week was fun, intense, had a lot of great content and continued to highlight the growth Rashad has had as a dancer.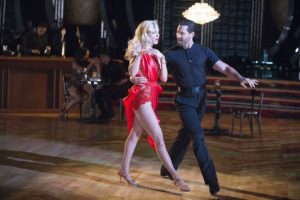 Heather Morris & Maksim Chmerkovskiy #teamMaksimumHeat
Dance:  Rumba music by:  TLC
It was so nice to get Maks back in the ballroom.  Alan did a really fantastic job filling in for him and I think he truly earned a right to be a pro in a future season.  I thought their dance this week was beautiful and it highlighted all of Heather's technical skills.  All season I think her issue has been in her connection with the audience.  You can be the best dancer but, you need the audience/voters to pull for you.
Team Dances: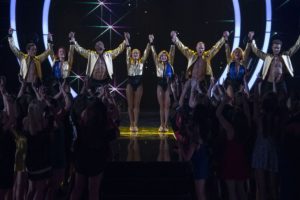 #teamboyband
I thought they did a great job on the team dance.  It was fun, sexy and creative.  I would say Rashad's personality really shined like a diamond and you couldn't help but, zoom in on him.  Their magic mike  portion to the NKOTB was awesome and showed they all had the right stuff.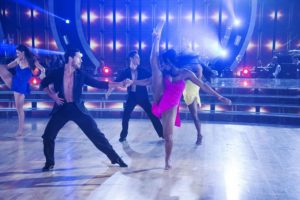 #teamgirlgroup
I thought the girls did a good job.  It was fun and also creative.  The lighting issues that happened made it hard to see a lot of it.  I thought all the girls were strong and performed really well.
In Jeopardy:
Artem & Nancy and Heather & Maks
This week we said goodbye to:  Heather & Maks and it was shocking to me either couple was in the bottom.  I truly feel the issue was the connection with the audience.  You have to connect with the fans in the packages, when you have opportunities to meet them etc.  The show I attended the other dancers would step out for a few minutes and meet fans but, Heather did her interviews and then just walked the other way never engaging.  I never felt that or saw the desire to connect from Heather in my opinion.  She has talent though hands down and definitely left too early in the competition.   I absolutely don't think Nancy/Artem belonged in the bottom 2 either and I hope fans will give Nancy a chance.  She really his working hard and a total sweetheart.
Until next week!
XOXO
Heather