Dancing with the Stars Season 25 Ballroom & Latin Nights!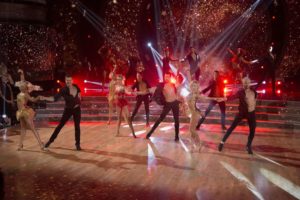 Can I just give a major shout out to the DWTS Costume Department!  So beautiful, creative and amazing both last week and this week!  What a fun week to have 2 DWTS shows!  I decided to combine them into one blog!  Another huge kudos to Mandy Moore on that killer opening number for Latin Night!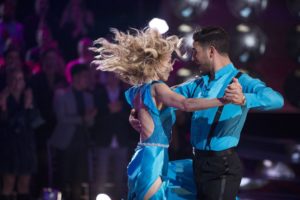 Debbie Gibson & Alan Bersten
Ballroom:  Quickstep
Alan and Debbie are so great together.  I am glad she mentioned the health issue.  Not that it isn't valid but, I don't want her packages to be about that each week so the viewers can get to know her and focus on this great partnership.  Their quickstep was super high energy and a lot of fun to watch.  I thought Debbie looked so comfortable on the dance floor tonight and seemed to be having a blast!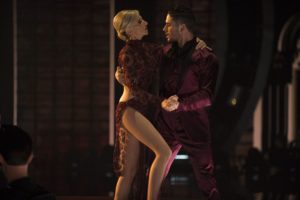 Latin:  Argentine Tango
Debbie is awesome and seems like a lot of fun!  That dance was just red hot, sexy and they brought the fire to the dance floor tonight.  Debbie is also improving week after week and each week I am thinking that is her best dance! I really loved it and Alan really is doing a fantastic job as a Pro!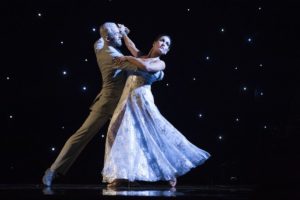 Nikki Bella & Artem Chigvintsev
Ballroom:  Waltz
What a precious story about Nikki and her Nana.  I really love this partnership.  Nikki and Artem were absolutely stunning, elegant and just memorizing tonight.  Nikki truly succeeded with showing us all another part of her.  Their performance was absolutely beautiful.    The smile on Artem's face after the performance showed just how proud he was.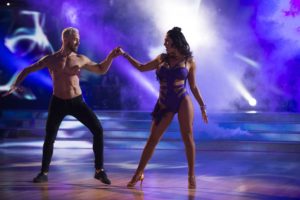 Latin:  Samba
One word for their Samba, HOT!  Nikki and Artem turned up the sizzle factor for Latin night!  Nikki has such a presence about her and its totally human to be nervous, this is something you have never done before.  The performance had it all the heat, hip action and that spice that Latin night needs.  Artem excellent job on the choreography!  I thought they were scored too low.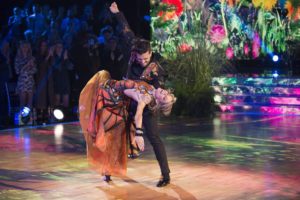 Lindsey Stirling & Mark Ballas
Ballroom:  Quickstep
Mark's creativity was on full display tonight.  I thought they did well.  Definitely full of energy and their attire really was creative.  I was thinking what Len said that it seemed on ballroom night they should have been hold a lot more than they were.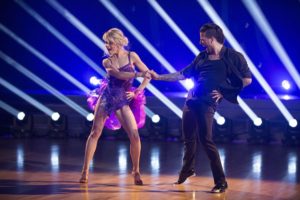 Latin:  Salsa
Lindsey was great again tonight.  Always brings the high energy, fun and her technical ability.  That was a really fantastic performance.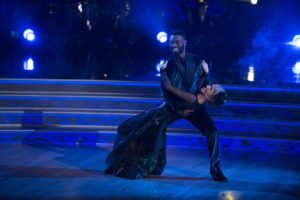 Barbara Corcoran & Keo Motsepe
Ballroom:  Tango
It made me sad to see Barbara's package.  No matter what happens you have to give it your best and I really felt that she did that tonight.  Is she the strongest dancer maybe not but, she has heart, she has drive and she's working hard at learning technique and I saw an improvement this week.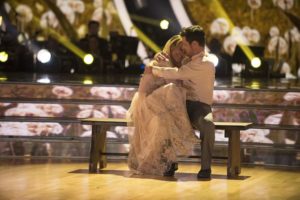 Nick Lachey & Peta Murgatroyd
Ballroom:  Foxtrot
Nick and Peta seem to have really developed a good friendship and it shows in their dancing.  I thought their dance was light, beautiful and so elegant.  I really think Nick has a lot of potential in this competition. They had a wardrobe issue which threw them off a bit tonight.  I think they have to stop doing the married couple segments every single show only because I see the chatter online about it and I don't want to see that hurt either Nick or Vanessa with the viewers.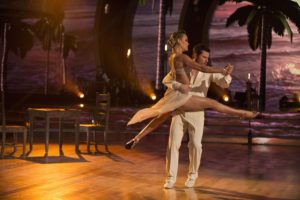 Latin:  Argentine Tango
Peta is phenomenal at Latin dances and she absolutely choreographed a smoking hot performance for Nick tonight.  I thought it was very good.  Nick really had great technique, the hip action and the total package.  Loved their performance tonight!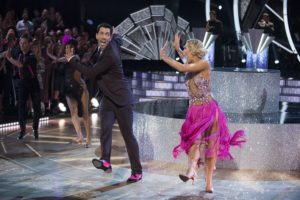 Drew Scott & Emma Slater
Ballroom:  Quickstep
Emma is so cute, saying she wants Len to see that this fixer upper is under construction.  Drew injured his hamstring too this week.  I thought Drew was more in control this week and I really enjoyed watching their dance.  A ton of fun great energy and a big improvement this week in the performance and they should be proud of themselves.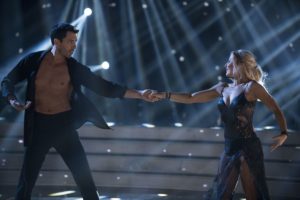 Latin:  Rumba
I really think that was Drew's best performance to date.  It was so controlled, had good technique, flow and really just a beautiful performance overall.  I love watching the stars grow and improve week after week and Emma is just an amazing coach.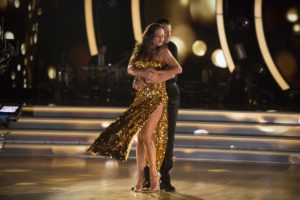 Vanessa Lachey & Maks Chmerkovskiy
Ballroom:  Foxtrot
Vanessa had a painful toe injury this week and it must not have been comfortable for her dancing.  Vanessa is very good at getting into character and that adds to her performance.  I thought they had another great performance this week.  Vanessa is talented and will go far.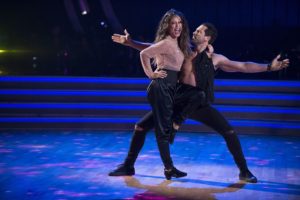 Latin:  Salsa
Vanessa really exudes confidence on the dance floor.  Their performance was super fun, high energy and she really is shining week after week.  They definitely are ones to watch this season!
Frankie Muniz & Witney Carson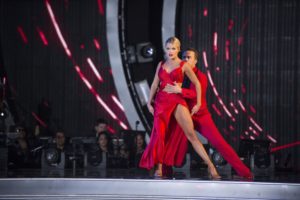 Ballroom:  Tango
I love that Frankie fell in love with dancing and dealing with back injury and dancing no easy task.   It's also nice to see Witney have a partner again that can really allow her creativity to shine.   There is someth
ing so incredibly endearing about Frankie and it's apparent he is dancing with his heart completely.  I loved their dance tonight it was really fantastic.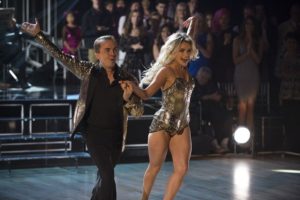 Latin:  Cha Cha
I know I keep saying it but, Frankie's enthusiasm is just off the hook.  It's so obvious how much fun he is having and it's great to watch.  I loved their Cha Cha.  It was so fun to watch, had crazy good energy and Frankie is shining bright!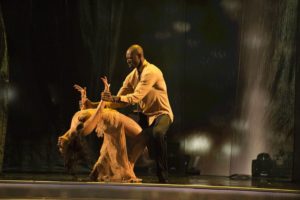 Terrell Owens & Cheryl Burke
Ballroom:  Foxtrot
Their package was let's say interesting.  Terrell definitely seemed a lot more comfortable this week.   I thought they were better this week and showed improvement.  I am not seeing the connection grow between them as much as other couples yet.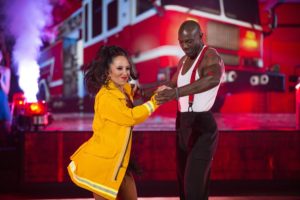 Latin:  Samba
I thought Terrell showed growth tonight and seems to be getting comfortable on the dance floor.  I still can't put my finger on what is not clicking for me with this duo.
Sasha Pieterse & Gleb Savchenko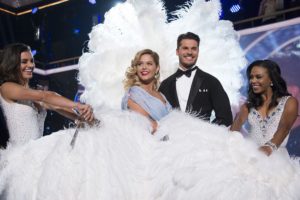 Ballroom:  Viennese Waltz
This is another partnership that seems to have developed into a great friendship.   Sasha's parents are amazing dancers!  Sasha really showed a lot of improvement in her expressions.  I thought they did a beautiful job this week.  It was a lot more relaxed, the content really shined through in every movement and I think she really shined this week and a real improvement.  Gleb's excitement with the scores was too cute!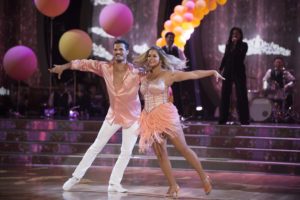 Latin:  Samba
I am so sorry for what Sasha has been going through and I think so many women can totally relate to that.  Just remember you are beautiful.  I thought the dance was fantastic tonight.  Sasha is improving every week and it shows!  The excitement with the scores was awesome!  You are rocking it girl!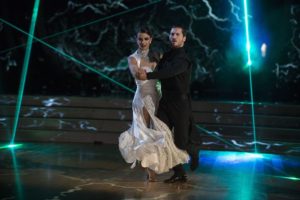 Victoria Arlen & Val Chmerkovskiy
Ballroom:  Tango
I really love Victoria.  She is amazingly strong and her attitude just shines.   I loved their dance it was absolutely fierce, strong, intense and Victoria is another one that really does a great job of getting into character.  Val is doing a phenomenal job of creating dances that truly highlight Victoria, you can't help but, keep totally focused on her.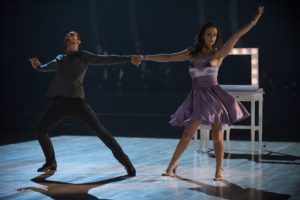 Latin:  Rumba
Val cracked me up in the package.  He's right many women would love to be in that position.  I really liked their dance and I think again Victoria was totally able to get into the character.  I am in awe of Victoria and how she is able to perform to this level and not have feeling in her legs.  I didn't agree with Len at all tonight.  What a special way for Victoria to spend her birthday too!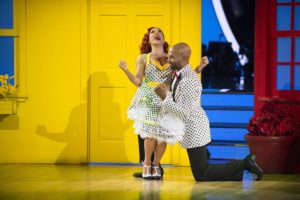 Derek Fisher & Sharna Burgess
Ballroom:  Foxtrot
Derek is so light on his feet and full of grace.  Absolutely continue to be another partnership to watch. I really enjoyed their dance tonight, it was fun, light, and a lot of fun to watch from home.  I didn't see what the judges mentioned that he danced small.  I really liked it.  His Mom is a real hoot too!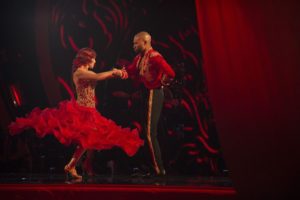 Latin:  Paso Doble
Derek really got into the character of the matador!  Excellent performance!  He was in command of the dance floor tonight.  Sharna continues to shine with her choreography in highlighting Derek and they are growing with each performance.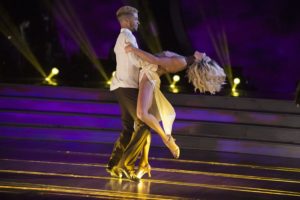 Jordan Fisher & Lindsay Arnold
Ballroom:  Viennese Waltz
They are an adorable partnership.  Jordan absolutely has the talent to go far in this competition.  I think it's really allowing Lindsay to push her creativity even higher.  Their dance was fabulous and quite the way to end the night.  Jordan really has grace in his movement.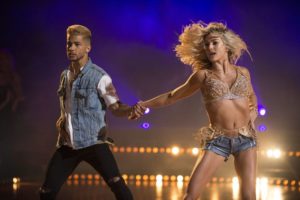 Latin:  Samba
Holy Smokes!  That was one red hot amazing performance!  The technique, the heat was off the charts for this early in the competition.  Jordan really has a natural talent and rhythm.  It's awesome seeing Lindsay so excited too!
First to go home this season:   Barbara and Keo
Second to go home this season:  Debbie and Alan (My mouth is still on the floor on this one)
Barbara really improved a lot this week and she should be very proud of herself.  I think if she had been on past seasons she would have been able to work at it and stay but, this season is so full of talent.  I do think the bottom 2 are the ones that should have been there and I just adore Keo.
Debbie and Alan absolutely should NOT have been the ones to go tonight.  This is why votes matter everyone.  Debbie was doing great and improving week after week.  The one that should have gone home tonight wasn't in the bottom 2.  My mouth is still on the floor after that elimination.  Sad for Alan too, he was doing a great job as a Pro and this is the wrong result tonight.
I am attending the live show next week so my blog will be a day or two later but, I will have a lot more to share so stay tuned!
Votes are super important this season with so much talent!
For pictures from the tour this summer please visit my social media pages @lightscmemories!
Until next time,
XOXO
Heather