Steven Tyler & Joe Perry
September 2014, July 2015
I have had the pleasure of doing two Aerosmith VIP Packages. The first one was in Bristow, Virginia in September 2014 and the second was in Las Vegas in July 2015.
Steven Tyler is without a doubt one of the best in the biz. He is so kind and welcoming when you met him. He will look you straight in the eye, ask you your name and you can just tell he genuinely cares about who he is meeting. Like I always tell people go into these experiences with the right expectations.
Entering the VIP: This is a photo opportunity not a meet and greet. You have very limited time however one of the positives for Aerosmith VIP is they don't insanely rush you so you can say hello, shake hands, say a few words etc. They truly make sure each fan gets a good experience and VALUE for their money and you are not just a # in a 5-10 second assembly line. They also make it private so you are not being stared at by everyone else waiting in line, you step behind a curtain and have your moment, get your photo taken and then you step out.
Suggestions for the staff: Be aware of the set up and the weather. The Bristow experience was a scorcher. Everyone in the VIP was asked to stand in line for the Q&A portion under the hot sun. This left the majority dripping in sweat, and knowing the photo opportunity was still to come – not feeling very pretty. Slight cover of the amphitheater offered some resolve though a little too late. Dripping in sweat, not feeling very pretty, doesn't feel very VIP either.
The other would be to post the photos in a timely matter. Let's face it we all want to and are excited to see our photos. The Bristow event I was seriously so impressed and left with a WOW feeling because our pictures were posted while we were at the show. The Las Vegas show had a completely opposite experience. Photos took 11 days to post along with multiple calls from a variety of fans. Fans realize that VIP staff and photographers are busy but, when shows after yours are posted and you are still waiting for your pictures it takes away from the overall value of the experience. As someone who does a fair amount of these a year I would say 2-3 days max should be the norm. Many I have done this year have had them up within 24 hours.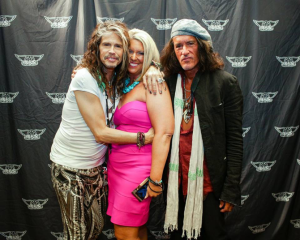 Final Verdict: Overall, I recommend the Aerosmith VIP experience. It is a good value for your dollar, you get a great seat at the show, the picture, autographed photo and the usual merchandise etc. In 2015 they offered different VIP Packages which I thought was great, if you loved a different member of the band you could sign up for their event and each one was a little different.
In conclusion, Steven Tyler is one of the best and his kindness will truly make you feel so special.
For more pics from the shows visit my Instagram page: @lightscmemories.
Until Next Time,
Xoxo
Heather