Bon Jovi This House is Not For Sale Tour
March 2017-Los Angeles
The Forum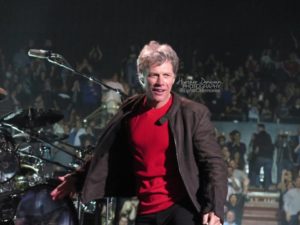 I love Bon Jovi's VIP Tour staff.  I was so happy to see Alli & Lou were back with us the This House is Not For Sale tour and the addition of Christine was also great!  They are so kind and really want to ensure you have a great experience.
Entering the VIP: You sign in,  receive your VIP lament for the show, all the other merchandise was mailed to you with a very nice black leather bag this time, you also received a USB bracelet that you could download the live show of your choice, a set of guitar pics, signed lithograph, tour program for the Front Row "Knockout" package.  You also were able to take the tour chair home with you.  We needed to be checked in no later than 5:30 so you didn't miss the backstage tour.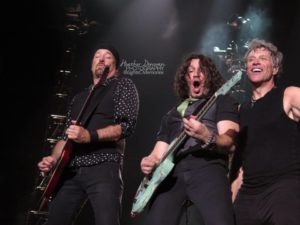 Backstage Tour:  We were taken down in groups to do the tour.  It's a fun experience because you get to peak in JBJ's quick change room, you might get a chance run in with Phil X or John Shanks even!  They allow you up on stage to take photos with the white mic stand, keyboards, drums etc.  After the tour you return to the party area where they have a cash bar and some snack type foods.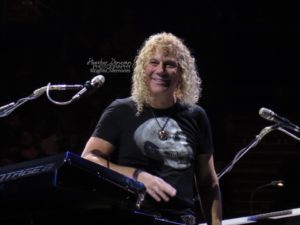 The show is always a super fun high energy show.  Bon Jovi has been one of my favorite bands since I was 15 and it's been fun watching them evolve over the years.  I love having Phil X and John Shanks on stage now they both add a new and different energy and dynamic to the band and Jon just seems so much more relaxed during this tour and truly seemed to be having a lot of fun!  There truly is nothing like a Bon Jovi concert and this show was no different with a great mix of the new and older music and JBJ even sang Always for us during the encore which was a great surprise!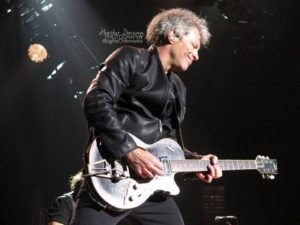 Venue Comments:  My seat was ok but, I had a friend that also had a front row seat and she was so far down she wasn't even in front of the stage. I would say don't sell those as seats if they are going to be staring at a black curtain vs the band.
Final Verdict: Definitely recommend Bon Jovi's VIP!
Fun concert wear!
Bebe:  http://www.bebe.com/
Nordstrom:  http://shop.nordstrom.com/
White House Black Market:  https://www.whitehouseblackmarket.com/store/
Coach:  http://www.coach.com/shop/women-wristlets
Until Next Time,
Xoxo
Heather