Dancing with the Stars: Live Studio Audience 4/18/16
Make memories, don't collect things…
About 10 years ago I had a friend from high school who tragically passed away from cancer far too soon and an Uncle that had saved his entire life to fulfill all of these dreams he had when he retired, he ended up with brain cancer and passed away before he had that chance.  Those two deaths truly changed my outlook on life.  You need to make memories, have experiences, make the most of every day because life changes in the blink o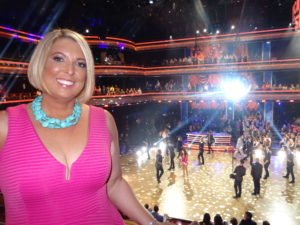 f an eye.
I have been a viewer of Dancing with the Stars since season 1 and I had always hoped to one day be in the live audience.  A cast member at the show kindly offered to give me tickets to the show and to say I was excited would be an understatement.  I quickly determined who I wanted to take with me and made all the travel plans to get out to LA for the Switch Up week.
I arrived around 4:00 and went to the VIP check-in area.  They verified we were on the list a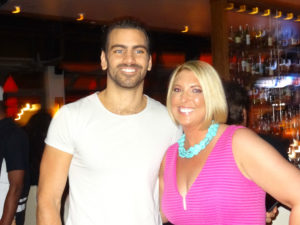 nd told us what section we were in etc.  At that point they take your cell phones from you and you are given a card to pick them up after the show.  After that you go through a metal detector and they check your belongings.  Once you are set with that you are escorted into the studio to your section and then to your assigned seats.  It was such a surreal experience walking into the studio.  It was much smaller than it looks on TV.  We were seated on the 2nd level, front row directly across from the judges table and the interview room was directly to my left.  It was so exciting to actually be in the studio and to realize I would be able to see everything perfectly from where I was seated.
Not long after we were seated the various other groups were escorted to their seats.  The Audience Coordinator that is in charge of the audience energy etc. invited us down to the dance floor for a brief dance party before the show started.  As I was entering the dance floor area I nearly ran directly into Nyle DiMarco as he was trying to exit to the back of the studio.  We were able to take photos with a camera if we wanted while we were on the dance floor.  There was so much fun energy in the room I knew it would be a special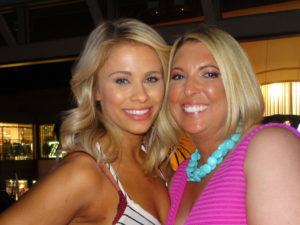 night.   After the 2 or 3 songs ended they asked us to take our seats.
Once everyone was back in their seats they rehearsed the opening number and the Audience Coordinator told us he would be telling us when to clap, cheer etc. and said they wanted to see a ton of energy out of us since the last two weeks they felt it was lacking a bit.  The energy in the room now was palpable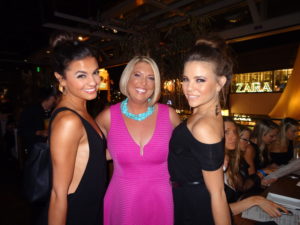 , I was beyond excited for the show to start.  A few minutes later we were told to start yelling and clapping as loud as we could and the show started live.  The opening number was absolutely amazing, full of energy and just flawless.  One interesting thing I noticed right away is it's absolutely impossible for you to hear what Tom and Erin are saying in the studio because it is so loud.   When they are playing the packages that you see on TV they are running on two screens in the studio, one above the stairs to the main stage and then another in the back so their truly isn't a bad seat in the house.  On the 2nd level there was only 2 rows and I am pretty sure the 3rd level was the same.  Another amazing thing that you see live is the set change outs.  They truly hustle to get those sets torn down and the new ones in within minutes on commercial breaks, I can only ima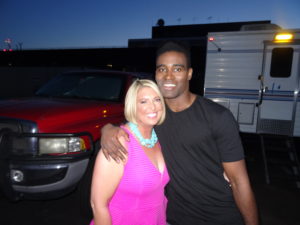 gine how much more complicated it is on Disney week.
The judges were all so funny.  It was nice to have Maks on as guest judge.  I have read a lot of thoughts and comments about h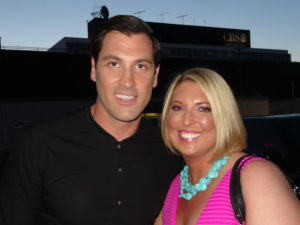 is guest spot and I will say my opinion is he was hard on some because he knows they can do better.  He has won the show, he knows what it takes along with all of his years of dance experience.
On commercial breaks they were doing trivia questions with the audience and it was nice to see how each of the couples gets in the zone so to speak ahead of their performance.  Some would stay loose, others would practice portions of their dances and others appeared to be running through their routi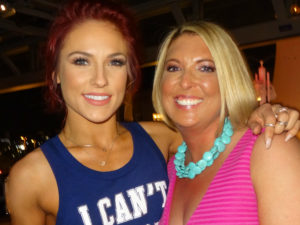 ne in their heads.  The beauty and pure emotion of some of the dances are just that much more intense in the live audience.  Nyle and Sharna's dance for example had me in tears because you couldn't help but, feel the emotion of every movement.  It's a bit different than watching it at home.  The studio was actually a bit warm too which was a little surprising to me, I had always heard studios were more on the chilly side but, that's probably for the safety of the pros/stars.
After the live show was over (it went SO fast), we were asked to stay in our seats because they were going to film the opening dance for week 7.  The pros had to go change to get ready for that and you could see the stars mingle a bit with their friends/family that had been in the audience that night.  After about 20 minutes the pros took the stage and did two takes for the opening number.  I don't want to give away too much on that so it won't spoil it when you watch.  Once that w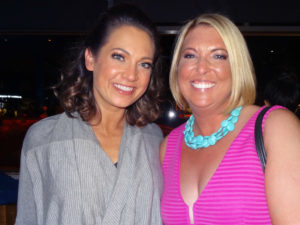 as done we all exited and got into this long line to get our cell phones back.  For more on what I thought on the dances please check out my weekly blog.
As a guest of someone on the show we had special access after the show to go back and say hello/thank you etc.  I have met most of the pros on the various tours over the years and I cannot say enough about down to earth, genuine, kind and talented they all are. It was nice to run into Sharna, Brittany, Hayley, Alan, Maks, Val and Keo. The stars that I came in contact with were also very nice.  Paige is stunningly beautiful and is having a gre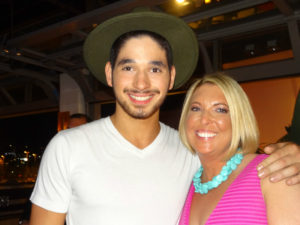 at time on the show.  Kim is so sweet and just radiates happiness.  Nyle is even better looking in person, beyond handsome and Ginger is seriously the absolute nicest person.  Her husband Ben is incredibly funny and they really are the cutest couple.  I also saw Doug Flutie but, didn't want to ask for a picture because he was with his friends and family at the time and already had quite a few people waiting for him.  He seemed to be very kind to each person he was interacting with.
If you ever have a chance to be a part of the live studio audience for either this show or another show that may be your personal favorite, I would highly recommend the experience.  It's just such a fun ene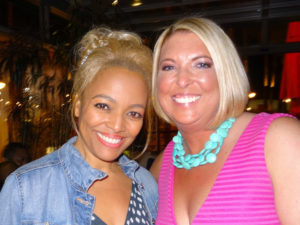 rgy to be a part of the audience.  The dances are amazing on TV but, the emotion in person truly is palpable.  I will never forget this amazing experience and I am so thankful to have had the opportunity.
What was I wearing:
Dress: http://www.bebe.com/Dresses/All-Dresses/Va-Va-Voom-Flared-Dress/pc/197/c/0/sc/198/107732.pro?refinementValueIds=1756,
Hair: http://www.thedrybar.com/
Makeup: http://www.maccosmetics.com/
If you have any questions please feel free to ask….
Until next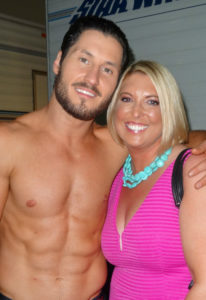 time,
Xoxo
Heather