Luke Bryan
August 2017 Syracuse, NY
Lake View Amphitheater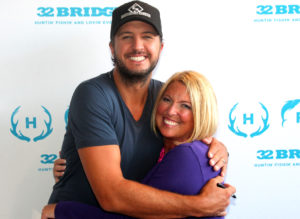 Luke Bryan has a very good VIP program. I was lucky enough to win a meet and great for the second time for the Syracuse, NY show. He is incredibly nice and it's always a great experience to meet him in person. Like many country artists, Luke has a fan club entry to win his meet and greats.  Luke has such a kind, humble, fun personality and truly makes each fan that he interacts with feel special.
I understand why a lot of country artists do this: accessible for all fans vs. only those who can afford it. That makes the process a great thing.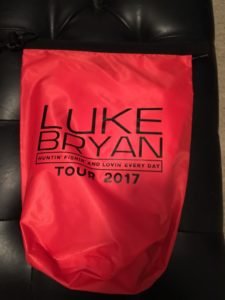 Entering the VIP: You sign in,  receive a red bag and a 2-3 song acoustic set and some finger snacks. The VIP area is very intimate and Luke performs really well.  He really is so laid back and fun in these performances.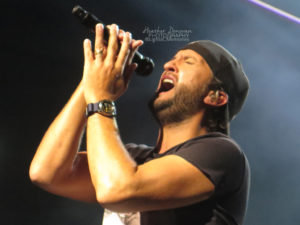 Suggestions for his staff & CID Entertainment: I have been saying this one for a few years now number the wrist bands given out when you enter and possibly allow groups of 50 in at a time. But when it's time to enter the acoustic tent area, make them line up in order by bracelet number. That will seriously cut down on the insane running, pushing, coming up from the back that occurs and keeps it fair, if you get there on time you go in first. Tim McGraw's VIP staff does that and it works very well. It didn't take much time at all to get everyone in number order.  Plus who wants to have to run like crazy to get into an event when you were among the first 20 in line? One other suggestion would be to offer a limited # of VIP Meet & Greet tickets for purchase to compliment the fan club meet and greet contest. Keith Urban did that last tour and I believe sold 5 or 6 per show, we got the party, M&G and there was a roped off up front spot in the pit we were escorted into.  I know a few friends of mine would love to meet Luke but, have not been lucky enough to win yet and with Luke's ever growing popularity it will be harder.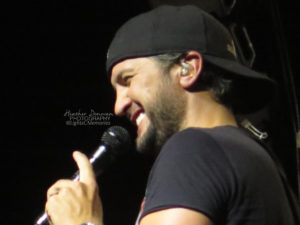 Venue Comments:  This was my first time attending an event at the Lakeview Amphitheater.  I thought the venue itself was very nice.  Getting in wasn't bad, I had a family member drop us off.  Getting out was miserable.  1st they need way more lighting, the ground is very uneven in spots and you couldn't see where you were walking.  We had heard it was fast to take the Centro buses downtown after.  That didn't work out to be a fast option because they did not have a bus only lane so the bus got stuck in all the traffic.  They should have a car lane and a bus lane so the buses going downtown and to the parking lots could easily move in and out and be way more efficient.  The prices were also outrageous compared to other venues I have attended.  $7 for a soda/water, $15 for a drink.  I am not sure if attending events at this venue will be top of my list to return to.
Videos:
Final Verdict: Definitely recommend Luke's VIP!
Fun concert wear!
http://www.coach.com/shop/women-wristlets
Until Next Time,
Xoxo
Heather