#vipnation
As I suspected when I first heard about this tour the Maks & Val Tour VIP Experience is truly special.  Many other artists could learn a thing or two from them and how to make a fan's experience one they will never forget.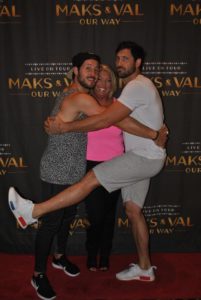 This article is on the Ultimate Package which included:
One premium reserved ticket in the front row – sit front and center!
Twenty minute backstage Meet & Greet with Maks and Val in their dressing room
Backstage toast with Maks and Val in their dressing room, including your own Our Way champagne flute to take home
Intimate Photo Op with Maks and Val in their dressing room taken with a professional camera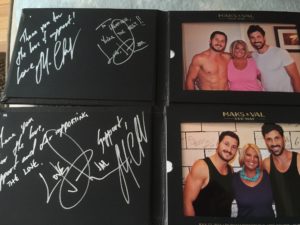 Custom 5×7 Our Way  leather picture frame with your printed and signed Meet & Greet photo delivered to your seat
Access to pre-show VIP Party, including:
Green screen photo booth to capture additional photos of yourself at the VIP Party
One (1) drink ticket for the pre-show lounge (beer, wine, soft drinks)
Ultimate VIP Meet & Greet laminate
Autographed Tour Program with personalized dedication signed in front of you
Exclusive Maks and Val gift item
Pre-show merchandise shopping opportunity
On-site VIP host & ticket pick-up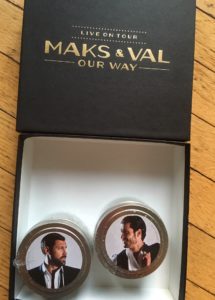 If you want to see the breakdown of the various packages which were at various price points please see the pre-tour blog I did:
http://lightscmemories.com/vip/maks-val-chmerkovskiys-way-summer-tour-2016-maksandval-ourwaytour/
Right away it started off good, I received my instructional email about 5 days ahead of the show and we have to arrive 3 hours ahead for both of the shows I attended.  It was very detailed and included all the important details.  I appreciated that because it showed they were respecting your time, some VIP events you have to get there 4-5 hours ahead and you stand and wait.  Maks, Val & VIP Nation did this right!
Upon arrival the process was very organized, you sign in,  get the appropriate package and laminate and you were directed to the VIP party area.  Once everyone was checked in I was thrilled to see everything started happening and there was not a lot of standind around and waiting.  They also gave very clear directions and specifically said to pleasae not bring your cell phones into the area and ask for selfies that a professional photo would be taken.  The guys came in 15 minutes later and headed to the designated photo box after waving hello.  This automatically got a thumbs up from me.  I lo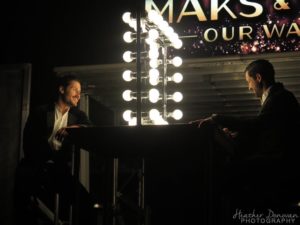 ved that they had a nice private area so you didn't have 200+ people all staring at you while you had your photo/meet & greet.  While you were waiting you could get your photo taken on the green screen which was nice to have for the memory.
Once it was your turn you entered the photo box, had your special moment with them and then Anthony would take your photo.  I know I am always saying it but, they are truly the absolute kindest, sweetest, talented and most humble men.  They put in the effort to make each fans experience special and they do not rush it.  It's not a photo assembly line type of event it's a genuine interaction.  This is something all the VIP packages were able to do which is great!  After the guys completed the photos they stepped out, thanked everyone for coming and said they truly hoped everyone enjoyed the show.
After t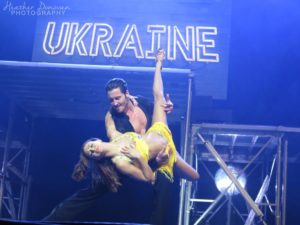 he photos were done you could take advantage of the crowd free merchandise shopping or just hang out at the party.  If you had the ultimate package you were escorted by the VIP host & security down to Maks & Val's dressing room.  This was such a small intimate group which makes it truly special.  You enter the room, sit down, receive your champagne flute and just sit and visit with Maks & Val for 20 minutes.  I seriously cannot say enough of the experience and the fact they would provide individuals with this type of access.  They genuinely wa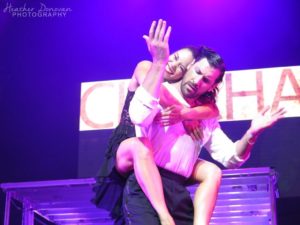 nt to get to know their fans and it shows in all that they do.  While you are in the room they autograph the tour program for you and the special frame that you get with this package.  After the time is up the VIP host takes another photo of you and the guys and that gets printed and delivered to you in the frame at the intermission of the show.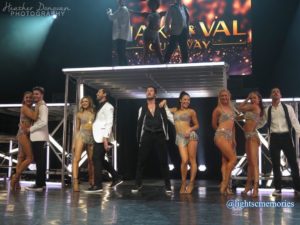 On that subject I have to give a huge shout out to the VIP Host:  Anthony Jones.  He is very nice and he gets all the photos posted very quickly which is what I define as WOW customer service. He is great about answering questions, making sure announcements are made and treats everyone with kindness and respect.
As far as the show itself I literally cannot say enough good about this tour, how it was put together,  the amazing staff/tour family and you are left wishing it wasn't over.  To read my thoughts on the show you can go to this link:  http://lightscmemories.com/entertainment-blog/maks-val-way-live-tour-2016/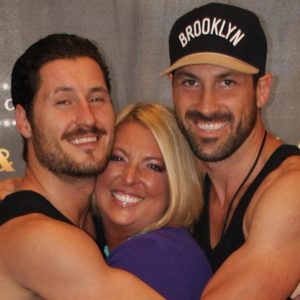 Final thoughts are…this is how a tour and VIP program should run.  Your time is respected, you are treated with kindness & respect and you receive a genuine interaction and in the ultimate package a chance to really sit down and get to know Maks & Val.  You absolutely receive value for your hard earned dollars that you spend for the experience.
For my looks please check out:  http://shop.nordstrom.com/
I always bring my Coach Cross body or wristlets:  http://coach.com
Until next time,
Xoxo
Heather