NKOTB
Raleigh NC
July 2017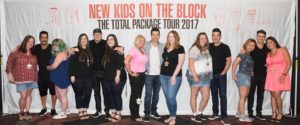 Entering the VIP:
This turned out to be a night I will never ever forget thanks to Donnie, Jordan, Joe, Jon and Danny!  NKOTB has always done one of the best VIP experiences in my opinion.  The only thing I really, really wish they would change is make it mandatory groups of 5 instead of 10.  It's so hard to find 10 people that will be happy with who they end up standing with.  We had a full group for Raleigh but, a side note, I went to the Charlotte show as well and that was a total and complete cluster.  The VIP management was not verifying groups before letting people in which resulted in our group of 10 being totally split up which wasn't right at all.   Back to Raleigh, we finally got in out of the heat and entered the party room which was set up great with all kinds of photo op props, the bar was open and they had some snack foods.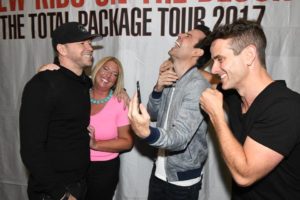 They started lining us up for our photos and as always the experience was awesome with the guys.  Once all the group photos were done those of us that had the Ultimate upgrade were lined back up (we had an interaction just us and the guys).  I love that they give this option!   I entered and was met by Danny and Donnie.  I was joking around with Donnie saying you always tell me to remind you to follow me on twitter but, you never follow.  Little did I know at that time that Jordan was doing a FB live so Donnie's face lights up and next thing I know Donnie is live following me on twitter after all these years on Jordan's FB live.  The entire experience had me laughing harder than I had in years!  Joe was commentating, Jordan and Donnie were being absolutely hilarious.  I quite literally had the time of my life in that 5-10 minutes I was with them.  They all made me feel so special and really after the year I had to that point I needed a great laugh and they sure delivered.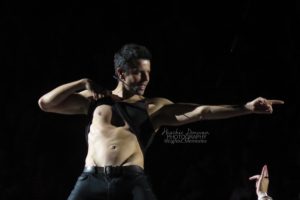 Show:   I had a pit ticket for the Raleigh show and then had a lower bowl seat for Charlotte.  The pit is always such a crap shoot.  I ended up with this very tall, very drunk woman in front of me when they were on the inside stage and didn't really have any interaction when they were on the outer stage.  In retrospect I probably should have done the bar stools like last tour.  The lower bowl seat in Charlotte was ok and we did have interaction with Donnie when he was returning to the stage one time.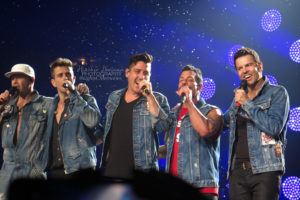 Final Verdict: NKOTB does it right, they always have in my opinion.  In past blogs I have talked about the cruise.  I would say if given the chance to only do one, I would always chose the VIP at one of their concerts.  They are all such nice guys, the personal interaction you have with them is just second to none in my opinion.  I have loved them since I was 15 years old and still love them today.  As with a lot of other blogs I have done on other artists the VIP staff can either make or break your experience.  In Raleigh it was totally fantastic, in Charlotte it was a poor experience the way they handled check in, the groups, not caring when several organized groups of 10 were split up.
Suggestion:  Please switch this group of 10 to groups of 5!  It would take away the one constant stress when doing your VIP's.  It might actually go faster because you don't have to spend an hour trying to get a group of 10 and make 10 people happy who they are standing next to.
Fun concert wear!
Bebe:  http://www.bebe.com/
Nordstrom:  http://shop.nordstrom.com/
White House Black Market:  https://www.whitehouseblackmarket.com/store/
Coach:  http://www.coach.com/shop/women-wristlets
Until Next Time,
Xoxo
Heather