Steven Tyler Out on a Limb VIP Experience Atlanta 2016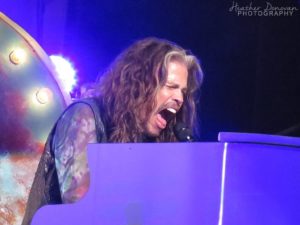 Where to begin on Mr. Steven Tyler!  He is simply one of the kindest, more engaging down to earth rock stars I have ever had the pleasure of meeting.  This was my 6th time meeting Steven over the years and he never ever disappoints.
I got the 2nd tier VIP Package which included:
MEET & GREET PACKAGE Includes: 
– One (1) premium ticket
– Priority check-in and entrance
– Meet & Greet with Steven Tyler
– Photo opportunity with Steven Tyler
– Access to the pre-show reception which includes specially selected appetizer along with complimentary wine, beer, and soft drinks
– Merchandise item designed and created exclusively for package purchasers
– Collectible laminate to remember your evening
– Onsite check-in staff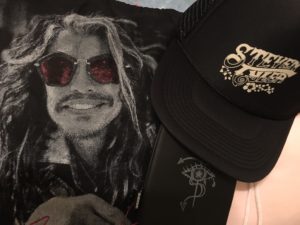 We had a 2nd row dead center seat for the show which is why I went with the 2nd tier package vs the front row to save about $200 knowing these were very small venues 2nd row was great!
This is a solo tour Steven and the band Loving Mary did to promote his country album.  This was the 3rd time I have seen Steven perform with Loving Mary and they are also absolutely fantastic and you could tell Steven truly was having a really fun time each night performing with them.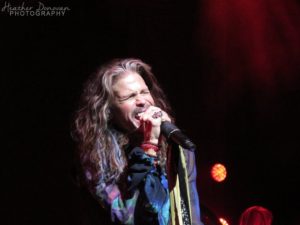 We received our check in info a few days prior which is always great so you can plan what time you need to arrive etc.  We had to arrive at 4:00 this time.  I thought the venue staff could have been a bit nicer at the Cobb Energy Center.  I had a man trying to tell me I had to check my point and shoot camera which I later had corrected and was allowed to take it in and then we waited in an organized fashion by numbered bracelets in a nice climate controlled area.  The staff came out and very kindly went over the rules with us and told us how we would receive our photos.  So far this is the only negative, we still don't have our photos and it's been 4 days yet it is a holiday weekend so hopefully by tomorrow.  Update:  Photos came out 5 days after this show.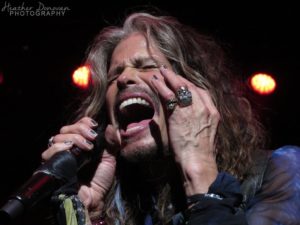 When we entered the room we did photos with Steven first.  It was in a nice private box area which is LOVE when artists do that.  He was giving each person at least 1 minute of his time as I timed a few which truly sets Steven apart from others.  You were greeted very nicely by his VIP staff and they asked your name as you entered and Steven would then say hello Heather how are you today, he always gives you a huge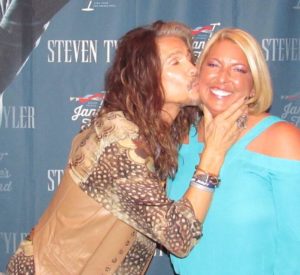 hug and kiss and we would chat for a bit and he truly makes you feel like you are the most special person in that min.   In my opinion he then gets back the mutual respect of each person and you rarely if ever seen him groped in photo and if he's hugging you or kissing you it's because that is what he wanted to do.  It's nice to have relaxed experiences and be able to say what you want to say.  The photographer then would count down 4, 3, 2, and 1 so you were ready for the photo which again gets an A+ in my book.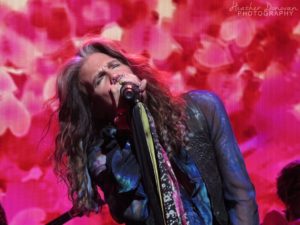 After the photo then we had a few drinks, some snacks and then had to go back out and through security again.  This was also not a great thing in my opinion, we had all already been checked but, perhaps there was no other entrance into the venue.
The show was absolutely fantastic.  Steven takes that stage with such ownership, charisma and man does he blow the roof off the venues.  He played a perfect mix of Aerosmith and singles from his Country record.  He is one of the rock legends that every fan of rock music should be sure to see just once.  However once you see him once you will be forever hooked.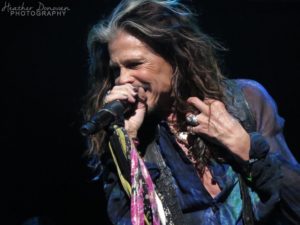 My opinion is I did much prefer the meet and greets with Steven's solo shows.  It's not that I don't think Joe Perry is a great guitar player and member of Aerosmith I just think Joe doesn't care for the meet and greets and it really takes away from these truly special interactions that Steven provides.
Also wanted to give a shout out to the On-Site VIP staff Tanya, she is very good at her job, treats everyone with professionalism and kindness!
Concert Wear: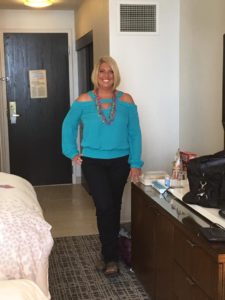 I did wear my favorite off the shoulder Bebe top and black dress pants:
To order yours go to:   (STYLE # 266813):  http://www.bebe.com/
Or they have a new one for Fall that comes in a Purple and black:  http://www.bebe.com/Tops/Blouses-Shirts/Keyhole-Cold-Shoulder-Top/pc/184/c/0/sc/215/114454.pro?selectedColor=pcl
I also used my Coach Wristlet and cross body that I was given as gifts from friends for my birthday.  They were perfect!  The wristlet held my car key, ID, money and credit card and the cross body fit the wristlet, camera and lip gloss with room left over but, it was nice not to have to carry around a bulky purse with me.
http://www.coach.com/shop/women-wristlets
http://www.coach.com/north/south-swingpack-in-embossed-textured-leather/52348.html?dwvar_color=SV%2FTU
Until next time,
Xoxo
Heather