Hi Y'all, it's been a busy few months but, I am so looking forward to DWTS starting on Monday and kicking off the weekly blogs once again!
xoxo
Heather
The winner of the DWTS VIP Package _dwts.hough wrote about her experience and I wanted to share it with you…
By: _dwts.hough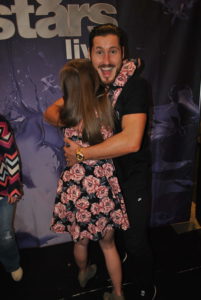 Having VIP and meeting the professional dancers of DWTS was honestly a dream come true.  They were the nicest people and just amazing.  I met Val, Laurie and Artem in the meet and greet and I was just in shock.  I could not believe I was standing in front of them!  They gave the absolute best hugs I did not want to let them go!  Emma & Lindsay were mingling and honestly they were the sweetest!  They talked to me for so long and it was so nice of them!  Meeting them was such a dream come true…I cried so much!  Getting this chance I felt so blessed and I just could not thank Heather enough for the opportunity!  Doing this meet & greet I know for sure I will do it again on the next tour!  Thank you Heather for giving me the opportunity to meet my idols!
My favorite dance of the night was the contemporary to "Unsteady".  the dance is such an inspiring dance I cried through the whole thing.  It really hit home with me for sure.  It is such an amazing piece It was a masterpiece!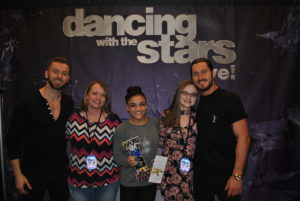 My favorite part of my first VIP experience was for sure meeting the pros!  Especially Emma Slater and Val Chmerkovskiy!  They have been such role models in my life and to finally meet them was amazing!  They were two of the nicest people I have ever met!  I was very surprised as how nice and humble the pros are!  I knew they were nice but, honestly I did not think they would be the most amazing people!  I am so proud to call all of the pros my idols!
I'm so very blessed for this opportunity and thank Heather for making my dreams come true!
_dwts.hough