Keith Urban:  Once in a Lifetime Package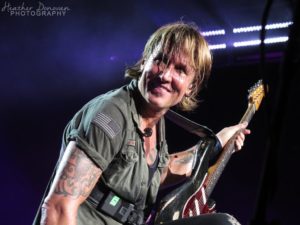 I was so excited when I saw that Keith Urban was going to offer VIP packages with his ripCord Tour.  The Once in a Lifetime package option allowed you to get an individual photo with Keith!  Prior to this you had to win a fan club contest giveaway to meet Keith and I was never fortunate enough to win.  I have met Keith at CMA fest though the last two years and he has always impressed me.  He has no ego, a genuine kindness, he's a sweet man and truly one of the best at fan interaction.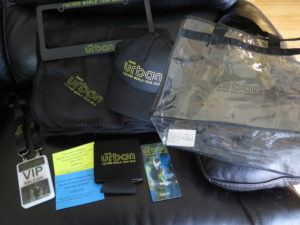 It looks like they sold 6 of these packages per show which was great because it was a nice small group.  You had to arrive at check in between 5:15-6 pm, you received your bag of special items to go with the package.  I included a photo of what you received from merchandise discounts at the show or online, a blanket, license plate holder, temporary tattoo, special light up VIP lanyard, hat etc.  After check in you were taken back to an air conditioned tent and I don't think there was more than 75-100 people in there including those packages like mine, radio station winners, CISCO staff (they sponsored the party) and then the fan club photo winners.  They had food, water and soda for us.  Keith's staff handled everything very organized.  They brought everyone back for photos in small groups based on the type of pass you had.  The photo interaction was private which I loved although a bit fast however still not a photo assembly line.  You could enter the room and Keith gives you a huge hug, asks your name etc.  I hope the photos will be posted quickly.  .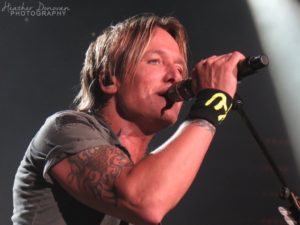 After the photos Keith came in and sang one song by request and answered a little over a handful of questions.  What I loved about that is it was intimate and everyone was told and everyone respected the no cell phones, cameras or recording and it was great.  It was a nice intimate and engaged interaction.  After that we were taken down to the pit.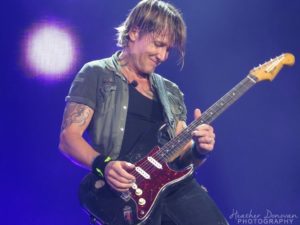 The show was absolutely fantastic.  Maren Morris, Brett Eldredge opened and they both were absolutely wonderful!  Keith and his band hit the stage with such energy!  The show was absolutely awesome, I love how Keith will spotlight members of his band during the show and allow them to sing individually as well.  Keith is such an engaging performer, he sang many of his hits, songs off the new album and if we had been inside he would have blown the roof off the venue!  Every time I have seen him perform he brings 200%, if you have never seen him perform…GO buy your tickets now!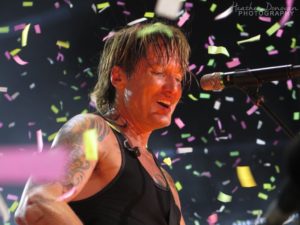 I love how Keith uses social media.  After every show he will tweet photos and does a short video on IG or Twitter thanking the fans from that city, sharing his thoughts from the evening etc.  It's just a special thing he makes a point of doing and that 1-2 minutes is appreciated by fans.
The venue:  Coastal Credit Music Park in Raleigh was good, the security and staff are all very nice.  Last summer I would have given them 5 stars for the ease in getting out after the show.  Last night I would give them a fail on that.  It took over 45 minutes to get out after the show vs the 15 minutes max it took last year for all the events I attended.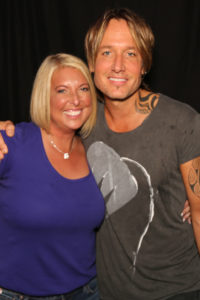 Concert Wear!
I love wearing my J Crew tee's to shows!  They are lightweight and come in fun colors!  https://www.jcrew.com/womens_category/Tshirtsandtanktops/shortsleevetshirts/PRDOVR~A6166/A6166.jsp
I also used my Coach Wristlet and cross body that I was given as gifts from friends for my birthday.  They were perfect!  The wristlet held my car key, ID, money and credit card and the cross body fit the wristlet, camera and lip gloss with room left over but, it was nice not to have to carry around a bulky purse with me.
http://www.coach.com/shop/women-wristlets
http://www.coach.com/north/south-swingpack-in-embossed-textured-leather/52348.html?dwvar_color=SV%2FTU
Until next time,
Xoxo
Heather