Dancing with the Stars:  Switch Up Night
Season 22/Week 5
This week is always an interesting one on Dancing with the Stars.  I really think the couples are matched up perfectly this season and I was so excited to see them all perform.  I was in the audience last night and I will be writing a separate article on what's its like being in the studio.
Loved the opening number it was so full of energy and so much fun to watch!
Wanya Morris and Witney Carson (Lindsay Arnold): Tango
Song: James Bay's "Hold Back the River"
I was really excited for this match up.  I love Witney as a pro but, I haven't been feeling the ma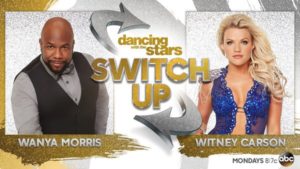 gic spark between she and Von this season and I think Wanya's personality and skills will make for a fun match up.  He reminds me so much of Alfonso with his charisma.
I thought their dance was good, it was clean, sharp, seemed to connect really well.  Wanya seems to truly excel in the faster dance styles an
d I think it's because has just so much energy and he can release it in the faster dance styles but, I think he continues to improve and is still a contender this season.  Len felt it was hectic.  Bruno liked it and highlight the difficult content included and stated that he has incredible ability.  Carrie Ann mentioned that it was a tough song to do the Tango to which also was a valid point.  I do love how classy Wanya is with the judges' comments, scores etc.  He truly seems to take it to heart and you can tell he has that winning spirit.
Scores:  8-7-7-8 = 30 points
Phone: 800-868-3412
Kim Fields and Keo Motsepe (Sasha Farber): Viennese Waltz
Otis Redding's "These Arms of Mine"
I think this will be another great match up.  Keo is a talented dancer and Kim's personality is truly shining through these last few weeks.  The height difference may be an issue but, I hope they both have fun with this partnership.
Kim has one of the most expressive faces in the competition and she has been radiating joy the last several weeks.  She's a pleasure to watc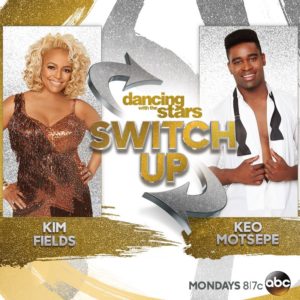 h.  I thought their dance was good, emotional, passionate, in character but, not much of it was done in hold.  I personally have not learned this dance style yet in the lessons I have been taking but, going off what I have seen in past seasons and on the DWTS tours I was thinking that might be the biggest comment from the judges.  Maks said it was a hard one that it was a great performance but, not a Viennese Waltz, lacking frame etc.  Bruno thought they were on the money on the emotion of the dance and Carrie Ann loved it.  Len agreed with Maks and he wanted to know why there wasn't one step in hold.  Maks reminded Keo of the height differences between him and Meryl Davis.  My opinion is that Keo felt he was choreographing the best he could dealing with the height differences and I think he will continue to grow as a pro.   Keo and Kim should be proud of a solid performance this week.
Scores:  8-6-6-8 = 28 points
Phone: 800-868-3406
Doug Flutie and Peta Murgatroyd (Karina Smirnoff): Tango
Song:  Sam Sparro's "Black & Gold"
This is another great match up.  Peta is an incredible teacher and Doug absolutely has the drive and the desire to learn and improve every week.   Not everyone learns dance at the same speed but, it's hard not to route for someone that you can tell truly wants to succeed and improve every week.  It's hard to get out of your own head at times and just relax into the dance.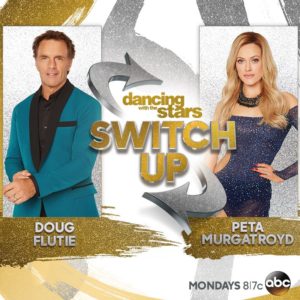 I think tonight was Doug's best dance to date.  He did a great job and really seemed to work well with Peta's style of teaching.  That is not to take anything away from Karina though.  It was a solid performance, it was intense, his footwork definitely showed improvement and he is also improving in getting into the character of the dance with his facial expressions.  The judges still think he needs to work on his musicality.  Maks highlighted that it was full of content and told him to just work on enjoying himself in the dance.  Tom Brady gave him a shout out and Bill Belichick doing an IG video post for him as well was great support.    Doug continues to improve so I would say BRAVO to you and Peta for a great job this week.
Scores:  7-7-7-7 = 28 points
Phone: 800-868-3402
Ginger Zee and Mark Ballas (Val Chmerkovskiy): Salsa
Eddie Palmieri's "La Malanga"
Ginger grows by leaps and bounds each week.  The joy on her face is so evident and it really shows in all of her performances.  She wa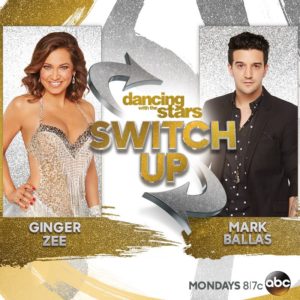 nts to go far in this competition and it is very evident in the hard work she demonstrates each and every week.  I will miss seeing her and Val dancing together this week but, I think this partnership with Mark has some fun potential.  Ginger's husband, Ben is such a riot.  I crack up each week with what they air in the packages from Ben.  This week is a classic, Mark is like a glass of merlot and Val would be a dirty martini and then later Mark is the marrying type but, Val is more the Russian love slave.  Too funny!
Ginger took the stage full of sass tonight.  I loved her dance she absolutely crushed it this week!  The hip action was incredible, the lift, she nailed the character of the dance and you can tell she is having an absolutely amazing time on the show.  I thought it was a flawless performance in my opinion.  Kudos to Mark on choreography that truly made Ginger shine!  I know earlier in the season Ginger was hoping to get her sexy back, girl you got it!  Val was beaming with pride watching you!  The judges all absolutely loved it as well!  I did however think you deserved at least 9's this week, the 8's were too low.
Scores: 8-8-8-8 = 32 points
Phone: 800-868-3404
Antonio Brown and Karina Smirnoff (Sharna Burgess): Cha Cha
Song:  Dusty Springfield's "Son of a Preacher Man"
I have really liked Antonio all season and felt he was underscored.  Since watching the show since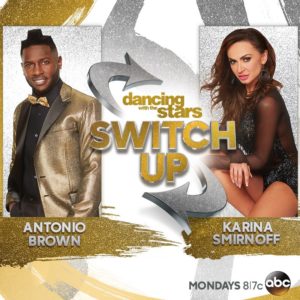 Season 1 I also am interested to see the stories that are portrayed in the packages each week. Often I take them with a grain of salt.   This week there seemed to be a lot of emphasis on Antonio being late and not putting in the work.  Over the seasons a lot of celebrities have had very challenging schedules but, still put in the work it's part of the commitment to the show and if he truly is late all the time that is not only disrespectful to the experience but, to your partner as well.
Karina you did a great job with the choreography this week.  Antonio had an explosive start to the dance with his flip.  It was full of energy but, this wasn't his best dance to date.  The footwork didn't seem as sharp as it was in past performances.   The judges overall were not impressed.  Len told him you have to polish and take it to the next step.
Scores:  7-6-6-7 = 26 points
Phone: 800-868-3401
Paige VanZant and Sasha Farber (Mark Ballas): Rumba
Song:  One Direction's "Perfect"
I am excited to see this match up as well.  Sasha and Paige seem to have developed a fun friendship on the show.  It's been great having Sasha back as a pro this year.  He is incredibly talented and matched with Paige's amazing skills this should be a great dance!  We were all handed candles to hold during this performance which set the mood in the room.
I loved Pai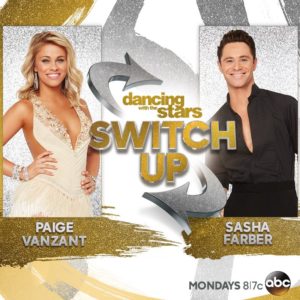 ge's dress tonight, it was beautiful!  Paige is too cute and I bet it's hard to channel your inner sexy for such an intimate dance in a room full of people with a new partner.  I felt Sasha did a great job building that trust with Paige in this week.  I LOVED their dance.  It was beautiful, it told a story and had such elegance.  Every week I am in awe of Paige that she can be such an tough fighter and yet so incredibly graceful.  If I had to pick a top 3 today I would say for sure Paige will be in this for the long haul.  She is beautiful inside and out and absolutely should be proud!  Maks told her she is capable of winning but, was bothered by a lack of rumba content. Bruno and Carrie Ann really loved it! I thought Maks scored it too low, I understand his comments on the content but, the overall performance deserved at min straight 8's at least.
Scores:   8-8-7-8 = 31 points
Phone: 800-868-3410
Von Miller and Lindsay Arnold (Witney Carson): Jive
Song:  Beans & Fatback's "Hips"
I was hoping that Von would be matched with Lindsay.  I wanted to see if maybe he would have different chemistry with Lindsay.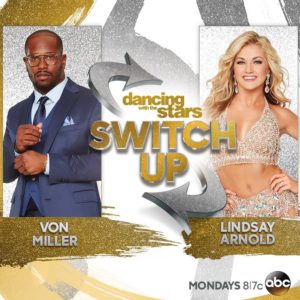 Taking away nothing at all taking away from Witney.   I have just been trying to put my finger on my thoughts on Von all season.  Some partnerships have this amazing chemistry from the start, others it takes time to grow.
This was the first time this season I was truly impressed by Von.  He really brought it this week.  It was fun, it had high energy, he seemed highly engaged in the dance and you could tell he put in the effort.  For me it was his best dance of the season.  The judges all had great feedback.  Carrie Ann congratulated Lindsay how she worked with Von's style.  The judges still want more out of Von but, I think he's made the turn after this week and I hope it will continue.
Scores:  8-7-7-7 = 29 points
Phone: 800-868-3411
Nyle DiMarco and Sharna Burgess (Peta Murgatroyd): Viennese Waltz
Ruelle's "I Get to Love You"
I absolutely was so excited to hear that Sharna would be matched with Nyle this week.  Both Sharna and Peta have amazing teaching abilities and truly can do amazing work with their partners.  They always make sure their partners shine and I think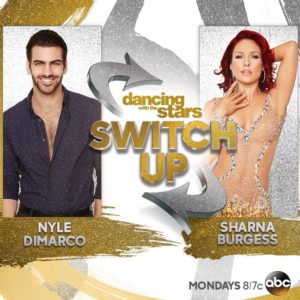 we are all in for seeing magic tonight.
Tyra Banks came to watch Nyle perform tonight.  Sharna is awesome, I love that she is just so real, their package was too funny.  When they were talking about relationships and Sharna said was he deaf referring to Nyle's 10 year relationship and Nyle said no she was deaf as well.  Innocent mistake Sharna but, love that you can laugh it off.   Nyle is amazing to watch on television but, in person it is even more incredible.  I say it every week but, I am just in awe of his dancing abilities.  It truly shows everyone that nothing is a road block if you want to do something bad enough.  Sharna choreographed an absolutely stunning, raw, emotional, elegant and just beautiful Viennese Waltz.  I had tears in my eyes watching them.  Bravo Sharna and Nyle.  You did not disappoint tonight, you took our breath away.  Carrie Ann hit the nail on the head that Nyle truly has the advantage because he has been telling a story with his body his whole life.  Len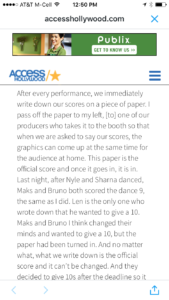 loved it and said it was a total eclipse!  Maks said best dance of the night & of the season and he still cannot figure out how it is possible for Nyle to perform so well.  Bruno loved it.  OMG seeing Nyle, Sharna and Peta all in tears too it was just so beautiful.
The scores were a huge issue because Maks and Bruno held up a 10 but, they were supposed to be 9's.  The way it was explained is that at the end of a dance the judges all say the scores, Len writes them down and hands them off to production.  Bruno and Maks said they said 10's but, Len heard 9's and they have to go by what is written that goes to production.
Please check out Carrie Ann's explanation on it on the Access Hollywood screen shot.
Scores:  9-10-9-9 = 37 points
Phone: 800-868-3409
Jodie Sweetin and Val Chmerkovskiy (Keo Motsepe): Paso Doble
Song:  Calvin Harris & Alesso's "Under Control"
This is another partnership for switch up a lot of people were excited to see especially after Val and Maks did the guest starring role on Fuller House recently.  I do not understand why Jodie has been in the bott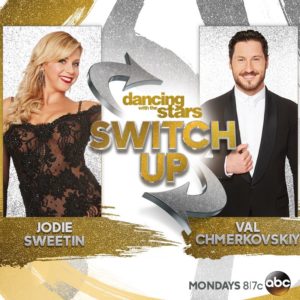 om 2 each week but, she needs a breakthrough to hopefully keep her in the competition and I know Val can do that.  He is such a strong, amazing leader and I think he can help Jodie get out of her head a bit more this week.
I was so excited watching their dance.  Val did a great job working with Jodie.  It has to be so hard to be in the bottom 2 and still
have that fire to come out and put down an amazing performance but, hands down Jodie did it!  It was dynamic, it was strong, it was a clean, full of content, intensity and Val choreographed and amazing Paso which perfectly highlighted Jodie's fierce determination.  Bravo!   Len said last week was lemonade but, tonight was champagne!  Maks reminded the audience of Sabrina Bryan that was talented and sent home early.  Bruno and Carrie Ann also loved it.  It was so great to see such happiness in Jodie's face and she fully got that it is just a dance.  Keep it up girl, you can go far in this competition!
Scores:  9-8-9-9, = 35 points
Phone: 800-868-3405
No eliminations this week.  They are going to combine the votes/scores from Disney week with Switch Up week and then someone will go home next week.  Overall it was a good week, I will work on another in-depth article on what it's like to be in the live audience and post it in the next few days.  I loved every single moment of the experience.
A few final thoughts, Artem Chigvintsev and Jenna Johnson's dance to "Let it Go" by James Bay was nothing short of pure magic.  It was so passionate and just one red hot dance number.  Fantastic job to you both!
Also want to compliment the troupe each performance tonight was amazing!  Great job!
Just a reminder if you want to get tickets to the HOTTEST tour this summer go to: http://www.maksandvaltour.com/  I will be blogging on the show and their various amazing VIP Packages this summer
VOTE by phone, facebook and on abc.com to avoid future surprising eliminations.
Until next time,
Xoxoxo
Heather