DWTS VIP We Came To Dance Tour 2016-17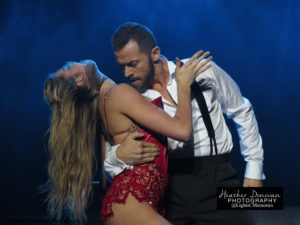 I've had the pleasure of being a VIP for the last four Dancing with the Stars tours. From the first tour I participated in the VIP to this year's tour I must say: It's like night and day!  They have improved them tremendously every year!  So let's talk about the details of the VIP!
Pre-Show: For my 1st show in San Jose I had the Front Row Meet & Mingle VIP Package.  We received our pre-show email about 3-5 days ahead from VIP Nation.  For our show we had to arrive between 5-6 pm (Note this varies city to city so ALWAYS review your itinerary).  There is no reason to line up an hour early or anything.  They have a very organized process to get everyone in.  The email also contains where the VIP check in table is, the link to where to find your photos and password.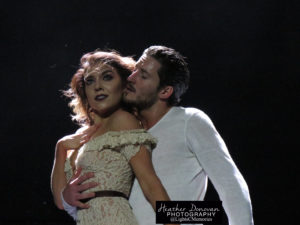 VIP Shout Out!  I was thrilled to see that we have one of VIP Nation's best hosts Anthony Jones for this tour!  He also did the Maks & Val Tour this summer.  He is not only a really nice guy, he gets it and works to post pictures as quick as he can (remember we all have to be patient), he checks the photos after he takes them and truly cares about the customers.  High-five Anthony when you see him in your city because he really is a rock star for the fan experiences!
Entering VIP:   We arrived about 15 min before check in and just waited outside the doors.  Right on time the doors were opened, they did the usual security checks at the door and then you went to the sign in table.  It took maybe 5 minutes to get checked in.  For this venue we didn't know what seats we would be in until we picked up our envelope.  I was thrilled with the seats we had!  They are distributed in the order you purchase the tickets.  We also picked up our 1 drink ticket, the tote bag for this package included an umbrella, blanket, signed tour program (Note it's different for each pkg).  When you check in you are given a laminate with a letter on the back and that is the order they call you for your pictures so there is not one giant line and everyone can enjoy the party until it's their turn.  One other detail note that was different than past tours but, I am not sure if this was venue related or how it will be on the entire tour but, they took ALL gifts as you were checking in.  They said it's because they had to check them before giving them to the dancers.  I understand both sides if it's for dancer security by all means but, there were a lot of disappointed people so just expect that going in so you are not bummed out.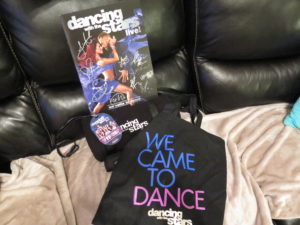 Now on to the good stuff!  After check in we were directed upstairs.  For this venue the layout was a bit odd compared to other venues I have been to but, they have to work with the space the building offers.  We didn't wait very long at all when they started telling Group A to line up.  A few minutes later we saw Keo and Alan coming our way, it was their turn to do the Meet & Mingle!  It appears that it's all rotating like last tour (2 in the Meet & Mingle and 4 in the photos with Val & Laurie being consistent ).   To give you an idea for our cast photo we had Val, Laurie, Sharna & Gleb.  I will update this after each show to give you all an idea: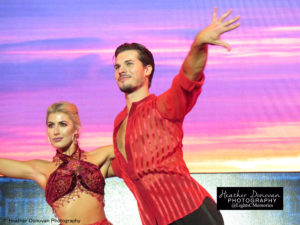 The photos were wonderful as always, it was my first time meeting Laurie & Gleb and it was so fantastic to see Val & Sharna.  Anthony takes great care in taking the photos for us.  The staff is also very kind, nobody is yelling at you it's a pleasant experience.  You do have to leave your purse, bags and anything else on you at the table and you cannot ask for autographs etc. at the cast photo portion.   This year too it was one professional photo taken by Anthony, no selfie options in the main photo.  You could however do selfies with the dancers in the Meet & Mingle.  The green screen operator for this city wasn't the best at taking the shots and they were having issues with the Wi-Fi not being fast enough so the green screen pictures were very hit or miss on if you got them in your email.  However, Anthony with VIP Nation being the rock star host that he is, is already on it for us!  I noticed today in the photos link there is one for the Meet & Greet pictures and then one for the Photo booth.  That was smart thinking to just upload them all vs having issues city to city with Wi-Fi.  After the photos were done and the dancers all left to get ready for the show you could go to the merchandise stand and do some crowd free shopping which was also nice.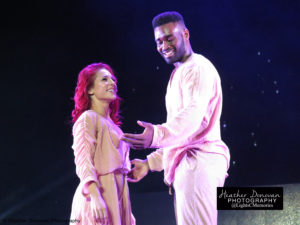 Please note on the pics:  the itinerary says up within to 2 weeks.  I know it's super hard to be patient but, I know Anthony will post as quickly as he can.  He is one of the best in speed to get them posted.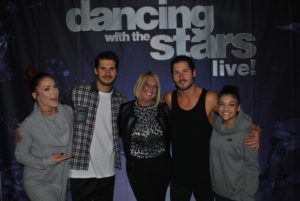 Show time!  I am going to do a separate blog on the actual show after my next one in January.   I also do not want to spoil anything for those that haven't seen it yet.  I will say this for now.  It is AMAZING and you should be very excited and counting down the days until you go!  It's the best tour they have done to date.  It's formatted a bit like the Maks & Val Tour whereas it tells a story in many segments which I loved.  It allows you to get to know the dancers better by hearing their individual stories.  It's also very fast paced but, I loved the pace of the show this time.  You were on the edge of your seats the entire show wondering what was going to happen next.  The other difference from the past tour is there was no audience engagement like the kick off of the last tour and they don't bring anyone on stage.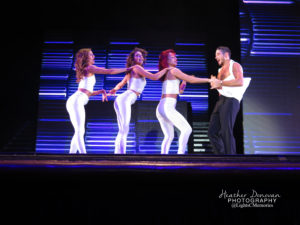 You will get to see a few of the best dances of our Mirrorball Champions Val & Laurie and a few other truly amazing performances by the cast from this season.  However, my lips are sealed on more details for now so you can be surprised and enjoy the shows in your city.
Bravo & Thank you:  VIP Nation you always put together fantastic unique experiences and it doesn't go unnoticed! Thank you again for putting Anthony on this tour!  Mandy Moore, Supervising Choreographer Amy Tinkham, Creative Director and Guy Phillips, Executive Producer truly put together an amazing show that I think every fan should be sure they have a ticket for! The creative genius is obvious at every moment in the show.  The vision and layout for this tour is truly worth 10 Stars!  The crew and all the other behind the scenes individuals also deserve a shout out!  The Dancers (Val, Laurie, Sharna, Gleb, Artem, Lindsay, Keo,  Emma, Jenna, Hayley & Alan all truly leave it on the floor each night.  It's emotional, it's passionate, it's raw, it's FUN, it's full of energy and I am so excited I will get to see this tour multiple times and have a new take away each night!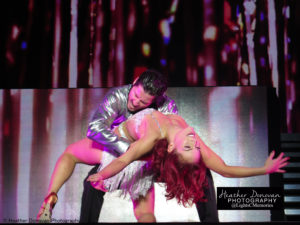 If you don't have a ticket…Buy one today and if you are able to do VIP it's worth the investment for this experience they have many different levels and price points too!  Here's the link for tickets/VIP package! http://www.dwtstour.com/#tour
Want to see more photos?  For many more pictures from the tour, past tours please follow me on Instagram, Twitter & Facebook @lightscmemories!  If you have any questions that I can help with please don't hesitate to reach out!
Until next time,
XOXO
Heather
Note:  I have been asked what I was wearing in the pics I posted.  Check out www.bebe.com for fun tops like the one I was wearing!