Dancing with the Stars-Semi-Finals & Trio Night
Season 23, Week 10
I seriously cannot believe we are already at the Semi-Finals, this season absolutely flew by and it truly has been one of my favorites.  The talent and personalities have been such a pleasure this season.  Everyone came to work hard and enjoy the experience.  Welcome back Sharna!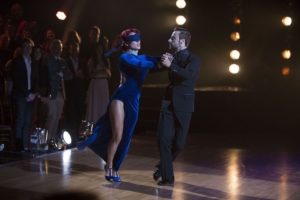 Sharna Burgess & James Hinchcliffe (Argentine Tango)
#TeamStopandGo
It is so absolutely fantastic to see Sharna and James back together again, they have one of those amazing partnerships and I am glad they will be able to finish out the season together.  I still predict they will be in final 2. I loved the blindfold idea.  It's a little similar to what my dance instructor did recently to get me to stop looking down.  Dancing with your eyes closed/blindfolded is a totally differe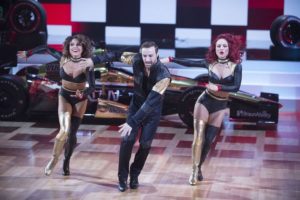 nce experience you have to trust and just be able to feel everything.  I LOVED their Argentine Tango it was sexy, intense, filled with fun content and that hand stand at the end was just so good.
Trio dance with Jenna Johnson (Jive):  This was a super fun, high energy Jive.  What a creative job Sharna did on the choreography.  I loved it, truly highlighted all of James's strengths and it was absolutely flawless.  Fantastic PERFECT score!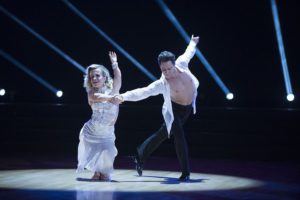 Terra Jole' & Sasha Farber (Rumba)
#TeamXL
Terra has truly been so impressive this entire season.  Her attitude, her drive, her fabulous personality have just absolutely shined this season.  Sasha has always been fantastic but, he took it to an even higher level this season with how wonderful he worked with Terra and reminded everyone what a wonderful man he is.  I really liked their Rumba tonight.  It was beautiful dance and how they related to each other.  You can see the amazing effort that this pair puts in each we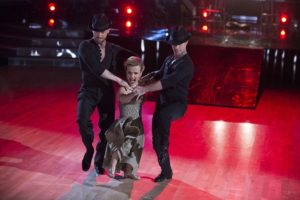 ek.  Loved Carrie Ann's quote:  "Quality of the movement was like the quality of you, it was untouchable".  Well-deserved PERFECT score…BRAVO!
Trio dance with Artem (Tango):  The package had me cracking up.  Yes Terra we agree Artem is hot and sweet too!  I absolutely LOVED this dance.  It had sex appeal, it was intense and Terra just nailed it.  Both Artem and Sasha were fabulous with Terra…BRAVO!  Another PERFECT score!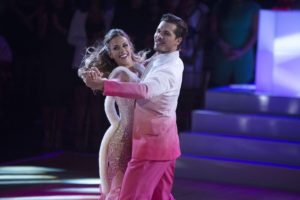 Jana Kramer & Gleb Savchenko (Quickstep)
#TeamGlamer
Jana has steadily improved this entire season.  I have really enjoyed the partnership of Jana and Gleb.  You can see how the show has almost helped her through a difficult time in her life too.  She just shines now.  First off I loved her dress tonight, stunning.  Their quickstep was a ton of fun, very elegant, full of energy, a lot of great content and spunk.  I truly think they deserve to go to the final 3.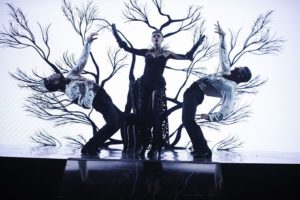 Trio dance with Alan (Paso Doble):  These 3 have a fun relationship too.  It was incredibly creative, powerful, intense, fabulous content and Jana really nailed the character of the dance.  Bravo to this trio they really did a fantastic job.  You can tell Jana wants to be in the finals she was in it to win it tonight.  BTW we need to see Alan have a chance at Pro next year he would be fantastic!  PERFECT score, BRAVO!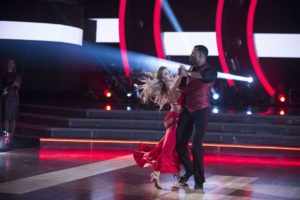 Calvin & Lindsay (Tango)
#TeamLindsatron
Calvin seems like such a fantastic and genuine soul.  Loved the package description.  Their tango was good but, I wouldn't classify it as one of their better dances.  There was a slip up mid-dance which seemed to get them off time a bit.  Calvin is still always a joy to watch.  I am on the fence on this pair in regards to the finals.  I do th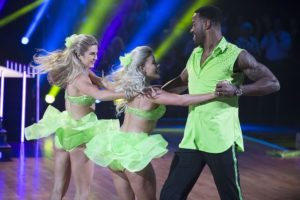 ink Calvin improved a lot as the season went on but, I am not as engaged in them as a partnership.
Trio Dance with Witney (Salsa):  This looked a comedy skit in rehearsals.  Their salsa was full of energy and they took advantage of Calvin's strength to do some really fantastic choreography and lifts.  Perfect score…BRAVO!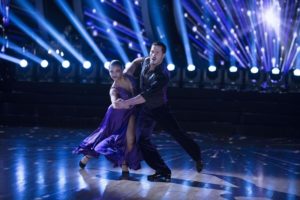 Laurie Hernandez & Val Chmerkovskiy (Foxtrot)
#TeamVaLaur
I literally cried my eyes out with the package on Laurie's grandmother and her unfortunate passing the day after the video was recorded. It's heartbreaking to lose your grandparents and even harder to watch them suffer through Alzheimer's.  I have been there and it's not easy. Laurie is only 16 years old but, demonstrates the strength, courage, grace and maturity of someone much older.  I don't know how she found the inner strength to get through that but, what a treasure for her to always have that video of her Grandma telling her that she loves her and is proud of her.  Given how important family is to Val it made me even happier to know they were partnered up and he treated her with such care and compassion.  Their Foxtrot was on a whole new level this week, all that emotion was so evident in each movement and their partnership grew even stronger.  Absolutely beautiful in every way.  Well-deserved PERFECT score!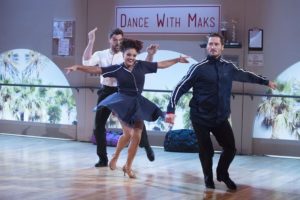 Trio Dance with Maks (Samba):  Laurie was living so many girls' dreams of getting to dance with the Chmerkovskiy brothers and again on such a difficult week for her I am glad she had two of the sweetest guy's ever to do this Trio with.  I absolutely LOVED this dance.  It was fun, filled with fabulous energy, content and just crazy good!  I totally agreed with what Carrie Ann said that it was her best dance EVER!  It showed off her talent, her sassy side and highlighted her fabulous shining personality.  PERFECT score once again!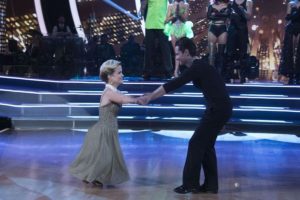 Elimination Time:  It was so sad to see Terra and Sasha eliminated.  They truly have been amazing all season, Terra showed the world nothing should ever hold you back from trying something you want to do.  Sasha and Terra seem like they will be forever friends.  It was one of those amazing partnerships you see develop on DWTS that you will always remember as truly special and Terra should be very proud of herself for a tremendous job on DWTS!
Next week is the 2 Day Finale:
Monday Night: 2 hour show: 
Laurie & Val:
Redemption Style:  Paso Doble-"Wicked Ones" by Dorothy
Freestyle:  "Brand New" by Ben Rector
James & Sharna:
Redemption Style:  Tango-"It Had to Be You" by Harry Connick Jr.
Freestyle:  "Beethoven's 5 Secrets" by The Piano Guys
Calvin & Lindsay:
Redemption Style:  Viennese Waltz-"I Am Your Man" by Ryan Shaw
Freestyle:  "Please Mr. Postman"/"I Want You Back" medley by The Marvelettes/Jackson 5
Jana & Gleb:
Redemption Style:  Tango-"Stay the Night" by Zedd
Freestyle:  "Unstoppable" by Sia
At the end of the night one couple will be eliminated and three final couples will compete for the Mirrorball.
Tuesday Night:  2 Hour Finale
All 13 of this season's couples will reunite at the Grove.  It will be filled with great performances from Vanilla Ice who will perform "Ice Ice Baby" featuring Rick Perry and Witney Carson; a special guest performance by Andy Grammer of his new global hit single "Fresh Eyes", Babyface will perform "Winter Wonderland" featuring pro dancers Artem, Cheryl and Allison.  There will also be an all-male number to Bruno Mars "24K featuring all the males from this season.  It will also feature a special performance choreographed by Mandy Moore that promises to be truly magical.  There will also be a special performance from the upcoming DWTS "We Came to Dance" tour hitting the road soon!
Couples from across the season will celebrate their time on the show by repeating one of their favorite dances.  The final element will be the final 3 competing for judge's points a dance they put together in 24 hours called the "24-Hour Fusion Challenge".
Who will win the Mirrorball?  What are your predictions?  I would love to hear from you!
Please feel free to follow me on Instagram, Twitter and Facebook:  @lightscmemories
Finally meet & greet VIP Packages and general tickets are on sale for the DWTS Tour so don't miss out!  www.dwtstour.com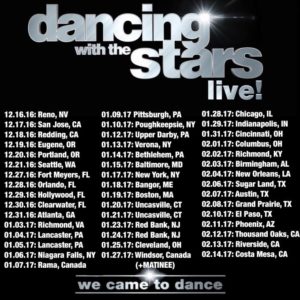 Until next time,
XOXO
Heather