Season 23, Week 8 Halloween Night

It should be a Spooktacular time during Halloween Week on Dancing with the Stars!  It's another fun and creative night on our favorite show.  This season is flying by!  I was hoping to be able to get out to LA for a show but, with everything else going on this fall I wasn't able to. I love this cast and truly am looking forward to the tour!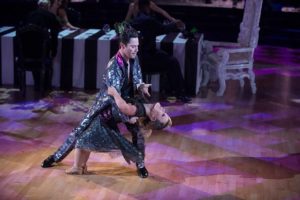 Terra Jole' & Sasha Farber
Dance:  Cha Cha
Terra keeps showing everyone how much she can do week over week!  Her positivity is amazing.  I love her partnership with Sasha too and how she worked so hard at pulling a prank on him.  Their dance was a lot of fun and Terra continues to amaze every week.  Lots of personality, great content, fabulous relationship with Sasha and fun dances.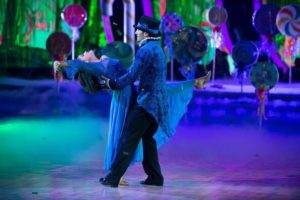 Laurie Hernandez & Val Chmerkovskiy
Dance:  Viennese Waltz
Awe their package made me cry this week.  Val has such a huge heart and I hated hearing him doubting himself.  I know he has had special partnerships in the past but, I truly feel this one is the best yet, it's raw and beautiful.  I love that he is so invested and it's so special watching their partnership and relationship grow.  Val you are amazing always remember that.  Their dance was absolutely magical!  I loved how beautifully arranged it was and it truly highlighted Laurie's amazing grace, beauty and talent.  It absolutely deserved a perfect score, BRAVO!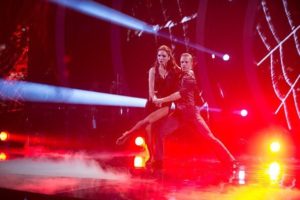 Derek Hough & Marilu Henner
#teamhennergy
Dance:  Argentine Tango
I know in the packages it shows a few issues in the partnership but, then reading Derek's blogs you see that isn't necessarily true.  I know from watching the show from Season 1 the packages don't always show the reality.  Their dance was good and Marilu has continued to improve.  It does still seem she is unsure of herself at times.  I am a fan of Derek so this is only my thoughts, I do think they should be the next to go next week because when compared to the others remaining in the competition it's time.  This is the time of the season I always wish votes were cast for the best dances.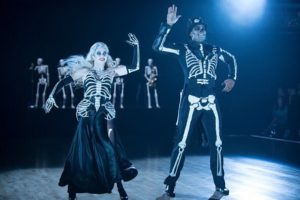 Lindsay Arnold & Calvin Johnson Jr
Dance:  Quickstep
Calvin is the dark horse in the competition for me.  He has grown so much since week 1 as a dancer and he and Lindsay clearly have an amazing friendship and partnership developed.  I absolutely think we will see him in the final 4 or maybe even final 3.  Their dance this week was so fun and creative and again showed his tremendous growth.  They earned a well-deserved perfect score…BRAVO!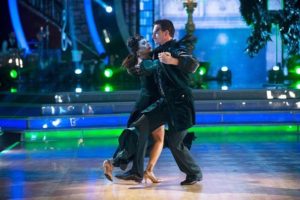 Ryan Lochte & Cheryl Burke
Dance:  Tango
I love the Tango it's been one of my favorites to learn.  Ryan has absolutely grown in the competition just maybe not as fast as others
but, what I think he was able to show the audience is another side to him, the family man, the guy that wants to grow past his mistakes and look ahead to a brighter future.  Their dance this week was creative, intense, a lot of content and overall a good job.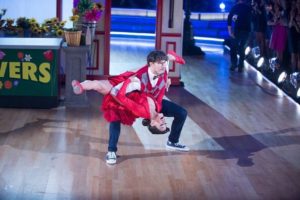 Jana Kramer & Gleb Savchenko
Dance:  Jazz
This will be an interesting week for this team since Gleb has never put together a Jazz routine.  They have such a fantastic partnership.  I thought their dance this week was super fun, full of energy and the characters were perfect!  Jana is another one that has grown so much since week 1.  I truly think it's between her and Calvin on who gets to the final 3.  Gleb is really doing well as a Pro this season and I am looking forward to watching him perform on tour this winter.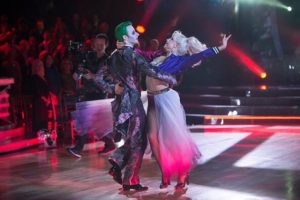 Sharna Burgess & James Hinchcliffe (Jenna filling in for Sharna)
Dance:  Viennese Waltz
I was so sad to hear that Sharna's knee injury sidelined her.  I know how much she wants to finish this season out with James it's truly a magical partnership and they absolutely are in the running for the mirror ball so please take care of yourself Sharna and know you are missed.  I am curious about something, how do they determine who fills in when a Pro is injured.  Not to take anything away from Jenna as she is a great dancer I am just curious with the level of talent that James has why a more seasoned Pro like Witney, Emma or Allison wasn't matched with him to fill in.  Not a slight towards anyone just curious.  James was so sweet to Sharna and I hope she will be back before the finals if her knee is better.  James did another amazing job, his talent as a dancer is just incredible to watch and his growth since the beginning is amazing.  He was perfectly in character and absolutely deserved the perfect score this week…BRAVO!
Next up was the Dance off: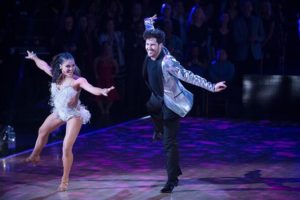 Laurie and Val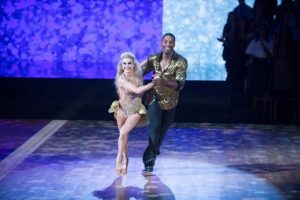 Vs (Jive)
Lindsay and Calvin
I loved how Laurie said I think Calvin should pick on someone his own size.  That's the heart of of a champion to pick someone she feels closely matched up with.  Both couples did great, they had crazy high energy but, Laurie & Val edged out Calvin & Lindsay to win the dance off.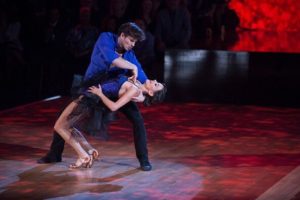 Jana & Gleb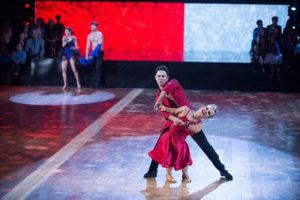 Vs (Salsa)
Terra & Sasha
Loved Terra's spirit to try something new and do the Salsa.  Both couples were fun to watch and gave it a great effort and a ton of energy.  Jana and Gleb edged out Terra & Sasha and won the dance off but, both couples should be proud of their effort.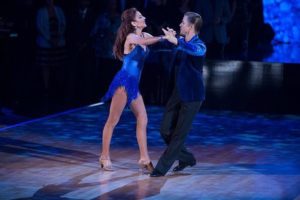 Marilu & Derek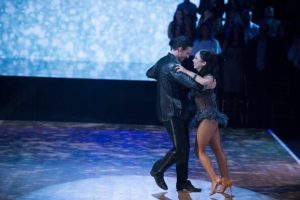 Vs (Cha Cha)
Ryan & Cheryl
Both couples gave it a good effort.  I actually thought Ryan was really good and got into it more and was a bigger draw on the performance side.  I think Ryan just has more of an ability to shake it off and just have fun with moments like that.  Ryan and Cheryl won the dance off!
Elimination Time:
Bottom two were:  Ryan & Cheryl and Terra & Sasha
We had to say goodbye to Ryan & Cheryl.  Ryan should be proud of his run on the show and what a way for him to go out winning the dance off!  I did not agree with Sasha & Terra being in the bottom 2.
Next week is Showstopper week:
Marilu & Derek:  Samba to "December, 1963 (Oh What a Night) from Jersey Boys featuring guest performances by Mark Ballas & The Four Seasons.
Laurie & Val:  Argentine Tango to "Cell Block Tango" from "Chicago"
James & Sharna:  Jazz to "A Brand New Day" from the "The Wiz"
Calvin & Lindsay:  Waltz to "Memory" from "Cats", featuring guest performance by Leona Lewis
Terra & Sasha:  Charleston to "If My Friends Could See Me Now" from "Sweet Charity"
Jana & Gleb:  Waltz to "She Used to Be Mine" from "Waitress"
There will also be Team-Up Challenges and they will be:
James/Sharna & Calvin/Lindsay:  Paso Doble
Jana/Gleb & Laurie & Val:  Contemporary
Marilu/Derek & Terra/Sasha:  Jazz
The one other comment I have is I truly hope everyone votes for the stars dance and not just for the Pro because there have been a few people in the bottom 2 that absolutely did not belong in the bottom 2.  It's important to the integrity and fun of the show.
Please feel free to follow me on Instagram, Twitter and Facebook:  @lightscmemories
Finally meet & greet VIP Packages and general tickets are on sale for the DWTS Tour so don't miss out!  www.dwtstour.com
Until next time,
XOXO
Heather