Dancing with the Stars Season 25 Most Memorable Year!
This is hands down my favorite week each season…Most Memorable Year.  The emotion behind the meaningful dances is just beauty in motion.  I cannot get enough!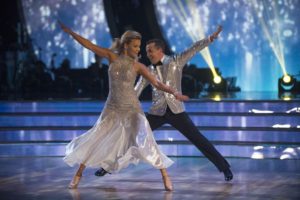 Frankie Muniz & Witney Carson
Quickstep
I absolutely loved what Frankie said in this package although it's sad the reason why.  He has had many injuries and has suffered many TIA's which are mini strokes and his memory has been affected over the years from all of it.  The TIA's are absolutely not minor things.  My Dad had one several years ago and it was a really scary week not knowing if he would regain full function.  Being so young and dealing with them must be scary.   It's a beautiful way to live being in the present.  I really adore Frankie and in so many ways he is one of my favorite reasons to watch this show.  He has a love for the dance.  I really liked their performance.  I thought it was solid, it was fun, beautiful and had a lot fun content included.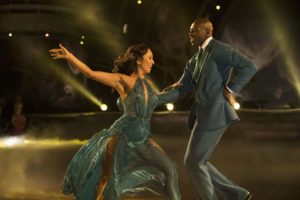 Terrell Owens & Cheryl Burke
Viennese Waltz
Terrell's year was the year his Grandmother passed.  She was a huge part of his life stepping in as a main care giver in many ways in his life.  She was such a key part of his life and his inspiration.  He credits her for being the man that he is today.  Their dance was beautiful and I think one of the best they have done to date.  His height in this dance really was an asset because it allowed him to display beautiful lines.  It was really, really beautiful and the emotion was raw.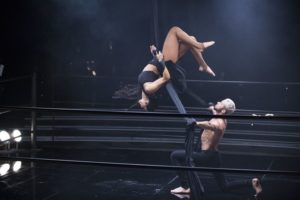 Nikki Bella & Artem Chigvintsev
Contemporary
Nikki's year was the year she made a comeback to the ring.  She got an MRI and found out her neck was about to break in half.  She is one heck of a fighter and I agree with her sister's reference that she is fearless.  She's fierce in every way.  Artem has such an amazing talent to choreograph dances but, he truly excels at contemporary and pulling the emotion out of his partner.  Tonight it was a masterpiece performance.   Their dance was absolutely stunning in every word.  It was beautiful, artsy, powerful and a beautiful display of her story, her strength and I loved it!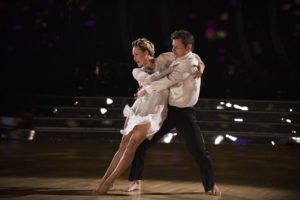 Nick Lachey & Peta Murgatroyd
Contemporary
Nick's most memorable year was the year he married Vanessa.  Such a beautiful love story, he has his family he always dreamed of.  Peta did an absolutely stunning job at putting together this dance tonight.  It truly allowed Nick to dance with his heart and it was evident in every single movement.  It was a beautiful masterpiece tonight and it was absolutely breathtaking.  I love watching dances where you can not only see the beauty but, feel the raw emotion and you absolutely could feel it tonight.   Len and Bruno's scores were just wrong in my opinion.  They are consistently underscored this season in my opinion.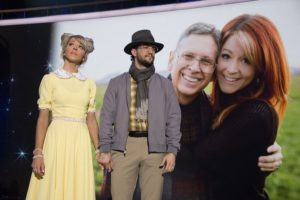 Lindsey Stirling & Mark Ballas
Viennese Waltz
Lindsey's most memorable year was when her Dad got cancer and lost his life.  He seemed like he was such a light and fun character.  I loved what she said that instead of being angry at what she was losing she was grateful for what she had.   Their dance was light and beautiful and full of emotion.  There was so much creativity, imagination and heart in the performance.  Their scores were puzzling to me though, if another couple was lacking content of the dance they would not have been scored that high.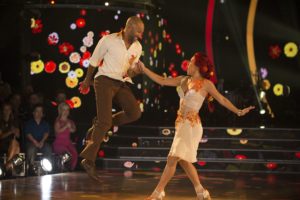 Derek Fisher & Sharna Burgess
Jazz
Derek's dance was for his daughter who had a rare eye cancer.  They decided to try to save her eye through a new procedure.  He walked away from his contract because he had to be there for his daughter.  The surgery worked and really changed Derek.   Their dance was really light, bright and fun and a sweet way to celebrate that's daughter's surgery worked and she is thriving in life.  It had a lot of great energy and the moment after with his daughter was just so sweet.  I really liked it and it allowed you to see into Derek's personality and see how much he loves his daughter.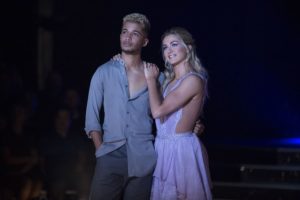 Jordan Fisher & Lindsay Arnold
Contemporary
Jordan's most memorable year was the year he was officially adopted by his grandparents.  It was such a beautiful story of love and listening to them describe it was just a great example of unconditional love.   I absolutely loved their performance.  It was just masterfully designed by Lindsay and beautifully portrayed by Jordan.  Oh my gosh that ending with his parents was just pure emotion in every meaning of the word.  The dance really was perfection and really defined why I love this week on the show.  Every movement had pure heart behind it.   They got the first 10's of the season from Carrie Ann & Bruno!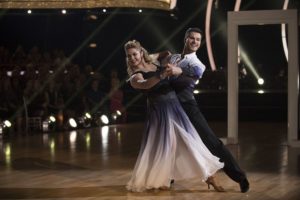 Sasha Pieterse & Gleb Savchenko
Foxtrot
Sasha's year was the final year of Pretty Little Liars, struggling with her health but she also was able to discover love and getting engaged.  What a beautiful love story they have.  I love the story of one door closing and another one opening.  So often in life many will stare at the closed chapter/door but, it's ok to turn your head to see what the new chapter will bring.  I really just adore Sasha, she's just real and I think she is inspiring far more women than she may realize being on the show.  Their performance was so light, fun and a beautiful way to tell her story.  They really have developed a great friendship too which is so fun to watch.  It was filled with content, great happy energy and they should be very proud of this performance!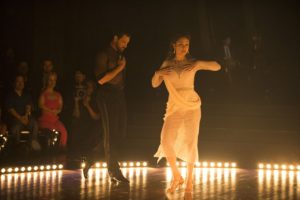 Vanessa Lachey & Maks Chmerkovskiy
Rumba
Vanessa's year was the story of the recent birth of her son.   I never knew Vanessa's story that her mom left when she was young.  She and Nick really have a similar background which really shows why they both value family as much as they do.  With her last pregnancy she was on bedrest and went into Labor very early.   Thankfully their baby was able to survive and made their family complete.  Vanessa really is extremely graceful and you could feel the emotion in every movement of their dance tonight.  Their dance was really exquisitely performed and seeing the emotion on both she and Nick's face was just heartbreaking.  It was filled with content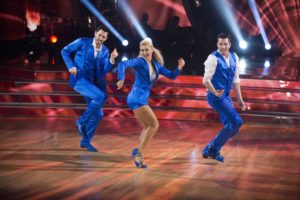 Drew Scott & Emma Slater
Jive
Drew's year was the year that changed his life and he went all in to chase his dreams of being an actor.  His spirit was broken because he wasn't making it as an actor.  I loved his story on when he realized maybe I can combine my dreams of real estate and acting and that's how Property Brothers was created.  That's such a key to life rather than give up you figure it out and find a way to make it work! Drew has improved so much and I wondered how the Jive would look with his height and I thought he did fantastic.  What a fun moment to have Jonathan comes out and join them!   Now that is a trio dance!  So awesome!  I really loved their performance tonight.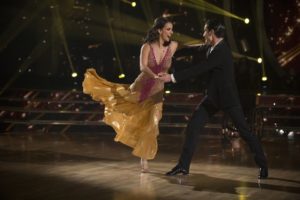 Victoria Arlen & Val Chmerkovskiy
Foxtrot
It still amazes me every week to know what Victoria has gone through and to see all she has done since.  It's nothing short of a miracle but, what I love about her even more is her spirit.  She never allowed it to break her and her positivity just exudes every week.  I cannot imagine how hard for her parents this was as well to watch all that Victoria has gone through.  I love what she said at the end too that she doesn't like to sit now that she can stand.    I really loved their Foxtrot.  Val was able to create a dance that just perfectly displayed her triumph and all she accomplished.  It's just simply incredible!  Their dance was just stunning in every moment, every step was just perfection in motion.  Watching Victoria should make everyone believe you can achieve anything in life.
Third to go home this season:   Sharna & Derek Fisher
I seriously do not get it this season.  The last 2 eliminations were just flat out wrong in my humble opinion.  I am blown away yet again absolutely wrong bottom 2 again.  Plus the scoring this season has had me really scratching my head.  Some are consistently being over scored and others consistently underscored even with great performances and/improvement.   As a viewer I am having a real issue with that this season.
As I expected this season is packed with talent and great personalities.  Voting will be even more important than usual to keep your favorites coming back week after week!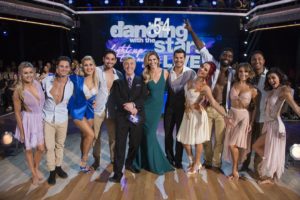 The tour dates and cast was announced!!!  Excited for a good long tour this winter!!!  For more info and more VIP & regular tickets go to:  http://dwtstour.com/
For pictures from the tour this summer please visit my social media pages @lightscmemories!
Until next time,
XOXO
Heather