CMA 2016 Fest Day 1 (Thursday):
CMA Fest is one of the events I truly look forward to all year.  I truly feel you get a lot of value for what you pay overall.  I had already been in Nashville for two days at this point but, we transferred over to our hotel that we purchased with the package early in the morning.  We buy our packages each year through www.cmafest4less.com.  Usually I feel you get a good value but, have to say right out of the gate this year when we picked up our package for two I was disappointed with the fact we only received 1 bag even though we paid for 2 packages.  Considering those clear bags probably have a real cost of $2.00 or so to them I thought that was incredibly cheap of the tour company not to provide one per person paid because you need the clear bags to get in the stadium and in past years they did give one per person.
We stayed at Hyatt Place again this year mostly for the convenience.  The hotel is ok, the beds were definitely not very comfortable which I didn't remember from last year so maybe they changed mattresses but, they did have a fridge which was good that we could stay stocked up on cold water etc.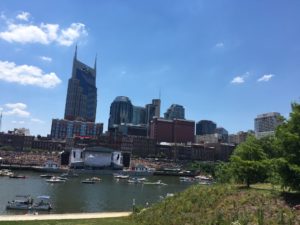 First thing we did was head over to the Fan Fair X and were really shocked to see this massive line of people waiting to get in.  We ended up being the last ones allowed in for the Thomas Rhett hopeful line.  We waited nearly 2 hours and none of the hopefuls were able to get pictures because he only allocated an hour and didn't stay over which is the artist's discretion.  This is one thing that I truly think CMA fest should change.  I think anyone that buys a 4 day package should be given one meet and greet or entry into the HGTV lodge performances of their choice or even of their top 3 choices.  Their lottery system is all well and good but, after two years I haven't won other than an overflow drawing for Jamie Lyn Spears.  The hopeful lines to me is where you see truly how much an artist truly cares about meeting the fans.  For example in 2015 I saw Cassadee Pope do all of her winners, her entire hopeful line of over 200 people and then additional people that came up and wanted to meet her, she was there over 3 hours and that was impressive to see.  There is another twosome that I have seen two years in a row not act in a way that values their fans and what their fans truly want.  Last year they would only sign autographs, no photos.  I wasn't in their line but sitting in the line for Little Big Town I watched all this happen.  A special needs child went up to them and when they were doing the autograph her Mom who was behind the area where you line up tried to snap a few cell phone pictures of her daughter speaking to them and getting her autographs and they saw the mother and stepped out of frame.  This year fans said they had their cell phones taken away until after the autographs were done.  Yes they did say no photos but, in that circumstance was it really hurting anything?  At an event like Fan Fair X why not do photos, in many ways that goes a lot faster than doing autographs and in today's culture you know that is what most people want that selfie or the photo to share.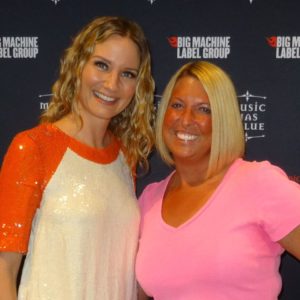 We were a little bummed after the first experience of the day but, we headed over to one of my favorite places at CMA Fest the Big Machine Label store.  Big Machine does it right, they are all so kind, they are all about the fan experience and Scott Borchetta and his team just totally rock in my opinion.  We got in line to meet Jennifer Nettles.  We baked in the heat for a good hour as the line in front of us in the store was already pretty long but we had faith it would be well worth it.  Right on time Jennifer pulled up and they brought her into the store and started the process.  Jennifer is an example of a star that does it right.  She actually gave you an autograph if you wanted one and they took a photo on a professional camera and also a Big Machine employee took one on your cell or camera too.  It went quickly and efficiently and she was able to have a genuine interaction without it feeling like a photo assembly line.  Jennifer is truly so incredibly sweet and extremely talented.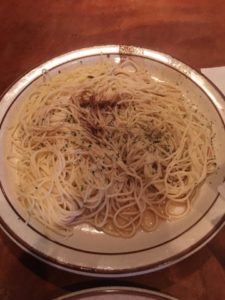 After this we were starving so we headed back up to my favorite restaurant (again) in Nashville: http://www.demosrestaurants.com/ because one can never have too much of their amazing Brown Butter Garlic Spaghetti!  You know it's good when you have someone like me who rarely eats pasta much less an entire plate of it devours it all.
By the time we finished eating we went back to the hotel, freshened up a bit and then it was time to head over to the stadium.  The line-up Thursday night was:
National Anthem:  The Oak Ridge Boys
The Charlie Daniels Band
Kelsea Ballerini
Dierks Bentley with special guest Elle King
Miranda Lambert
Rascal Flatts
Jason Aldean
All the performers were great.  The Charlie Daniels Band had their good friend Randy Travis make a surprise appearance on stage and received a standing ovation.  Kelsea Ballerini is such a powerhouse and her career will continue to soar in my opinion.  Dierks was absolutely fantastic as always, he's really made a fan out of me the last two years.   I love his new song with Elle King "Different for Girls" and who doesn't love Drunk on a Plane!  This was my first time seeing Miranda live and she literally brought the house down with some serious sass.  She's a fantastic performer and absolutely will have to catch her in full concert soon!   Rascal Flatts were also excellent and timeless really, they are true professionals and amazing artists.
Our seats were also better this year.  Still would like to get into the first 5 rows of the Golden Circle one of these years but, we had a great spot on the lower bowl and were sitting around nice people this year which always make this fun!
For day one attire I went with clothes from:  https://factory.jcrew.com/
For carrying just the necessities around CMA Fest I always go to my Coach Cross body or wristlets:  http://coach.com
Until next time,
Xoxoxo
Heather